Posted on
Wed, Nov 9, 2011 : 4:45 a.m.
Northern India Cooking Class; Lesson 7: Dal Makhani (Black Lentil Bean Dip)
By Peggy Lampman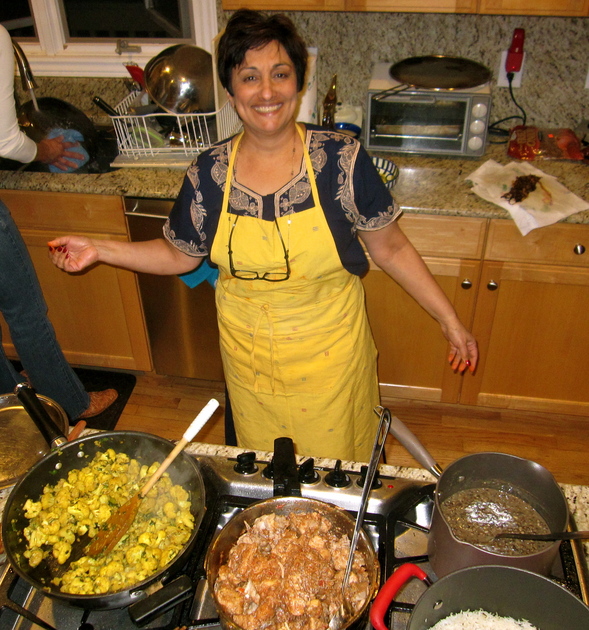 Peggy Lampman | Contributor

Note: This is the last of seven recipe installments, which compose a classic Northern Indian Feast. Fine Indian cuisine is not noted for its brevity. The good news is that each of Achla Karnani's recipes may be made well in advance, then reheated prior to serving. Or divide the recipes amongst your friends, staging your own Indian Feast pot luck. All spices and dry ingredients are available at Bombay Grocers on Packard.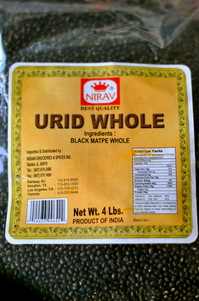 Dal
is the hindi word for
lentil
, and is a dish made of split beans, peas or lentils. It can be thick or it can served runny, like a thin soup; the beans may be mashed or left whole. To confuse matters more, dal also refers to split dried beans. Spices and aromatics used to season the dal are what give the cooked beans their character.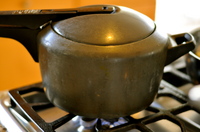 According to
wikipedia
, there are more than 1.2 billion people in India; I'd venture to guess there could be as many versions of dal. This whole bean black dal, as Ashla explains, is the quintessential dish of Punjab. The recipe below is a rich version, perfect as a part of a banquet.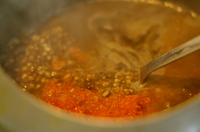 Achla vehemently recommends using a pressure cooker to cook the lentils, which cuts the cooking time by hours. If one is not available, you can cook the lentils all day in a crock pot on low. Or soak lentils overnight and cook on the stove top until tender, 4-6 hours.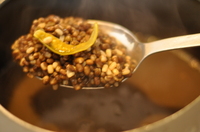 Achla has quite a few things to say about America's idea regarding curry.
"Curry powder in not an Indian spice. When the British left India, some guy probably asked his cook to put together a blend of spices to take home. Then, after his three-months voyage back to England, he arrived with a bag of rancid spices. He replicated the tainted spices, called it curry powder, then foisted it on you unsuspecting westerners."
FYI, according to Achla, curry means "something with a gravy."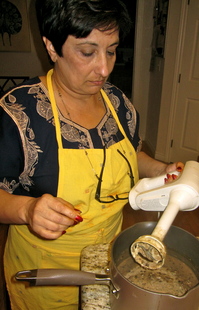 This, sadly, is the last of my blogs regarding the Indian Feast Cooking Class, hosted by Achla. I've been contacted by readers who tell me they intend to create their own Indian Feast potluck soon. Heartfelt thanks to her from all of us who enjoyed being welcomed into her kitchen.
(BTW: Dals are delicious served with chapatis — yesterday's post — or naan. The day before that, I posted a recipe for Indian meatballs. Preceeding that were recipes for classic chopped Indian salad, Chicken Biryani, Indian Cauliflower and Green Tomato Curry.This is the final post in the series. If you're a fan of the kaleidoscopic cuisine of India, particularly Northern India, you may be interested in reviewing them.)
Yield: 1 of 7 recipes comprising an Indian Feast to serve 16
Cook ahead tips: The first step can be made several days in advance. You could also make it a month advance and freeze it.
Ingredients
1 1/2 cups dry black lentils (urad), small stones picked out and rinsed in several changes of water
4 whole green Thai chilis
2 teaspoons finely chopped garlic
2 teaspoons finely chopped ginger
1/2 cup plus 3 tablespoons canola oil
3/4 cup minced white onion
3/4 cup crushed tomatoes
2 teaspoons Shan Dal Curry mix (or 2 teaspoons garam masala)
4 tablespoons unsalted butter
3 tablespoons chopped cilantro
Directions
1. In a pressure cooker, cook lentils with 2 teaspoons kosher salt, chilis, garlic and ginger in 5 cups water. Cook 17 minutes. (Note: You can make this a couple of days ahead and refrigerate or freeze. Thaw and heat before going on to the next step.)
2. While lentils are cooking, in a medium pan, heat oil to high. Stir in onions and cook 10 minutes until golden brown. Stir in crushed tomatoes and cook until oil separates.
3. In another small pan, heat remaining 3 tablespoons oil and add the dal curry mix - cook for 30 seconds and immediately add to the dal. Pour some dal into the pan to get the rest of the spices and return to the dal pan. This is called the "tarka".
4. Just before you are ready to serve the dal, heat to high.Stir in butter and blend with an immersion blender. If you don't have one, use a potato masher. Do not let the dal boil after you have added the butter, or it will separate.
5. Garnish with chopped cilantro.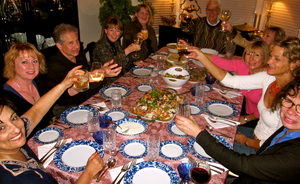 My new web site (packed with holiday recipes) is coming soon! But in the meantime, If you're looking for a specific recipe, click here for dinnerFeed's recipe search engine; type the recipe or ingredient into the search box. I am a real-time food writer and photographer posting daily feeds on my website and in the Food & Drink section of Annarbor.com. You may also e-mail me at peggy@dinnerfeed.com.