Posted on
Fri, Nov 4, 2011 : 4:57 a.m.
Northern India Cooking Class: Lesson 4: Indian Chopped Salad (Kachoombar)
By Peggy Lampman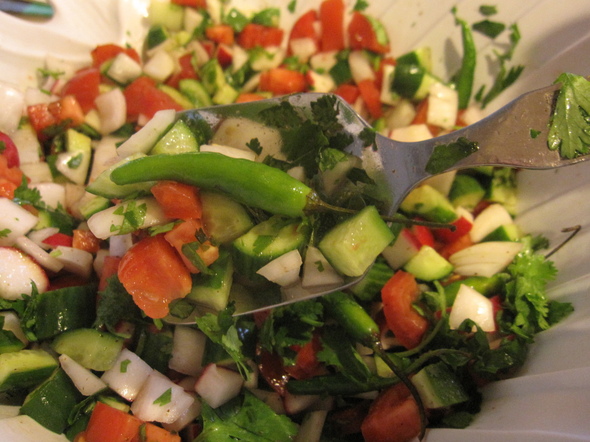 Peggy Lampman | Contributor

Note: This is the fourth of seven recipe installments, which compose a classic Northern Indian Feast. Fine Indian cuisine is not noted for its brevity. The good news is that each of Achla Karnani's recipes may be made well in advance, then reheated (with the exception of this cold salad) prior to serving. Or divide the recipes amongst your friends, staging your own Indian Feast pot luck. All spices and dry ingredients are available at Bombay Grocers on Packard.
Kachoombar, Kachumbar or Cachoombar — all these words mean "chopped" and refer to this classic Indian salad.
It's the simplest of the recipes we learned, but it's as important a component to our feast as the more complex dishes, such as the Chicken Biryani. It cuts the richness of the other foods served and complements, even accelerates, the flavor profiles of these more intense dishes.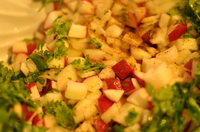 Achla says this is a great healthy salad all on its own. "Absolutely no fat and delicious. I take it to work. Chop up the veggies and put in baggies — with the spices on the side. Assemble everything in the office."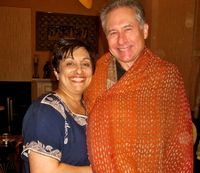 Yesterday I posted a Chicken Biryani, the days prior to that a recipe for Indian Cauliflower and Green Tomato Curry. Through the middle of next week, I will submit postings for Dal (Black Lentil Purée), Cucumber-Tomato Salad, Meatballs and Chapati. If you're a fan of the kaleidoscopic cuisine of India, particularly Northern India, you may be interested in following them.
Achla diced the red, round radishes Americans are most familiar in this recipe, but diced daikon, also in the radish family, would be a good substitute.
Yield: 1 of 7 recipes comprising an Indian Feast to serve 16
Make Ahead Tips: This salad comes together quickly and can be made up to 6 hours, covered and refrigerated. Let come to room temperature before serving.
Ingredients:
4 large roma tomatoes, diced
7 baby cucumbers, diced
1 medium-sized white onion, diced
1 cup cilantro, washed and chopped
10 radishes, diced
Three hot green chili peppers, washed
Juice from 1 large lime
1 tablespoon chaat masala (available at Bombay Grocers, Shan or MDH brand preferred)
Directions
1. In a large bowl, toss together tomatoes, cucumbers, onion, cilantro and radishes.
2. Chop peppers or leave whole. (Note it's the seeds and membranes — the "placenta" — that give peppers most of their heat. Keep this in mind when deciding how much heat you want to give this salad.) Mix whole and/or chopped peppers into the salad with lime juice and masala. Season to taste with kosher salt.
My new web site (packed with holiday recipes) is coming soon! But in the meantime, If you're looking for a specific recipe, click here for dinnerFeed's recipe search engine; type the recipe or ingredient into the search box. I am a real-time food writer and photographer posting daily feeds on my website and in the Food & Drink section of Annarbor.com. You may also e-mail me at peggy@dinnerfeed.com.