Posted on
Mon, Nov 7, 2011 : 10:51 a.m.
Northern India Cooking Class; Lesson 5: Meatballs (Kofta)
By Peggy Lampman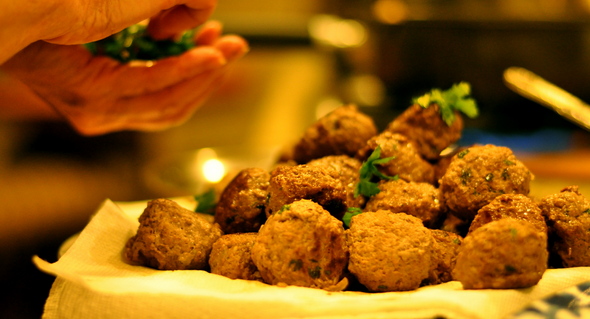 Peggy Lampman | Contributor

Note: This is the fifth of seven recipe installments, which compose a classic Northern Indian Feast. Fine Indian cuisine is not noted for its brevity. The good news is that each of Achla Karnani's recipes may be made well in advance, then reheated prior to serving. Or divide the recipes among your friends, staging your own Indian Feast pot luck. All spices and dry ingredients are available at Bombay Grocers on Packard.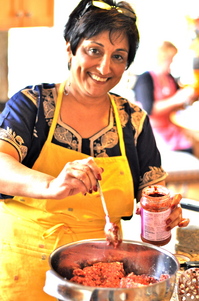 If there were only one global comfort food, meatballs — fashioned according to various culture's palates — may be it. "My kids will eat these meatballs at any time, for any meal," Achla says.
According to
wikipedia
,
kofta
is a Middle Eastern and South Asian meatball or meatloaf. Generally they are made with meat, lamb, goat or seafood and fashioned with spices. Vegetarian kofta is made with rice, bulgur, vegetables and spices.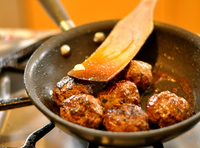 I would imagine an Indian styled sub — made with these meatballs, tandoori sauce and cilantro housed in flatbread — would be delicious. Or simply serve them on top of rice and lentils.
These are fried, and I've eaten other Indian-styled meatballs cooked in tomato and/or curry sauces. There was enough flavor going on with the Indian Feast we prepared, and additional sauces were not necessary. We enjoyed ours accompanied simply with plain yogurt.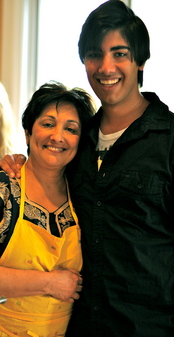 Friday I posted a classic
chopped Indian salad
, the days prior to that a recipe for
Chicken Biryani
,
Indian Cauliflower
and Green Tomato Curry. I'll finish the series with Dal and Chapati. If you're a fan of the kaleidoscopic cuisine of India, particularly Northern India, you may be interested in following them.
Yield: 1 of 7 recipes comprising an Indian Feast to serve 16 (3 1/2 - 4 dozen)
Ingredients:
2 pounds ground sirloin
1 ground pork ( if you like the taste of lamb or goat, use that instead)
1/2 cup minced white onion
2 teaspoons finely chopped ginger
2 teaspoons finely chopped garlic
5 tablespoons Spicy Ginger-Garlic Tandoori Paste, such as Patak's (available at Bombay Grocers, Busch's, Hiller's)
1/2 cup chopped cilantro, plus extra for garnish
1/2 cup canola oil
Directions:
1. In a large bowl, with washed hands, combine sirloin, pork, onion, ginger, garlic, tandoori paste and cilantro. Add salt to taste. Form into golf ball-sized (1 1/2-inch) meatballs.
2. In a large sauté pan, heat oil to medium high heat heat.Working in batches, cook meatballs until just cooked through, about 10-15 minutes. Do not overcrowd, otherwise they will boil instead of frying. With tongs, rotate on all sides so meatballs brown evenly. Drain on paper towels; and sprinkle with chopped cilantro.
My new website (packed with holiday recipes) is coming next week! But in the meantime, If you're looking for a specific recipe, click here for dinnerFeed's recipe search engine; type the recipe or ingredient into the search box. I am a real-time food writer and photographer posting daily feeds on my website and in the Food & Drink section of Annarbor.com. You may also e-mail me at peggy@dinnerfeed.com.