Posted on
Thu, Nov 3, 2011 : 4:32 a.m.
Northern India Cooking Class; Lesson 3: Chicken Biryani
By Peggy Lampman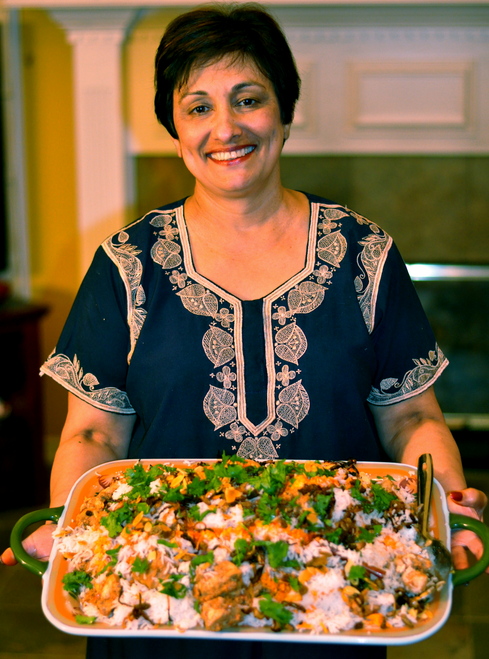 Note: This is the third of seven recipe installments, which compose a classic Northern Indian Feast. Fine Indian cuisine is not noted for its brevity. The good news is that each of Achla Karnani's recipes may be made well in advance, then reheated prior to serving. Or divide the recipes amongst your friends, staging your own Indian Feast pot luck. All spices and dry ingredients are available at Bombay Grocers on Packard.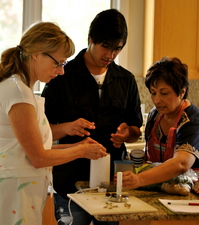 "Cooking for me is therapeutic,: says Achla Karnani. "Even after a full work day, I take the time to cook, then sit down with my family."
Achla, a single mother of two boys, works as an attorney at a downtown Ann Arbor law firm.
"There are so many unfinished projects in my day," she continues. "But dinner is a project I can start and finish within the hour, then be done. The meal creates a bond, which my sons and I enjoy."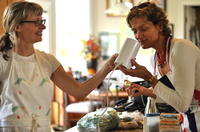 And, oh, what meals she serves, many of which she learned from her mother.
"I'm of Punjabi ancestry, but my father worked for the government so I lived all over India. My mom used to get a British magazine called 'Woman and Home.' She baked cakes without an oven — I still don't know how she did it. She came to Ann Arbor every semester during my legal exams to take care of the kids. I couldn't have made it through law school without her. She' s my kids' court of appeals — kept me in check when I got too tough — the boys loved that."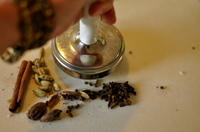 Achla's been a good friend for years. She's a fantastic cook, and I've often begged her for her recipes. Her perennial response: "I'd give them to you if I had them, but I don't follow a recipe. They're all in my head."
After insistent pestering from me, she devised a plan. She invited me and other of her friends over for a cooking class, which was followed by an "Indian Feast." She said I was welcome to record the class. For five, breathless hours I chased them about the kitchen with my camera and notebook.
The recipe below, Chicken Biryani, was the centerpiece of the meal. Before I go further, Chicken Biryani is not a dish Achla makes for her sons after work; it's too involved. But it is a dish that may be made up to 48 hours in advance, then reheated and served at a celebration or when entertaining a crowd.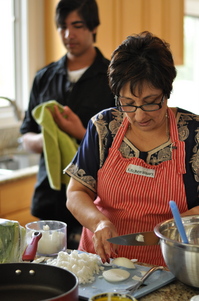 "It's the Indian equivalent to the American lasagna," says Achla. "It's a one-dish-meal that may be served to a crowd."
Within the first five minutes of her tutelage, I cracked an important secret behind the complexity of those layers of flavor in her food. Literally cracked, by way of a mallet. You see, there are no short-cuts if you wish to have the ultimate eating experience.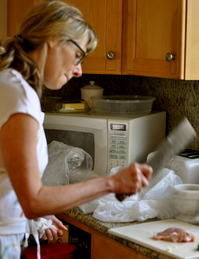 "You can use pre-ground spices, but the burst of flavor you'll get from the fresh pounded is worth the trouble," says Achla. She guided us as we pounded open the cardamon pods, picked out the seeds, then smashed them and the cinnamon sticks together with a mallet. We then used a spice grinder to grind them to a powder.
Biryani is similar to Iranian layered rice and meat dishes (polo), and is associated with the Moghuls. Achla told us that about one-thousand years ago, the Moghul culture (based in Iran and Afghanistan) invaded India. By the early 16th century, they had conquered much of northern India, and with the conquest came their culinary traditions. Biryanis may also be vegetarian, and meat or fish is often substituted for chicken.
Cooking is a celebration for Achla, weaving the customs of her ancestral Punjabi roots into her family's life today. When a person shares a intimacy of themselves via recipes learned from proceeding generations, it's a rare opportunity to dive into a world, perhaps never experienced first-hand. And such a world is India, pulsing with vivid colors, aromas and soulful cuisine.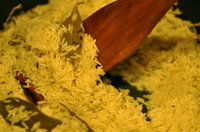 Note: Yesterday I posted a classic Northern India cauliflower dish, the day before a Green Tomato Curry. I will submit postings for Dal (Black Lentil Purée), Cucumber-Tomato Salad, Meatballs and Chapati in the next few days. If you're a fan of the kaleidoscopic cuisine of India, particularly Northern India, you may be interested in following them.
Yield: 1 of 7 recipes (remaining 6 online at Ann Arbor.com) comprising an Indian Feast to serve 16.
Make Ahead Tips: Make the dish, with the exception of the rice, up to 48 hours in advance. Or, make and assemble the entire Briyani (undercooking the rice) several hours in advance. Cover tightly with foil and a lid, then place in a 200 degree oven until rice is tender, about an hour or so.
Ingredients for Chicken and Marinade
14 green cardamon pods*
3 large black cardamon pods
2, 3-inch cinnamon sticks
20 cloves
1 cup plain yogurt
2 tablespoons finely chopped ginger
2 tablespoons finely chopped garlic
4 pounds chicken thighs; bone-in skin removed
4 pounds chicken breast, bone-in, skin removed
Ingredients for Biryani Sauce
3 tablespoons canola oil
2 cups finely minced onion, Achla uses a food processor
1 (14 ounce) can crushed tomatoes
Ingredients for Rice
3 cups white basmati rice (Achla recommends using aged basmati rice)
2 tablespoons canola oil
2 bay leaves
1 heaping teaspoon black cumin seeds (Shah Jeera)
2 cinnamon sticks
Biryani Garnish
1 tablespoon unsalted butter
1 medium white onion, thinly sliced
1/2 cup sliced or slivered almonds.
1/2 cup golden or green raisins
Orange food coloring as needed, any brand
1/2 cup milk
3 heaping tablespoons chopped cilantro, optional
* If possible purchase from an Indian grocer; others are bleached and loose flavor.
Directions
1. Place both green and black cardamon pods on a cutting board and pound open with a mallet. Remove seeds and discard pod. Smash two of the cinnamon sticks into small pieces. Grind cinnamon, cardamon seeds and cloves in a spice grinder, or pound together in a morter and pestle until they are a powder.
2. Combine yogurt with ground spices, ginger and garlic.
3. With a sharp cleaver, cut thighs in half and each breast half into 4 pieces. In a large bowl, toss chicken with yogurt mixture, cover, and refrigerate at least 3 hours and up to 12 hours.
4. Remove chicken from yogurt mixture gently scraping off as much marinade as you can (Reserve marinade — you will need it later for the sauce.) Season chicken with kosher salt.
5. To make sauce, in a large sauté pan, heat 3 tablespoons canola oil to medium high heat. Add minced onions and fry until golden brown and slightly crispy, approximately 15 minutes; adjust heat as needed to fry onions without burning them.
6. Add crushed tomatoes and cook until thickened and oil separates. Add remaining yogurt marinade and cook for 5-10 minutes. Divide sauce into 2 shallow pans, large enough to accommodate all of the chicken.
7. Raise heat to high. Add chicken pieces and stir until chicken begins to brown. Cover and simmer until tender, apx. 30 minutes, or until chicken is cooked through. If sauce appears watery, remove chicken with slotted spoon, and reduce until thickened. Return chicken to sauce and cover. (Chicken may be made up to 48 hours in advance at this point, and refrigerated. Remove from refrigerator and reheat prior to assembling biryani)
8. Meanwhile, soak rice in water to cover with 1 teaspoon salt for 30 minutes (no longer or rice will begin to disintegrate).
9. Heat remaining 2 tablespoons of oil to high heat in a medium-sized, heavy-bottomed pot. Carefully add remaining 2 whole cinnamon sticks, bay leaves, and black cumin (Oil with spatter; avert face or use spatter guard). Once spices sputter, add drained rice. Stir until rice is coated with oil, add 6 cups water and let cook, uncovered, until it comes to a boil. Reduce heat to simmer, cover, and cook rice until water is absorbed and rice is fluffy and tender (10-15 minutes, do not stir rice when cooking or it will become sticky.)
10. While rice is cooking, in a small sauté pan, melt butter over medium-high heat. Add onions and cook until golden brown. Remove and drain on paper towels, reserving butter in pan. Place almonds in butter and brown; remove and reserve. Place raisins in butter and cook until plump. Remove and reserve.
11. Pour milk into a small bowl. Whisk in food coloring until the milk is a rich shade of pumpkin orange.
Biryani Assembly: Put half the rice on a large platter, ladle hot chicken and sauce over it. Place the remaining rice over the top and garnish with swirls of the orange milk. With a large spatula, turn the biryani bottom to top, so you have some white and some orange rice showing. Sprinkle with the onions, almonds and raisins and cilantro, if using, and serve.

My new web site (packed with holiday recipes) is coming soon! But in the meantime, If you're looking for a specific recipe, click here for dinnerFeed's recipe search engine; type the recipe or ingredient into the search box. I am a real-time food writer and photographer posting daily feeds on my website and in the Food & Drink section of Annarbor.com. You may also e-mail me at peggy@dinnerfeed.com.