Posted on
Wed, Dec 14, 2011 : noon
Rum balls - a no-bake holiday favorite that will charm even a Grinch
By Jessica Webster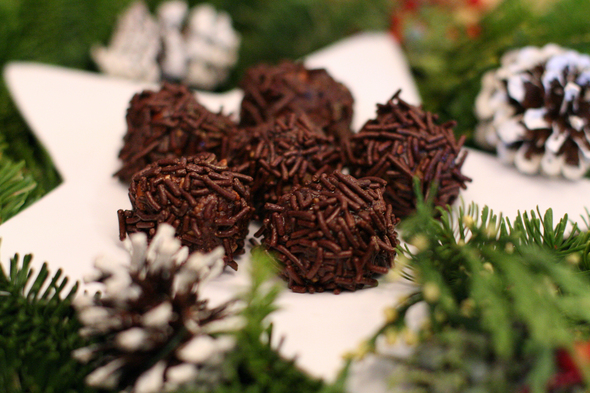 Jessica Webster | Ann Arbor.com
I once read a review of Krazy Jim's Blimpy Burger that said that the whole experience of eating there makes a person nostalgic for experiences they've never actually had.
I understand that feeling, especially around the holidays. Maybe it's from seeing one too many Norman Rockwell paintings or Very Special Christmas television specials. Or maybe it's true nostalgia from my borderline idyllic childhood.
Either way, when my house isn't gussied up with Christmas lights, if I forget to break out the holiday music until Christmas eve, if there aren't joyful carolers lined up at my front door, this misplaced nostalgia makes me feel like I'm doing it all wrong. It can, if I'm not careful, make me Grinch-y.
I was feeling a little behind the 8-ball, holiday cheer-wise, over the weekend. But then, like a Rockwell painting come to life, our wonderful neighbors Tracey and Paul rang the doorbell and presented us with a tin of homemade, cheerfully decorated Christmas cookies.
Now I'm like Grinch after he learns the true meaning of Christmas. My holiday heart has increased three sizes, and I'm baking and decorating to beat the band.
These cookies are a family favorite, and second only to Nanaimo Bars on my holiday cookie favorites list. They can be whipped up in a flash, and work well for holiday cookie exchanges, with the caveat that the rum makes them not especially kid-friendly.
I heartily recommend seeking out high-quality chocolate sprinkles for this recipe. I use De Ruijter brand dark chocolate sprinkles (called "chocoladehagel puur" on the packaging), usually available at Morgan & York and Plum Market.
It really is important to keep your hands nice and wet while you roll the dough into balls. I keep a bowl of water on the table next to me to dip my hands in as I go along.
Webster Family Rum Balls

Ingredients



1 cup finely crushed vanilla wafers (30 - 36 wafers)


1 cup confectioner's sugar (powdered sugar)


1 cup chopped pecans


2 tablespoons cocoa


2 tablespoons light corn syrup


1/4 cup rum (I prefer dark rum)


1/2 a cup (or more) premium chocolate sprinkles


Directions


Stir together the wafer crumbs, confectioner's sugar, pecans and cocoa.


Add the corn syrup and rum and mix well.


With wet hands, shape into 1 inch balls.


Roll the balls in the chocolate sprinkles.


Store the cookies in an airtight container.
Makes approximately 3 dozen cookies.
Jessica Webster leads the Food & Drink section for the AnnArbor.com community team. You can reach her at jessicawebster@annarbor.com.