Posted on
Sat, Jan 19, 2013 : 5:59 a.m.
Frontier Ruckus promises to give Friday set at Ann Arbor Folk Festival 'everything we have'
By Roger LeLievre
• Related story: Rodriguez highlights Friday night lineup
• Related story: The Head and The Heart a fitting Saturday night headliner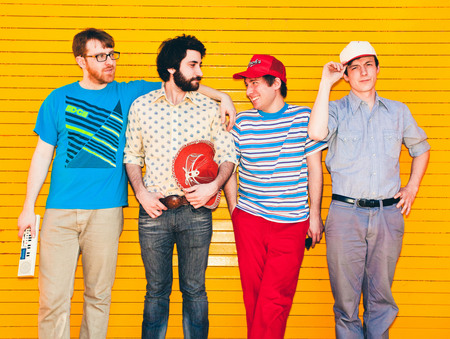 The new year has barely begun, but it's already shaping up to be jam-packed for southeast-Michigan-based folk-rock band
Frontier Ruckus
, playing Friday night as part of the
Ann Arbor Folk Festival
.
"It's been on our dream list ever since we started playing in Ann Arbor," frontman Matthew Milia said of the band's appearance at the prestigious event. "It's a big high water mark, something to shoot for—for all of us really."
Since Frontier Ruckus is listed as the second act on Friday's bill, that means fans will have to arrive pretty much at the beginning of the night to hear their set, which is limited to just 20 minutes. The two-night annual Ann Arbor Folk Festival is The Ark's signature fundraising event.
Frontier Ruckus was founded in 2003 by Milia and former University of Michigan student David W. Jones. The current lineup also includes Zachary Nichols and Ryan Etzcorn, plus a revolving cast of bass players. The band released its debut full-length record, "The Orion Songbook," in 2008.
The group's new, double-disc CD, "Eternity of Dimming," produced by Ann Arborite Jim Roll for the local Quite Scientific label, will also be released later this month, and another European tour will start in March.
"The Folk Festival is the first time we will be offing it anywhere" said Milia of the new album. "I think it is such a huge step forward for us, and I am so excited for people to hear it. It's 20 songs long—the height of my indulgence as a writer—and I couldn't be more proud of what happened and came out on the page and through the band musically."
PREVIEW
Ann Arbor Folk Festival
Who: Frontier Ruckus is part of Friday night's lineup, along with City and Colour, Rodriguez, Trampled by Turtles, Delta Rae, Carl Broemel, and Brown Bird. Colin Hay is host.
What: First of two nights in annual fund-raising concert for The Ark.
Where: Hill Auditorium, 825 N. University Ave.
When: 6:30 p.m. Friday, Jan. 25.
How much: $35-$47.50. Tickets available by phone at 734-763-TKTS or online at www.mutotix.com.
He called the effort, on which he employed an array of older technologies, a nostalgic look back at his youth.
Milia's vocals are set against melodic banjo lines, layered horns, a musical saw, hyperactive time signatures and the sounds produced by organs rescued from bankrupt churches, tiny '80s keyboards plugged into even tinier '50s amplifiers, stylophones, dying remote control beeps, disposable camera flashes and good old electric guitar.
"I'm a product of the '90s, so (the CD) includes obsolete '90s technology - camcorders and VHS recorders and big clunky computer monitors and televisions (and) there's a lot of TV talk. … One of the songs was recorded on an old Sony camcorder microphone.
"It's really an intense kind of a document of personal mythology and memory of childhood," he added. "It's not so much a happy childhood (although) there's a lot of that, but it also kind of mingles with the earliest punctuation of adult tragedy," he explained. "Emotionally it's a very complex kind of record—but it's fun sounding too, not super heavy."
Even though the band has a short time limit at the Folk Festival, Milia said he's up for the challenge.
"We're going to keep the talking to a minimum," he promised. "It's an honor and we will do our best. We definitely have plans to give it everything we have. … We've never played in Hill Auditorium, so to just play in that acoustic of a room will be amazing."