Posted on
Tue, Jan 22, 2013 : 11:29 a.m.
Rodriguez highlights Ann Arbor Folk Festival's Friday lineup
By Kevin Ransom
• Related story: Martin Bandyke talks to Rodriguez and "Searching for Sugar Man" director Malik Bendjelloul
• Related story: Frontier Ruckus promises to give Friday night set all they've got
• Related story: The Head and The Heart a fitting Saturday night headliner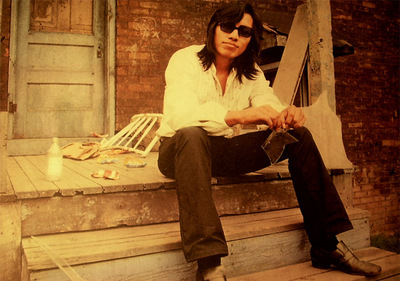 The saga of
Sixto Rodriguez
is a remarkable one. As many Detroit-area folk / rock / soul fans know by now, the Detroit singer-songwriter became a national sensation last year—after 40 years of relative obscurity in the U.S.—when his story was chronicled in the heralded documentary
"Searching for Sugar Man,"
which received an Academy Award nomination a few weeks ago.
In the early 1970s, Detroit native Rodriguez—who, professionally, goes by just his last name—released two albums, "Cold Fact" and "Coming From Reality." The songs on those discs were poetic, lyrical, gritty, pointed, socially conscious and politically charged. And the music itself synergized soul, folk, psychedelia and funk in heady, intriguing ways. Critics loved the albums, but they didn't connect with the masses. He began to record a third album, but it was never completed.
After that, Rodriguez —who will be one of the headliners for the first night of Ann Arbor Folk Festival on Friday at Hill Auditorium—mostly faded from the music scene. He got a degree in philosophy from Wayne State University and started raising a family while working at various jobs outside the music biz, mostly as a laborer—although, in the late '70s / early-'80s, he did a couple of tours in Australia, where he had become a cult favorite.
Later, bootlegs of his albums made their way to South Africa, where his passionate, gritty songs about social and political issues were embraced by young, liberal, white South Africans who bristled at their nation's repressive apartheid system and a government that relied heavily on censorship to help sustain that system. The bootlegs were widely circulated, and as a result, Rodriguez became a big star in South Africa—unbenownst to him.
Rumors about him abounded among his large, newfound South African audience, as the mystery about his whereabouts enhanced his appeal. One rumor said he had gone blind, another said he was in prison, and one sensational one said that he'd committed suicide onstage by setting himself on fire.
PREVIEW
Rodriguez
Who: Detroit singer-songwriter who released two critically lauded albums in the early 1970s and then faded into semi-obscurity for 40 years before becoming a star last year, when he was the subject of the acclaimed documentary "Searching For Sugar Man."
What: First night of the Ann Arbor Folk Festival, presenting artists on the more contemporary side of the folk spectrum. Also on the bill: City and Colour, Trampled By Turtles, Delta Rae, Carl Broemel, Frontier Ruckus and Brown Bird. Colin Hay hosts.
Where: Hill Auditorium, 825 N. University Ave.
When: 6:30 p.m. Friday, Jan. 25.
How much: SOLD OUT. More info: 734-761-1800.
All this time, Rodriguez had no idea that he and his music had become such a force in South Africa, but he was still where he'd always been—in Detroit, raising his three daughters, living an ascetic lifestyle: The documentary showed that he didn't even have a phone, much less a computer. (He still has neither, says his current publicist).
Finally, in the late '90s, his daughter Eva discovered a website devoted to him, created by his South African fans. So Rodriguez traveled to South Africa, where his shows were greeted with great fanfare—he sold out 5,000-seat theaters.
"Cold Fact" and "Coming From Reality" were reissued in '08 and '09, respectively, which led to his being rediscovered in the U.S., and especially in the Detroit area. But, although he did a couple of tours, he was still a cult figure. But 2008 was also the year that Swedish filmmaker Malik Bandjelloul heard about Rodriguez's story. After vigorously pursuing him, Bandjelloul finally convinced a reticent and very private Rodriguez to be the subject of a documentary.
And "Searching for Sugar Man"—the title is a reference to one of his early-'70s songs—told that story in such compelling fashion that it became a big hit on the indie-film circuit, winning many awards, including one at the 2012 Sundance Film Festival. But a large part of the allure, clearly, is Rodriguez's music—and the fact that, at age 70, he continues to be humble, zen-like and hesitant to thrust himself into the limelight. Even after he agreed to be the subject of Bandjelloul's film, and even after Bandjelloul had shot many interviews with others, Rodriguez himself still had to be talked into being interviewed for the film.
After the "Sugar Man" doc caused such a stir, Rodriguez's career was more than just "revived"; it was kicked into high gear, with a sold-out national tour, a booking at Carnegie Hall, an appearance at the Newport Folk Festival, a high-profile segment / interview on "60 Minutes," and performances on TV shows like David Letterman's, where he was backed by a 25-piece orchestra.
Sony Legacy then released the "Searching for Sugar Man" soundtrack, including more than a dozen songs from "Cold Fact" and "Coming from Reality," along with "I'll Slip Away," which was to be the title track of his unfinished third album. The documentary was also recently issued on DVD. Meanwhile, "Cold Fact" enjoyed a big spike in sales and over-the-moon reviews on the indie-rock blogs / zines / websites, and became one of the biggest deals on the '12 indie-music scene, catapulting into Amazon's Top 10 list.
Not surprisingly, Rodriguez did not anticipate the huge wave of attention he's received in the last six months or so. And he's not bitter about all of those years he spent in semi-obscurity—or that he was never able to make a living from his music until now.
"This is the music business.....There's no guarantees," he told The Telegraph, the London newspaper. "All my life, I never gave up on music and though there was a lot of disappointment for some that the commercial thing never happened, it has never been a disappointment for me.....I'm an old man now and I belong to the old century. It's been 40 years since I made those records. For the music to have survived at all, let alone for anyone to care about it, well, I feel overwhelmed."
And, in a way, he thinks that perhaps his "career arc" was meant to play out just the way it did. "Now, I think I'm more grounded than I would have probably been then," he told the Detroit Free Press. "Maybe it's for the better that this karma has worked this way."
But he's still just as socially conscious as ever, and knows that his early-'70s songs about social issues are still relevant today—because those issues are still with us. And he still preaches peace. "Peace is hard. War is easy," he told eMusic.com. "All the grief, this Iraq thing, all this money we spent — that's quite a mess there....I guess there's always going to be war, but there's also got to be peace at some point, you know?"
And despite Detroit's many economic and social problems, he still clearly feels a strong affinity for his city.
"I know this city.... and there's a lot to be proud of from here," he told the Washington City Paper. "The unions were strong here…they got equal pay for people. They developed a middle class, (an) arsenal of democracy. It did a lot…It's undergoing change. Just like any place…and the young bloods, they're seeing the turning over of a paradigm of...a big shift there. It's turning upside down….So it's an exciting time for the young bloods and for myself."
Kevin Ransom is a freelance writer who covers music for AnnArbor.com. He can be reached at KevinRansom10@aol.com.