Posted on
Sat, Jan 19, 2013 : 12:07 p.m.
Seattle's The Head and the Heart a fitting headliner for Saturday night of Ann Arbor Folk Festival
By Roger LeLievre
• Related story: Frontier Ruckus promises to give Friday night set all they've got
• Related story: Rodriguez highlights Friday night lineup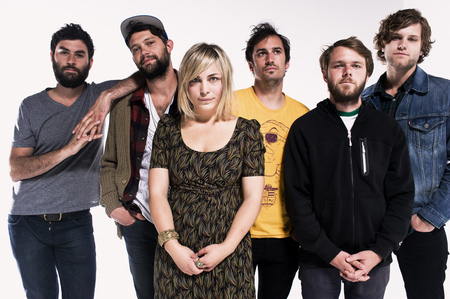 photo by Shawn Brackbill
Originally, indie-folk favorites The Civil Wars had been booked to headline Saturday night of the
Ann Arbor Folk Festival
. But that was before the duo canceled its tour due to a dispute between its two members.
No matter. The Seattle folk-rock group The Head and the Heart is definitely a worthy replacement, said Marianne James, Ark executive director. The two-night Folk Festival Friday-Saturday at Hill Auditorium is The Ark's annual fundraiser.
"The Civil Wars drew a lot of interest and excitement when we announced that they'd be headlining Saturday night," James said. "While it was disappointing that they canceled their tour, Ark fans trusted us to give them a great Folk Festival—they didn't miss a beat in buying tickets even as they were waiting to hear who would be headlining on Saturday.
"The Head and the Heart was always on our short list of potential headliners and we were lucky that they were available at the eleventh hour," she added. "They're a very listenable band with strong Americana roots, solid songwriting and great harmonies."
PREVIEW
Ann Arbor Folk Festival
Who: The Head and the Heart headlines Saturday night's lineup, which also features Lucinda Williams, Dar Williams, Frank Fairfield, the Steel Wheels, Brother Joscephus and the Love Revolution, and Drew Nelson. Colin Hay is host.
What: Second of two nights in annual fund-raising concert for The Ark.
Where: Hill Auditorium, 825 N. University Ave.
When: 6:30 p.m. Saturday, Jan. 26.
How much: $35-$47.50. Tickets available by phone at 734-763-TKTS or online at www.mutotix.com
Formed in the summer of 2009 by Josiah Johnson (vocals, guitar, percussion) and Jonathan Russell (vocals, guitar, percussion), the band also includes Charity Rose Thielen (violin, vocals), Chris Zasche (bass), Kenny Hensley (piano), and Tyler Williams (drums). The group had its origins in open mic nights held at an Irish pub in Seattle.
The band, which employs multi-part harmonies and orchestral elements, recorded and self-released a self-titled debut album in 2010, which was picked up by Sub Pop Records the next year. Comparisons to Mumford and Sons and the Avett Brothers came quickly, as did opening gigs for The Decemberists, Dave Matthews and Iron & Wine.
Key tracks from the CD are "Down in the Valley," "Rivers & Roads" (heard on the TV shows "Chuck" and "How I Met Your Mother") and "Ghosts."
Although Head and the Heart only has one show lined up in the immediate future—ours—drummer Williams said that's by design, as the band is finally taking a break from the road to record its sophomore CD.
"It's hard to sit down and take the time off (to record) when there are people who are still discovering the band," he said. "The best way for us to get across what we do is through the live shows."
Some of the new tunes are stage-ready, so the folk festival crowd may be among the first to hear them, Williams added. "We're working on arrangements in the studio right now … taking the stuff that Jon and Josiah have stockpiled and working them into full band productions. Quite a few of them are coming together."
Meanwhile, he remains unconcerned about attempts to pigeonhole the group's sound as Americana, folk or even Beatleqsue.
"To me I've never worried about how we're classified," Williams said. "I don't think we would necessarily call ourselves Americana or folk or whatever it is. I think we see ourselves as more of a pop band, a band that writes songs and (that cares) about the craft of songwriting. If that falls within that category, then so be it.
"We've always been fans of The Beatles and that timeless pop sound. It's more in line with what we listen to. So I think that's going to influence us no matter where we go really," he added.
James said that success of the Folk Festival is critical to The Ark's overall season.
"It's the Ark's largest fundraiser of the year, representing 15-20 percent of our annual operating revenue. We couldn't do what we do throughout the year without it," she said.
"In addition to the financial impact, the Folk Festival puts up-and-coming artists in front of a large audience, giving music fans a chance to discover new favorites. The artists on the underbill return to The Ark in the spring for their own shows, typically drawing a much bigger audience than previously.
"Being showcased at the festival gives artists a significant boost to building their audience in Southeast Michigan," James added.