concert review
with video:

Tunes from new CD, crowd favorites keep Great Big Sea fans riding the wave

Posted on Wed, Oct 20, 2010 : 11:08 p.m.
Great Big Sea, the tsunami of a group from Canada's maritime provinces that mixes rock and traditional music, lived up to its reputation for putting on a great live show Wednesday night at the Michigan Theater.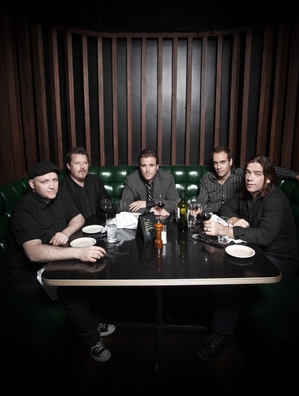 photo by Dustin Rabin
Lead singer Alan Doyle clearly kept his promise when he vowed, early on, "We've never had a bad night in this town and we don't plan on starting tonight."
GBS, which recently released its 10th CD, "Safe Upon the Shore," mixed new and old at the Ark-sponsored concert in which audience involvement played a big part. The crowd was on its feet even before the band launched into its first tune (8220;Chemical Worker's Song — Process Man"). By the second ("Captain Kidd"), almost everyone was clapping along. By the third (the barnburner "The Night Pat Murphy Died"), they were jumping up and down. For most songs, fans sang along — it was just that kind of night.
Before the show began, representatives of Ann Arbor radio station 107.1 presented Michigan Theater management with a $7,000 check, the proceeds from the second "Live from Studio A2" CD, which was recorded as a benefit for the Michigan. What a great way to start the night off on a high note.
One thing's for sure, Doyle and his crew know how to work a crowd, and the band members' easy rapport carries over into the audience as well.
And about that band. Sean McCann, Bob Hallett, Kris MacFarlane and Murray Foster are all talented multi-instrumentalists who are just as likely to excel on bodhran, penny whistle or accordion as they are on more traditional guitar or drums. I particularly liked it when Doyle's electric guitar dueled with Hallett's fiddle on "Mari-Mac," a full-tilt boogie of a tune that had GBS sounding like stadium rockers.
Among songs from the new CD, "Good People" stood out lyrically ("We're running out of trees and we're running out of space, but we'll never run out of good people") and musically, with McCann outstanding on vocals. McCann also sweetly delivered the title song from the new GBS CD, a dark shipwreck ballad that sent shivers down me timbers. Doyle took the lead for "Yankee Sailor," with it's lovely chorus ("If I could see you across the water, I'd say America is beautiful tonight").
Although the new tunes got an enthusiastic reception, it was the older GBS material that really got the audience fired up. By the time the final encore had concluded (a blistering rock 'n' roll version of "Straight to Hell," followed by the classic "Old Black Rum") we'd heard the hockey-themed story-song "Helmethead," "Ordinary Day," "Sea of No Cares," the bodhran-driven "River Driver," "Scolding Wife," "Consequence Free," "When I'm Up (I Can't Get Down)," the haunting shipwreck story "England" and more. All in all, GBS played for more than 2 hours, with no opening act.
Great Big Sea perfoming "Consequence Free" live earlier this year:
Several times, band members referred to previous visits to town, with McCann quipping "I bought a shirt with an 'M' on it and felt instantly smarter."
One thing I wasn't so fond of was the new GBS backdrop, 3 LCD lighting and video panels that changed colors, strobed and also displayed distorted images of the band members. It seemed intrusive and out of place behind a group that feels more organic than technologic.