Posted on
Wed, Oct 5, 2011 : 11:45 a.m.
German artist Herbert Dreiseitl discusses new water sculpture's design, funding controversy
By Jennifer Eberbach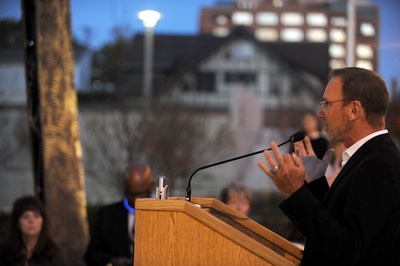 Angela J. Cesere | AnnArbor.com
Related coverage: Photo gallery / With poll: City Hall water sculpture formally unveiled
A crowd gathered at the municipal center's new plaza off Huron Street Tuesday evening to meet world-renowned German artist and landscape architect Herbert Dreiseitl and check out his newly installed public water sculpture. Before last night's dedication ceremony, the artist shared his thoughts with AnnArbor.com on his inspiration for the sculpture, and he addressed public opinion concerning the value of funding public art.
"The sculpture tells a narrative about rainwater. It is a story," Dreiseitl explained.
A tall, tilted bronze structure sits at the end of a sculpted concrete ramp. Storm water collected from the building's rooftop flows through the sculpture. Water pours out from behind blue LED lights, which Dreiseitl likens to 'drops of water or stars." It cascades down the sculpture, and then streams down a winding path on the ramp, flowing under a (soon to be installed) grated metal footpath and into an underground cistern. The storm water is filtered and recycled through the sculpture over and over. And it feeds into a rain garden planted in the new plaza.
"Rain is like a gift from the heavens that is all about the future and renewing the earth. Rain drops like pearls and penetrates the surface, glides down, collects, and then flows down the stream. The sculpture tells that whole story," Dreiseitl said.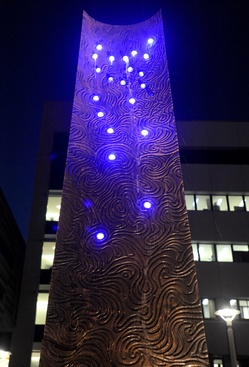 Angela J. Cesere | AnnArbor.com
A few finishing touches still need to take place before the new municipal center plaza and sculpture are fully completed, but the water and lights were turned on for a celebratory crowd last night.
Dreiseitl proposed the artwork to the Public Art Commission and City Council in the summer of 2009. He was invited to submit a proposal after coming to town to speak at the Huron River Watershed Council's annual State of the Huron Conference in the fall of 2008. While in Ann Arbor, he explored the local environment and spent time considering what kind of artwork would fit well in the municipal center's plaza.
"I knew it had to be a strong piece that could handle its surroundings. It couldn't be something fragile and still stand out with these large buildings" like the municipal center, he explained.
The artist hopes the piece "celebrates and expresses what water does in this particular region," the environment of the Huron River Watershed and how water flows through the built environment of the city. He also thinks rain is an inspiring symbol, which "connects us with our future." In a statement he prepared for the dedication ceremony, he wrote; "The promise of Water is all about the future. Like rain, it is comforting, providing renewal and refreshment for a dry and thirsty landscape...It is not only a symbol, water gives hope for the potential of life."
At a cost of $750,000 to the city, the sculpture is the Percent for Art Program's most ambitious. Under the program, 1 percent of money spent on capital improvements is allocated to funding public art. Previous coverage in AnnArbor.com has more specific details about where the money came from and how it was spent.
The city's Percent for Art Program and the purchase of Dreiseitl's artwork has not been without controversy.
Dreiseitl says he is not surprised that some people question the value of funding public art. "It's not unusual. This happens in places all around the world. When money is getting short or people are out of work, the first thing people say is that art shouldn't be funded any more," he said.
What did surprise him was "the intensity of some of the discussions against the art: "I was thinking this region is open to art, and I hope that will prove to be the mainstream," he said.
In his opinion, questioning the value of funding public art "is rubbish."
"Beauty and art are not luxuries; they are necessary. If we cut art, it means we are cutting down our own image. If a city starts to think about not putting up any more art, especially in front of their most important building—their municipal center—that is actually giving up personality. If a region is not investing in beauty, character, and atmosphere, it's not good," he said.
"Art is extremely important because it always has the opportunity to bring people's imagination forward. Any culture or industry that is successful looks for innovation and creativity. Creativity is nothing else but art."