Posted on
Mon, Mar 22, 2010 : 5:11 a.m.
Jan Krist & friends pay musical tribute to Michigan with Ark show
By Kevin Ransom
These are obviously brutal times for the state of Michigan and its residents — especially in the Metro Detroit area, what with the endless layoffs, an unemployment rate hovering around 22 percent, the flood of foreclosures and underwater mortgages, and big funding cuts for everything from education to the arts to city and state services.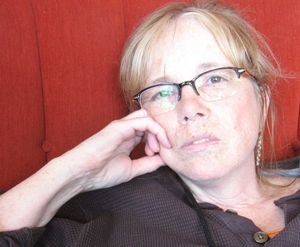 So, Jan Krist and her fellow singers and writers decided this would be a good time to remind Michiganders "how great Michigan still is, in so many respects," she says.
For Krist, that truth hit home harder than ever when she moved to Indiana 2 years ago — after being part of the Ann Arbor / Detroit folk-pop scene for almost 30 years — so that her husband, Alan Finkbeiner, could take advantage of a better job opportunity. He'd previously been selling pianos for Evola Music in Utica, but sales went way down when the Great Recession hit and the housing bubble collapsed a couple of years ago.
He now works for "an online music store that sells music equipment all over the world," says Krist, who, due to her winsome vocals and sharply observed songs, was nominated for 15 Detroit Music Awards over the years. And, 4 times she won, being named "Outstanding Vocalist in Acoustic Music."
"But Michigan, in general, from the state government to the music clubs, is a lot more supportive of the arts than Indiana," says Krist, a Detroit native who spent most of her childhood in Grand Haven before moving back to the Detroit area to attend high school in Berkley. "And that's even in light of the fact that the (Michigan) state government had to cut the endowment for the arts funding. In Indiana, there's never really been much of an endowment like that. It's just not a great environment for the arts.
"And the music clubs in Indiana pay performers about ¼ what they pay in Ann Arbor (and) in the Detroit area, and the rate is the same whether you're playing solo, or with a duo, or with a 4-piece band." So, Krist continues to travel to Michigan about 2 weekends a month to play shows.
"I don't think people in Michigan know how good they have it, even now, with the economy being bad."
So, Jan Krist & Friends will present a show called Michigan in Word and Song at The Ark on Sunday, March 28. The friends include local folk singer and radio host Matt Watroba; the gospel-blues singer-guitarist Rev. Robert Jones; the Detroit poet, writer and Wayne State University professor M.L. Liebler, Kalamazoo guitar dazzler Joel Mabus and Detroit-area folk-pop singer-songwriter Jim Bizer (who is also Krist's longtime music partner.)
"We'll be doing songs that celebrate Michigan, and M.L. will read some of his work about Michigan and Detroit, and some of us singer-songwriters might even read a few poems we've written," says Krist by phone from Fort Wayne. One of those songs will be Krist's "Carry Me Back," from her 1st album, a song about Lake Michigan inspired by her childhood in Grand Haven. "And then Matt has his song about Tiger Stadium" — "They Used to Play Baseball Here" — in which the long-abandoned and now-razed Tiger Stadium symbolizes the many cultural and economic losses Detroit has endured.
Listen to songs by the artists performing at Michigan in Word and Song:

"And Joel has a song about all the different kinds of snow in Michigan, and Jim is writing something special for the occasion.
"I guess I want us to lift the spirits of the audience, even if it's just for that one evening, and to remind them what a special place Michigan still is."
The show will be presented with the artists in the round, taking turns singing their own songs while the others pitch in on backing vocals and instrumental accompaniment. "Several of us are used to playing together," notes Krist. "Jim and Matt and I are in the (Ann Arbor-based songwriting collective) Yellow Room Gang, and Matt and Robert play together a lot, and M.L. did an album that Robert played on…..and Joel is such an incredible guitarist he can accompany anyone on any song."
Krist also has some summer shows coming up, including a June date at the Trinity House, that will team her with 2 of her fellow Yellow Roomers — Ann Arbor singer-songwriters Kitty Donohoe and Annie Capps. The trio bills itself as Sweethearts of the Yellow Room.
Krist's latest album, "Influence," is actually a duo project she recorded with Bizer, who's a 3-time finalist at the prestigious Kerrville Folk Festival, and who won the Grand Prize at the Great American Song contest in 2002.
"I've known Jim since we were teenagers, and we've performed together on and off ever since," says Krist. "He's played guitar and sang backing vocals on my last 3 albums, and I've sang on his albums, and we perform together a lot." Sometimes that's a band incarnation that includes Krist's husband Alan on drums. And at her solo shows, Alan often accompanies her on percussion.
"Jim and I have have learned how to blend our voices really well over the last 10 years, and he's a really good friend.
On "Influence," the title explains the theme of the album. "We definitely wanted to write songs influenced by the music we grew up with, part of which was Motown, but which also included James Taylor, Joni Mitchell, the Beatles…..It's definitely a folk-pop record. I'd say we're both pretty poppy when it comes to the melodies we write."
Kevin Ransom is a free-lance writer who covers music for AnnArbor.com. He can be reached at KevinRansom10@aol.com.