Posted on
Wed, Nov 9, 2011 : 7:54 a.m.
'Ain't Misbehavin'' at Performance Network Theatre, 'Falstaff' at the Power Center
By Carla Milarch
For we need a little Christmas, right this very minute. Candles in the window, carols at the spinet…

Have you noticed that all things holiday seem to be coming early this year? Perhaps the above lyrics from "Mame" provide some insight. After all, with the year many of us have had, we're eager to finally put up some twinkly lights, crack open the hot rum punch and let our hearts be warmed, already.

The holidays are also a great time to reconnect with friends and family. Area theaters keep that in mind, and many offer fun, welcoming, lighter fare that you can rest assured even your Aunt Mildred will enjoy. For many, a trip to the theater around the holidays has become an annual tradition.

This week the first of the big holiday shows rolls out, with Performance Network's "Ain't Misbehavin': the Fats Waller Musical Show." This 1978 Tony-winning musical is still considered one of Broadway's best, setting the music of the inimitable Fats Waller in a revue format.

So, whether you're ready or not, it's time to haul out the holly, break out the eggnog, and bring on the holiday fun!

Theater listings for the week

Show: "The Pelican" by August Strindberg, through Nov. 12.
Company: Basement Arts
Type of Company: Student produced
Venue/location: Studio 1 of the Walgreen Drama Center on the North Campus of University of Michigan
Recommended ages: 13+
Description: The pelican was once thought to feed its young with its own blood. In August Strindberg's classic chamber play, two 20-something siblings try to sort out what is real from what is fictitious in their own lives. In the process, they uncover the truth behind their father's recent death. Full of humor and pain, "The Pelican" examines the contradiction in our lives between what we spend our time doing and what matters to us most.
Fun fact: The poor Swedish cousin to Henrik Ibsen, August Strindberg is a less well-known but just as significant playwright, contributing greatly to the development of modern Western theater. Eugene O'Neill, upon receiving the Nobel Prize in literature, dedicated much of his acceptance speech to describing Strindberg's influence on his work, and referred to him as "that greatest genius of all modern dramatists." Strindberg's seminal work "The Dream Play" is seen as an important precursor to both dramatic expressionism and surrealism.
For tickets and information: Admission is free.
www.facebook.com/basementarts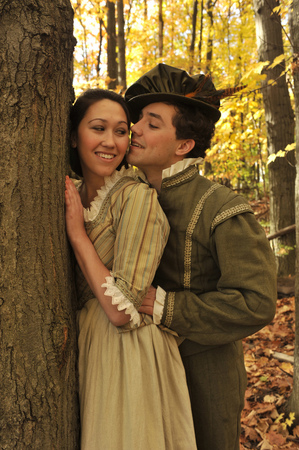 photo by Peter Smith Photography
Show:
"Falstaff" by Giuseppe Verdi, through Nov. 13.
Company:
U-M SMTD University Opera Theatre with the University Symphony Orchestra
Type of Company:
Higher Education
Venue/location:
The Power Center, 121 Fletcher, Ann Arbor
Recommended ages:
Any
Description:
Down on his luck and eager to refill his purse, Sir John Falstaff devises a romantic scheme to solve his financial woes. What could possibly go wrong when the oh-so clever bon vivant sends identical love letters to two married ladies? Plenty, when the merry wives of Windsor unite in mischief to avenge the would-be libertine's impertinence.
Preview from AnnArbor.com
Fun fact:
Composer Giuseppe Verdi came out of "retirement" to write this opera with librettist Arrigo Boito at the age of 80.
For tickets and information:
League Ticket Office 734-764-2538 or
tickets.music.umich.edu
Special ticket offer:
$5 off each full-price ticket with promotion code ONSTAGE.
Show:
"Escanaba in da Moonlight" by Jeff Daniels, through Dec. 17
Company:
Purple Rose Theatre Company
Type of Company:
Professional Equity (SPT)
Venue location:
Purple Rose Theatre Company, 137 Park Street, Chelsea
Recommended ages:
12+
Description:
As the Soady clan gathers at the family deer camp, Reuben Soady is hoping to shed the mantle of "the buckless yooper." But as opening day of deer season approaches, a series of weird occurrences and crazy locals seem to prevent him from bagging his buck. One this is sure, this hunting trip will be one for the Soady history books! Wayne David Parker (Jimmer Negamanee) returns to the role he created.
Review from AnnArbor.com
Fun Fact:
The sound effect for the deer stampede lasts for over 2 minutes and literally vibrates the building. During Wednesday matinees, the downstairs administrative offices shake from the vibrations of the speakers and the staff cannot even answer the phone for those 2 minutes. They call it their "Mary Poppins Cannonball Experience."
For tickets and information:
www.purplerosetheatre.org/
, 734-433-7673
Special ticket offers:
Members of Groupon, check your in-box tomorrow. A special for up to 60 percent off tickets at the Purple Rose should be arriving soon.
Show:
"Ain't Misbehavin': the Fats Waller Musical Show" , Conceived by Richard Maltby Jr. & Murray Horwitz, through Jan. 1
Company:
Performance Network Theatre
Type of Company:
Professional Equity (SPT)
Venue/location:
Performance Network Theatre, 120 East Huron, Ann Arbor
Recommended ages:
12 +
Description:
The prodigious comic and musical soul of 1930s Harlem lives on in this rollicking, finger-snapping revue that is still considered one of Broadway's best. The inimitable Thomas "Fats" Waller rose to fame during the Golden Age of the Cotton Club, honky tolk dives, rent parties and that jumpin' new beat, swing. "Ain't Misbehavin'" evokes the delightful humor and infectious energy of this American era.
Preview from AnnArbor.com
Fun fact:
In 1926 the popular Waller was kidnapped in Chicago leaving a performance. Four men bundled him into a car and took him to the Hawthorne Inn, owned by notorious gangster Al Capone. Fats was ordered inside the building, where he found a party in progress. Gun to his back, he was pushed toward a piano, and told to play, and the terrified Waller realized he was the "surprise guest" at Al Capone's birthday party. Legend has it that Waller played for three days, eventually leaving the party drunk, tired, and thousands of dollars richer from Capone and other party-goers' tips.
For tickets and information:
734-663-0696,
www.performancenetwork.org/
Special ticket offers:
The Network is currently running a 50 percent off gift certificate sale, which ends at midnight on Wednesday, Nov. 9.
Show:
"24 by 24, by various playwrights, one-time event, Nov. 12 at 8 p.m.
Company:
The New Theatre Project
Type of Company:
Professional Non-Equity
Venue/location:
Mix Performance Space, 130 W. Michigan Ave., Ypsilanti
Recommended ages:
16+
Description:
The New Theatre Project presents its own spin on a twenty-four hour play festival, featuring twenty-four short plays written and performed in just a single day. The evening will also feature special musical guests, charged with creating a song in the same twenty-four hours.
Fun fact:
Participating actors, directors, and playwrights will gather on Friday, November 11 at 8 pm, and the artists will work all night to create several, short scripts. Rehearsals take place all day to culminate in a thrilling, adrenaline-fueled performance by some tired, yet satisfied artists.
For tickets and information:
Tickets for 24 in 24 will be $15 with a special offer of, you guessed it, 2 tickets for $24. Ticket prices include pre and post-show refreshments. Call or text 734-645-9776,
www.thenewtheatreproject.org