Posted on
Wed, Feb 27, 2013 : 6:41 a.m.
'Good People' at Performance Network and 'Edward II' at Mix
By Carla Milarch
Well, it looks like March is going to be coming in like a lion, so perhaps this month is an exercise in delayed gratification, as we eagerly awaits its ovine exit. Good thing there's plenty of indoor entertainment to get us through a potentially impatient March.
An optimist by nature, I like to think of the coming month as my last opportunity to cram in large amounts of theater before the warmer weather entices me outside. Pessimists out there can look at it as brief solace from the seemingly endless winter we're enduring.
Show: "Wit" by Margaret Edson, through March 1
Company: Basement Arts
Type of Company: Student-Produced
Venue/location: Studio 1 of the Walgreen Drama Center, 1226 Murfin, Ann Arbor
Recommended ages: 18+
Description: Dr. Vivian Bearing—a professor of English known for her uncompromisingly exhaustive study of metaphysical poetry—is diagnosed with stage four ovarian cancer. As she battles the disease and the side effects of aggressive chemotherapy, she narrates her own struggle for her health. At the same time, she reflects upon her life and her work, and how her perspective changes with the realization that she might be at the end of them.
Fun fact: "Wit" was recently seen on Broadway starring the Tony-nominated Cynthia Nixon.
For tickets and information: Tickets are free and available 15 minutes prior to the show at the door on a first-come, first-served basis; basementarts.org.

Show: "Thorstein the Staff-Struck" by Russ Schwartz, one-time event, March 2 at 7 p.m.
Company: The Penny Seats
Type of Company: Pre-Professional
Venue/location: Arbor Brewing Company, 114 E. Washington St., Ann Arbor
Recommended ages: 13+
Description: Join The Penny Seats for an evening of broadswords and beer, as they present local playwright Russ Schwartz's retelling of a millennium-old story from the Icelandic Sagas. What's in a name? More to the point, what's in a name like Thorstein the Staff-Struck? And why is it going to get a lot of people killed? In the year 1050, a young man leaves a drunken brawl with a nasty cut and a nastier nickname. While the former heals, the latter spreads. Before long his cantankerous Viking father convinces him to avenge the insult.
More information
Fun fact: The company will perform the play as an active staged reading, the third since its debut in Performance Network's 2009 Fireside Festival of New Works. The evening will include dinner provided by Arbor Brewing Company as well as a talkback following the performance (though it is also possible to skip dinner and go straight for the reading and talkback).
For tickets and information: www.brownpapertickets.com, 800-838-3006

Show: "Joseph and the Amazing Technicolor Dreamcoat" lyrics by Tim Rice, music by Andrew Lloyd Webber, through March 3
Company: Encore Musical Theatre
Type of Company: Professional Equity Guest Appearance Contract
Venue/location: Encore Musical Theatre, 3126 Broad Street, Dexter
Recommended ages: 12+
Description: The first collaboration between Andrew Lloyd Webber and Tim Rice tells the story of a young man named Joseph living in the land of Canaan. His father's favorite son, Joseph is perhaps a little spoiled. While the rest of his brothers are forced to wear sheepskin, he struts around in a fabulous rainbow-colored coat, a gift from his adoring father. The rest of Joseph's brothers aren't too pleased with the situation, and when Joseph goes so far as to tell them of a dream he has had in which their stacks of wheat bow down to his stack of wheat, they decide they have finally had enough.
Review from Encore Michigan
Fun fact: The role of The Narrator (usually played by one woman) is being played by three teenage girls: Madison Deadman, Megan Casey, and Bryana Dorfman—who make up the local Pop/Country band SIR3N.

Show: "The Meaning of Almost Everything" by Jeff Daniels, through March 9
Company: The Purple Rose Theatre Company
Type of Company: Professional Equity SPT
Venue/location: The Purple Rose Theatre, 137 Park Street, Chelsea
Recommended ages: 17+
Description: Step right up and grab a seat for the hilarious and sometimes painful circus that is life! Two men will astound you with their feats of daring and sometimes cowardice as they pratfall their way to the big answers in "The Meaning of Almost of Everything." This world premiere comedy questions the nature of our world and the absurdity of it all.
Review from the Rogue Critic
Fun fact: There are 50 light cues and over 100 lighting instruments used in the show.
For tickets and information: 734-433-7673 or www.purplerosetheatre.org


Show: "Edward II" by Jason Sebacher, based on the play by Christopher Marlowe
Company: The New Theatre Project
Type of Company: Professional Non-Equity
Venue/location: Mix Performance Space, 130 W. Michigan Ave., Ypsilanti
Recommended ages: 18+, Contains violence, strong language, sexual simulations, and nudity.
Description: A party boy, a loser, a pothead, a wastoid, now a king. Edward, not ready for the call of adulthood, crashes in his dad's basement with his disreputable boyfriend, Pierce. His brother Kent lives under the burden of his beloved father, and his wife Isabel will only put up with it for so long before her ambitions get the best of her. The New Theatre Project's first history play adaptation exists in the tensions between power and desire, pain and pleasure, and past and present. The classic love story--with its unforgettable, explosive ending--is about the impossibility of young love and the casualties of adulthood.
More information
Fun fact: One of the earliest English history plays, the full title of Marlowe's first publication was "The Troublesome Reign and Lamentable Death of Edward the Second, King of England, with the Tragical Fall of Proud Mortimer."
For tickets and information: Call or text 734-645-9776, www.thenewtheatreproject.org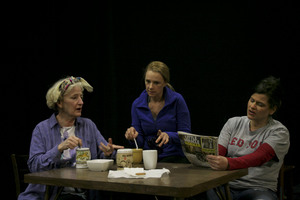 Show:
"Good People" by David Lindsay-Abaire, through March 31
Company:
Performance Network Theatre
Type of Company:
Professional Equity SPT
Venue/location:
Performance Network Theatre, 120 E. Huron, Ann Arbor
Recommended ages
: 16+
Description:
When you got nothin', you got nothin' to lose - or so it would seem for Margie Walsh, a Dollar Store worker from Boston's Southie district, where this week's paycheck pays last week's bills, and a round of Bingo is a night on the town. Fired from her job and facing eviction, she reaches out in desperation to a high school boyfriend who has made it out, inviting herself to a chic cocktail party in his home. Once there, a series of awkward moments reveals a secret about their past, putting Margie in the driver's seat for the first time. This 2011 Tony nominee is a touching and funny look at America's great economic divide.
Preview from AnnArbor.com
Fun Fact:
According to the U.S. Census Bureau data released September 13, 2011, the nation's poverty rate rose to 15.1% (46.2 million) in 2010, up from 14.3% (approximately 43.6 million) in 2009 and to its highest level since 1993.
For tickets and information:
www.performancenetwork.org/
, 734-663-0681.