Posted on
Wed, Feb 13, 2013 : 6:48 a.m.
'Hilarious Chekhov' at Ann Arbor Civic, 'Urinetown' at EMU
By Carla Milarch
Between Fat Tuesday on the 12th, and Valentine's Day two days later, there's never been a better week to splurge. Chocolates, flowers, extravagant dinners—all are popular expressions of love this time of year. While you're at it, why not include a romantic night out at the theater as a way to show that special someone you care?
A pair of theater tickets doesn't have to break the bank either. With options ranging from $40 or so at the Purple Rose, to $15 at the Encore, to completely free at Basement Arts, there's something to fit every price range, and still have money left over for dinner.
Roses are red,
Theater is sweet,
So make your reservations
for a date that can't be beat!
Show: "I Love You Because: Kevin Rose in Concert," with Thalia Schramm and Sebastian Gerstner, accompanied by R. MacKenzie Lewis. One-time event, Feb. 13, 7 p.m.
Company: The Encore Musical Theatre Company
Venue/location: The Encore Musical Theatre Company, 3126 Broad Street, Dexter
Recommended ages: 13+
Description: The Encore hosts A Valentine's Day Concert featuring Kevin Rose ("Plaid Tidings," "Joseph and the Amazing Technicolor Dreamcoat",) Thalia Schramm ("The Fantasticks," "The Last 5 Years," "Guys and Dolls") and Sebastian Gerstner ("Forever Plaid," "Oklahoma!").
Fun fact: Songs include a "West Side Story" Medley, and songs from "Thoroughly Modern Millie," "Into the Woods," "I Love You Because," "Baby," and many more!
For tickets and information: 734-268-6200, www.theencoretheatre.org.

Show: "Tape" by Stephen Belber, through Feb. 16
Company: Basement Arts
Type of Company: Student-Produced
Venue/location: Studio 1 of the Walgreen Drama Center, 1226 Murfin, Ann Arbor
Recommended ages: 18+
Description: When Jon, an aspiring filmmaker, meets up with his high school buddy Vince for the weekend, it seems like the good times are about to roll. Jon's latest film is premiering at the Lansing Film Festival and Vince has come all the way from California to see it. But the camaraderie doesn't last long: Old tensions resurface, tempers flare and a particularly dark secret is divulged about a girl who Jon and Vince both dated in high school. It is only after Jon has revealed this secret that Vince makes a revelation of his own; he has taped their entire conversation. And not only that, but he's invited the girl, Amy, to have dinner with them that night. The stakes are high, and truth is a matter of perception in this tense theatrical thriller.
Fun fact: "Tape" was first produced as part of the 2000 Humana Festival of New American Plays. It was later made into a film starring Ethan Hawke, Robert Sean Leonard, and Uma Thurman.
For tickets and information: Tickets are free and available 15 minutes prior to the show on a first-come first-served basis. Info: basementarts.org.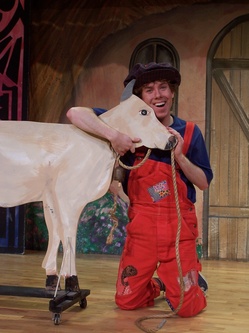 Show Title:
"Jack and the Beanstalk" through Feb. 16
Company:
Wild Swan Theater
Type of Company:
Family-Friendly Professsional Theater
Venue/location:
Towsley Auditorium, Morrris Lawrence Building, Washtenaw Community College, Ypsilanti
Recommended ages:
Pre-K+
Description:
This lively rendition of a classic tale presents a humorous giant, appropriate for young theatergoers. In Wild Swan's version, Jack's journey up the fantastical beanstalk not only leads to his encounter with a very silly giant but to the rescue of his long lost father as well.
Fun fact:
The first film adaptation was in 1902 by Edwin S. Porter for the Edison Manufacturing Company. Walt Disney made a short of the same name in 1922, and a separate adaptation entitled
Mickey and the Beanstalk
in 1947 as part of
Fun and Fancy Free
.
For tickets and information:
734-995-0530,
www.wildswantheater.org
Show:
"Hilarious Chekhov: The Bear and The Proposal" by Anton Chekhov, through Feb. 17
Company:
Ann Arbor Civic Theatre
Type of Company:
Community
Venue/location:
A2CT Studio Theater, 322 West Ann St, Ann Arbor
Recommended ages:
10+
Description:
"Hilarious Chekhov" features two of Chekhov's lightest one-act plays. In "The Bear," a landowner comes to claim a debt from a young woman whose husband has just died. Out of grief, she refuses to see him—as an attempt to prove to her faithless dead husband that women are more loyal than men. Eventually, the young widow and the landowner quarrel and decide to fight a duel, leaving the landowner so impressed that he falls madly in love with her. "The Proposal" portrays a nervous young farmer who comes to propose to his neighbor's daughter. Instead of making the proposal, the two young people get involved in comic arguments. The young man leaves, and the girl goes into hysterics until the father agrees to go after the young man.
More information
Fun fact:
The play's director,
John Hill
, translated this version from the original Russian.
For tickets and information:
734-971-2228,
a2ct.org
Show: "Urinetown, the Musical" music and lyrics by Mark Hollman, lyrics and book by Greg Kotis, through Feb. 24
Company: Eastern Michigan University Theatre
Type of Company: Higher Education
Venue/location: Quirk Theatre, EMU's campus, Ypsilanti
Recommended ages: 10+
Description: Multiple award-winner including Tony Awards for Best Book and Score, "Urinetown" is an irreverent musical satire. When a 20-year drought causes an epic water shortage, private toilets are banned and public toilets cost money per use. If anyone refuses to uphold the laws, they are sent to the mysterious Urinetown, never to return. This sharp musical comedy not only comments on the environment, the legal system and corporate mismanagement, but also the form of the Broadway musical. A hilarious tale of greed, corruption, love and revolution, that is sure to have audiences up out of their seats - and not just to run to the lavatory.
More information
Fun fact: Arrive early to join in the pre-show lobby festivities including toilet-seat baseball.
For tickets and information: 734.487.2282, www.emutix.com

Show: "Joseph and the Amazing Technicolor Dreamcoat" lyrics by Tim Rice, music by Andrew Lloyd Webber, through March 3
Company: Encore Musical Theatre
Type of Company: Professional Equity Guest Appearance Contract
Venue/location: Encore Musical Theatre, 3126 Broad Street, Dexter
Recommended ages: 12+
Description: The first collaboration between Andrew Lloyd Webber and Tim Rice tells the story of a young man named Joseph living in the land of Canaan. His father's favorite son, Joseph is perhaps a little spoiled. While the rest of his brothers are forced to wear sheepskin, he struts around in a fabulous rainbow-colored coat, a gift from his adoring father. The rest of Joseph's brothers aren't too pleased with the situation, and when Joseph goes so far as to tell them of a dream he has had in which their stacks of wheat bow down to his stack of wheat, they decide they have finally had enough.
Review from AnnArbor.com
Fun fact: Sebastian Gerstner (who plays The Pharaoh in Joseph) has appeared on Encore's Stage more than 12 times!
For tickets and information: 734-268-6200, www.theencoretheatre.org

Show: "The Meaning of Almost Everything" by Jeff Daniels, through March 9
Company: The Purple Rose Theatre Company
Type of Company: Professional Equity SPT
Venue/location: The Purple Rose Theatre, 137 Park Street, Chelsea, MI 48118
Recommended ages: 17+
Description: Step right up and grab a seat for the hilarious and sometimes painful circus that is life! Two men will astound you with their feats of daring and sometimes cowardice as they pratfall their way to the big answers in "The Meaning of Almost of Everything." This world premiere comedy questions the nature of our world and the absurdity of it all.
Review from the Jackson Citizen Patriot
Fun fact: Properties designer Danna Segrest and her assistant Lauren Knox tried at least 6 different recipes for Apple Brown Betty before perfecting the dessert that is used in each performance.
For tickets and information: 734-433-7673 or www.purplerosetheatre.org