Posted on
Wed, Oct 19, 2011 : 6:03 a.m.
'Once Upon a Time' at Towsley Auditorium and 'Evil Dead: The Musical' comes to Dexter
By Carla Milarch
There are so many reasons to love the fall. Crisp apples, college football, and finally getting to break out those fuzzy fall sweaters are just a few of the things that take the bite out of saying goodbye to summer.

It's a time of harvest and abundance in many things, not the least of which is the arts. Here in Washtenaw County we have a wealth of offerings, and many theaters are back on the boards, or getting ready to stage their big holiday offerings.

As the weather gets colder, the fireplaces fire up, and the night comes a little bit earlier, be sure to put on your best fuzzy sweater and warm up your heart, your mind and your spirit—with a night out at the theater!

Theater listings for the week

Show: "The Imaginary Invalid" by Moliere, translated and adapted by James Magruder, through Oct. 22.
Company: EMU Theatre
Type of Company: Higher Education
Venue/location: Quirk Theatre in the Quirk Dramatic Arts Building, intersection of East Circle Drive and Best Hall, Ypsilanti
Recommended ages: Contains material including sexual innuendo and bodily humor that may not suitable for all audiences. Suggested for ages 13+
Description: Argon, a raging hypochondriac, attempts to marry off his beautiful daughter Angelique to an incompetent doctor in order to obtain permanent health care. Argon's gold-digging dominatrix of a wife, Beline, has her own plans for the future while his smart, sassy servant Toinette uses her sharp tongue and sharper wit to keep the chaos under control and the household together.
Preview from AnnArbor.com
Fun fact: Jean-Baptiste Poquelin, known by his stage name Molière, was a French playwright and actor who is considered to be one of western literature's great masters of comedy. Born into a wealthy family, he abandoned his social class at age 21 to pursue a career on the stage. Taking leave of his father, he founded L'Illustre Théâtre with 630 livres. Two years later, the new theatre troupe became bankrupt after acquiring large debts. Historians differ as to whether his father or the lover of a member of his troupe paid his debts; either way, after a 24-hour stint in prison he returned to the acting circuit.
For tickets and information: 734-487-2282, www.emutix.com.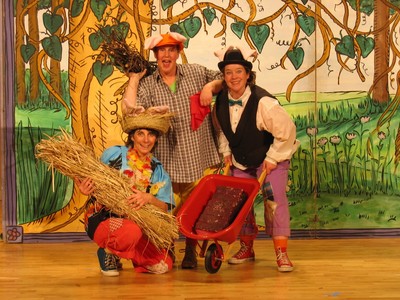 Show:
"Once Upon a Time," a collection of children's tales, through Oct. 22
Company:
Wild Swan Theater
Type of Company:
Theater for Children
Venue/location:
Towsley Auditorium, Morris Lawrence Building, Washtenaw Community College, Ypsilanti
Recommended ages:
Family friendly, Pre-K and up
Description:
This collection of children's classics includes the "Three Billy Goat's Gruff," "Reynard the Fox," and "The Three Little Pigs." In signature Wild Swan style, three performers (
Sandy Ryder
,
Jeremy Salvatori
, and
Michelle Trame Lanzi
) and musician
David Mosher
create all three timeless stories.
Jamie Fidler
, an American Sign Language Performer, rounds out the cast. Live music arranged and performed by David Mosher heightens the suspense and humor inherent in these timeless tales. Besides playing throughout the stories, he also plays several songs that tell wonderful stories on their own. David has been named "Outstanding Acoustic Instrumentalist" several years running by Detroit Metro Times.
Fun fact:
All of Wild Swan Theater's main-stage performances are signed for the hearing impaired. Jamie Fidler's signing is seamlessly woven into the action, adding another layer of clarity and depth to the stories while bringing the beauty of sign language to the stage.
For tickets and information:
www.wildswantheater.org/Season.aspx
, 734-995-0530
Show:
"The American Crowbar Case" created by Gray Bouchard, book by Jason Sebacher, music by Match by Match, through Oct. 22
Company:
The New Theatre Project
Type of Company:
Professional Non-Equity
Venue/location:
Mix Performance Space, 130 W. Michigan Ave., Ypsilanti
Recommended ages:
16+
Description:
In 1848, a spike was blasted through Phineas Gage's skull, turning most of his frontal lobe into jelly. But that's the least of his problems. Now he's got a second chance and doesn't know quite what to do with himself. This new indie-folk musical follows Gage, his fiancé, his mistress, and two contemporary scholars across time and space as they all cope with the burden of new beginnings.
Preview from AnnArbor.com
Fun fact:
Nineteenth-century references to Gage as "the American Crowbar Case" bear clarification: crowbars of that time did not have the claw associated with that term today. Gage's tamping iron was described as a straight three feet, seven inches long, and an inch and a fourth in diameter. Weighing 13 1⁄4 pounds, this "abrupt and intrusive visitor" was said to have landed some 80 feet away.
For tickets and information:
Call or text 734-645-9776,
www.thenewtheatreproject.org
Show:
Interview With Barry McGovern, Actor And Renowned Beckett Performer With The Gate Theatre Of Dublin, one-time event, Oct. 23, 5 - 6 p.m.
Company:
Ann Arbor District Library & University Musical Society
Type of Company:
Educational program
Venue/location:
Multi-Purpose Room, Downtown Library, 343 South Fifth Ave., Ann Arbor
Recommended ages:
12+
Description:
Actor
Barry McGovern
, one of the world's leading interpreters of Samuel Beckett's works, is interviewed by U-M Professor
Enoch Brater
. McGovern will discuss his work with the Dublin's Gate Theatre and his new solo performance adaptation of Beckett's novel "Watt." Ireland's acclaimed Gate Theatre is largely considered the leading interpreter of the great Irish modernist writer, playwright, and humorist Samuel Beckett in the world. This event is held in conjunction with University Musical Society's double-bill of two one-act Beckett plays (Endgame and Watt) performed by the Gate Theatre and featuring Barry McGovern at the Power Center Oct. 27-29.
Fun fact:
Barry McGovern is known as the greatest exponent of Beckett today. He first appeared at the Gate Theatre as Lucky in Waiting for Godot in 1972. He has had a long association with the work of Samuel Beckett and has appeared in numerous productions of Beckett's work throughout the world.
For tickets and information:
www.aadl.org/
, 734-327-4555.
Show:
"Time Stands Still" by Donald Margulies, through Oct. 23
Company:
Performance Network Theatre
Type of Company:
Professional Equity (SPT)
Venue/location:
Performance Network Theatre, 120 East Huron, Ann Arbor
Recommended ages:
16 +
Description:
With a passionate romance and two hot careers as war journalists in Iraq, Sarah and James' lives are on fire. But when Sarah is injured in a bombing and a shocking betrayal is revealed, the fabric of their relationship begins to unravel over thorny ethical questions. Grounded in the couple's Brooklyn loft while Sarah heals, they must discover how to move forward, or risk "standing still" forever. Courageous and intelligently funny, this Tony-nominated drama asks the questions that thinking people face today: When does documenting a tragedy become exploiting it? What personal responsibility do we bear when faced with the suffering of others? Is it okay to ignore the misery in the world, in order to have a joyful life? Hot from its Tony-nominated run on Broadway, this riveting play comes exclusively to Performance Network for its Michigan premiere.
Review from AnnArbor.com
Fun fact (okay, maybe not so fun):
According to
costofwar.com/en/
, the Iraq war (just Iraq, not including Afghanistan) has cost the U.S. more than $800 trillion over the last 10 years, with expenses rising faster than $1,000 per second.
For tickets and information:
734-663-0696,
www.performancenetwork.org/
Special Ticket Offers:
In honor of its 30th anniversary, Performance Network is rolling back prices to those of 1982, $9 tickets for any remaining performance of "Time Stands Still" are available through Wednesday 10/12.
Show:
"The Full Monty" by Terrence McNally and David Yazbek, through Oct. 23
Company:
UM Department of Musical Theatre
Type of Company:
Higher Education
Venue/location:
Lydia Mendelssohn Theatre, 911 North University Avenue, Ann Arbor
Recommended ages:
Recommended for mature audiences due to profanity, sexual innuendo, and brief nudity.
Description:
When the economy fails, a group of men decide to take matters in their own hands to make ends meet - but can they go all the way?
Review from AnnArbor.com
Fun fact:
The 1997 film upon which the musical is based was shot on a budget of just $3.5 million. It then went on to become an international hit, grossing over $250 million.
For tickets and information: 734-764-2538,
tickets.music.umich.edu
Show:
"Evil Dead: The Musical" book and lyrics by George Reinblatt, music by Frank Cipolla and Melissa Morris, through Oct. 30
Company:
Dexter Community Players
Type of Company:
Community Theater
Venue/Location:
Copeland Auditorium, 7714 Ann Arbor St., Dexter
Recommended ages:
Warning! This show contains strong adult content and language. No one under the age of 16 will be admitted without a parent or guardian.
Description:
Based on Sam Raimi's '80s cult classic films, "Evil Dead" tells the tale of five college students who travel to a cabin in the woods where they accidentally unleash an evil force. As musical mayhem descends upon this sleepover in the woods, "camp" takes on a whole new meaning with uproarious song and dance numbers. One of the unique parts of the show is the Splatter Zone, a reserved seating area for fans that want to get up close and personal with the show. For those not interested in encountering copious amounts of blood, non-Splatter Zone seating is available; the mid section, where you might get a bit of blood on you, and the far section, where you should be safe (no guarantees though).
Preview from AnnArbor.com
Fun Fact/Disclaimer:
The Evil Dead blood recipe contains fabric softener and other safe non-toxic ingredients. This is done so the blood will more than likely wash out of your clothing, but DCP cannot be held responsible if it does not. Please dress accordingly.
For tickets and information:
dextercommunityplayers.com/main/?q=node/75
, 734-726-0355
Show:
"Escanaba in da Moonlight" by Jeff Daniels, through December 17
Company:
Purple Rose Theatre Company
Type of Company:
Professional Equity (SPT)
Venue location:
Purple Rose Theatre Company, 137 Park Street, Chelsea
Recommended ages:
12+
Description:
As the Soady clan gathers at the family deer camp, Reuben Soady is hoping to shed the mantle of "the buckless yooper." But as opening day of deer season approaches, a series of weird occurrences and crazy locals seem to prevent him from bagging his buck. One this is sure, this hunting trip will be one for the Soady history books! Wayne David Parker (Jimmer Negamanee) returns to the role he created.
Review from AnnArbor.com
Fun Fact:
Jim Porterfield (Albert Soady) has had a very diverse career. In addition to acting in over 1,000 performances at the Purple Rose, Jim has made appearances in last year's television series "Detroit 187", the film "Kill the Irishman" and the Lifetime movie "Last Man Standing." He's also a certified arborist and the theatre's resident "tree expert."
For tickets and information:
www.purplerosetheatre.org/
, 734-433-7673.