Posted on
Thu, Jan 24, 2013 : 11:45 a.m.
See the trailer (in English!) for locally filmed Liam Hemsworth movie 'Love and Honor' as release date draws close
By Jenn McKee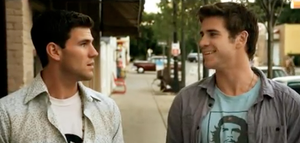 "Love and Honor,"
a feature film
shot in the Ann Arbor area
(and previously titled "AWOL") in 2011, has a trailer online—now in English!
Previously, the only trailer for the film available online had been dubbed in Russian.
Co-written by U-M screenwriting professor Jim Burnstein (with Garrett Schiff) and directed by U-M grad Danny Mooney, "Love and Honor" will be available through On Demand on Feb. 14 and will debut in select theaters on March 22.
The film was shot in Ann Arbor, Ypsilanti, Plymouth, and Inkster, and it tells the story of Dalton Joiner (Austin Stowell), a Vietnam soldier who finds out that his girlfriend Jane (Aimee Teegarden) has dumped him. Dalton goes home on a one-week leave to win her back, taking his best friend Mickey (Liam Hemsworth) along for the trip. But when the two men arrive stateside, they find Jane and her committed activist friend Candace (Teresa Palmer) at the heart of the anti-war movement.