Posted on
Wed, Apr 18, 2012 : 10:24 a.m.
Local actors recall work on Ann Arbor movie 'The Five Year Engagement'
By Jenn McKee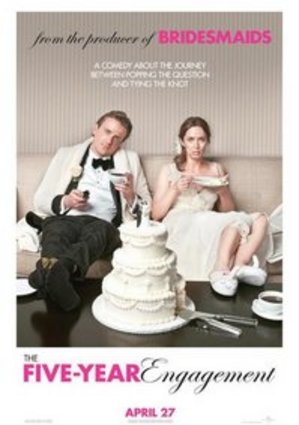 An extended liplock with "The Office"'s
Mindy Kaling
? A chicken dance with Oscar nominee
Jackie Weaver
?
These are just two experiences of local actors who took part in "The Five Year Engagement" shoot in Ann Arbor last year.
The movie stars Jason Segel and Emily Blunt as a couple struggling to get to the altar, and one of the film's producers is Judd Apatow. It was filmed primarily in the Ann Arbor area last year, and is largely set in Ann Arbor as well—unlike most of the other recent high-profile movie shoots in the area, which mostly had Ann Arbor stand in for other locales.
When it opens nationally April 27, these actors—and everyone else—will finally be able to see how much of their respective scenes made it into the film's final cut, and how the whole movie came together. (A special sneak preview, this Friday at the Michigan Theater, will benefit 826michigan.)
Perhaps not surprisingly, recent U-M grad Torrey Wigfield, who moved to New York six months ago, plays a college student in "Five Year." "Without giving too much away, I'm part of a running joke," Wigfield said. "Essentially, I had a make out scene with Mindy Kaling that we shot 4 or 5 or 6 times. So we made out for about 20 minutes on the set, and probably about 30 seconds of that will actually be used in the film."
What was it like to work with actress/comedian Kaling?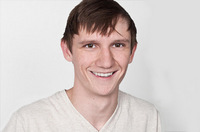 "She was a blast," said Wigfield. "She's very funny, on and off camera. But I think she was kind of nervous. The only other time she'd had to make out with somebody on camera was with her boyfriend. … So I was bonding over that with her, and getting some jitters out of the way. Not only about that—I'd also been researching her for the 2 months, so here's someone I knew everything about before we ever met on the set."
Plus, initially, Wigfield was told he'd be going farther than just kissing Kaling in U-M's East Hall—the same building where Wigfield had taken a Shakespeare class two years earlier.
"When I was cast in the role, I was told that while we were making out, (Kaling) would be taking off my pants, and my bare butt would be pressed up against a window," Wigfield recalled. "But when I got there, they'd cut that scene. I was all ready to go (in terms of costuming), anyway."
Wigfield's involvement in the film began more than a year before the shoot, when his agent told him that producers wanted to see him at a director's-invite-only audition.
"There were just 2 lines they wanted me to read, and then (director) Nick Stoller wanted me to do some improv with him as much as possible," said Wigfield. "It was a great experience, to wing it with the director of a movie like that. And I was about to leave the building when they called me back in read for 3 more characters. 2 months passed, and then my agent called and said they wanted me, and we booked it."
White Lake's Mark Rademacher, who's now starring as Mark Rothko in Performance Network's production of John Logan's "Red," was cast without meeting Stoller. Instead, his agent arranged for an audition, which was filmed, and he landed the role of a priest, which would involve two days of filming.
The problem? Rademacher was, at the same time, appearing in "Circle Mirror Transformation" at PN.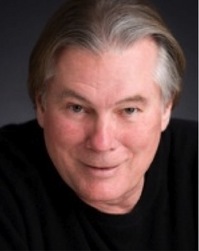 "Initially, I turned ('Five Year') down because of the conflict," said Rademacher. "Apparently Nick Stoller's response was something like, 'It's early March. He's got a month to find an understudy, doesn't he?'"
And although PN doesn't often have understudies for productions, Phil Powers stepped in to Rademacher's "Circle" role for one night so that Rademacher could participate in a "Five Year" shoot out at Randy's Roadhouse in the Irish Hills.
The scene depicted Segel and Blunt's rehearsal dinner, and in addition to chicken dancing with Weaver, Rademacher got the chance to work with Brian Posehn (comedian and "The Sarah Silverman Show" star) and Aaron Lustig (who plays a rabbi alongside Rademacher's Priest Lowell).
"It was a strange, wonderful experience," Rademacher said of the shoot, which ran until 2 a.m. (Additional locales used during the shoot included Liberty Park Plaza; the Main St. area downtown; Zingerman's Deli and Bakehouse; the Cavern Club; the area near Beezy's Cafe in Ypsilanti; the Palmer House; and more.)
Rademacher was also involved in a shoot that happened in a U-M law professor's house on Berkshire Rd., where a scene involving wedding planning takes place. Rademacher's priest, and Lustig's rabbi, vie for influence, and Rademacher not only had to get used to acting in front of a camera instead of a live audience, but also ad-libbing.
"The great thing about working with Nick Stoller was the improvising," said Rademacher. "First, we did things as they were scripted. But then, he'd come in and go, 'OK, this time, say this when she says that.' And that was the fun of the scene - watching people work within it."
In one take, for instance, Segel ad-libbed "that something he'd seen in 'The Exorcist' was true - 'Isn't it, Father?'" explained Rademacher. "Fortunately, I was on my toes enough to respond to it. And Jason told me later he thought I'd come up with a funny line. So it really put everyone at ease - this feeling that we could improvise at any time."
Here's a short clip from the film that features Rademacher:
Check out past coverage of "The Five Year Engagement"
Jenn McKee is the entertainment digital journalist for AnnArbor.com. Reach her at jennmckee@annarbor.com or 734-623-2546, and follow her on Twitter @jennmckee.