Posted on
Sun, Apr 14, 2013 : 5:59 a.m.
UMS announces 2013-14 season lineup
By Bob Needham
The University Musical Society today formally announces its schedule of events for the 2013-14 season.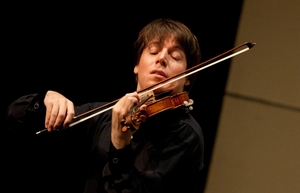 photo b Eric Kabik
The San Francisco Symphony Orchestra, Joshua Bell, and the St. Lawrence String Quartet are among the classical-music highlights. Other highlights include Jason Moran's Fats Waller Dance Party featuring Meshell Ndegeocello; Chris Thile; and Hubbard Street Dance Chicago.
Ann Arbor's storied performing-arts presenting organization will offer 67 performances by 43 different artists and ensembles during the season, which, as always, will also include a variety of community-engagement activities.
"The 13/14 UMS season connects Southeast Michigan with performing artists who truly are leaders in their field, expanding and redefining the very meaning of artistic excellence," said UMS President Kenneth C. Fischer in a press release. "I say this every season and I mean it every time: This year is going to be incredible. In addition to presenting familiar favorites, the 135th season includes 20 UMS debut performances.
"At the heart and history of UMS is our signature Choral Union Series and the 51st Annual Chamber Arts Series, both of which feature a stellar lineup of classical music concerts including the San Francisco Symphony, the Israel Philharmonic Orchestra, violinist Joshua Bell, and the St. Lawrence String Quartet. UMS is also very excited to present artists who are genre-defying in many ways, artists who are not afraid to explore new terrain and merge unexpected influences: Jason Moran, the Kronos Quartet, saxophonist Colin Stetson, Brooklyn Rider with Bela Fleck, Alfredo Rodriguez and Pedrito Martinez, mandolin player Chris Thile, the Ukulele Orchestra of Great Britain, and many more. In addition, we have the International Theater series, the 23rd annual Dance Series, the Global Series, and the 20th annual Jazz Series, all of which continue to bring the very best to Ann Arbor. You won't want to miss a thing."
Subscription (series) tickets go on sale to the general public May 1, with renewal packages being mailed to current subscribers. UMS is again offering the option of creating a custom subscription, "Series: You," through July 31. Tickets to individual events will go on sale to the general public Aug. 5.
For series packages, more information, or to be added to the UMS mailing list, contact the UMS Ticket Office at 734-764-2538 or visit www.ums.org.
A special focus for community engagement during the season will be expanding audiences for dance. According to the announcement, "Recipients of a 2013 Engaging Dance Audiences grant, awarded by Dance/USA with the support of the Doris Duke Charitable Foundation, UMS has been awarded $40,000 to implement an original program that uses peer-to-peer mentoring opportunities to increase appreciation for dance. Utilizing a combination of UMS dance performances, community dance ambassadors, free UMS Night School sessions, post-show discussions, and free community dance workshops, this program provides dance "novices" with ways to gain new levels of comfort and awareness of contemporary dance as an art form. Program specifics, including a calendar related events, will be announced later this summer."
Download the full season announcements here. A chronological list also appears below.
• By date: 1314_chron_listing.pdf
• By series: 1314_Season_Announcement.pdf
September 2013
Jason Moran's Fats Waller Dance Party featuring Meshell Ndegeocello
Friday, September 6
Venue and Time TBA

Audra McDonald
Andy Einhorn, piano
University Symphony Orchestra Kenneth Kiesler, conductor
Sunday, September 15, 4 pm Hill Auditorium

Complicite and Setagaya Public Theatre: "Shun-kin"
Directed by Simon McBurney
Puppetry by Blind Summit
Wednesday, September 18, 7:30 pm
Thursday, September 19, 7:30 pm
Friday, September 20, 8 pm
Saturday, September 21, 8 pm
Power Center

Hubbard Street Dance Chicago
"One Thousand Pieces"
Glenn Edgerton, artistic director
Alejandro Cerrudo, resident choreographer
Friday, September 27, 8 pm
Saturday, September 28, 8 pm
Power Center

October 2013
Chanticleer
Thursday, October 10, 7:30 pm
St. Francis of Assisi Catholic Church

Buika
Friday, October 11, 8 pm
Michigan Theater

Takacs Quartet
Saturday, October 12, 8 pm
Rackham Auditorium

Chris Thile
Friday, October 18, 8 pm
Rackham Auditorium

Andras Schiff, piano
Friday, October 25, 8 pm
Hill Auditorium

"The Manganiyar Seduction"
Roysten Abel, creator
Can & Abel Theaters, New Delhi
Saturday, October 26, 8 pm
Sunday, October 27, 4pm
Power Center

Blind Summit: "The Table"
Tuesday, October 29, 7:30 pm
Wednesday, October 30, 7:30 pm
Thursday, October 31, 7:30 pm
Friday, November 1, 8 pm
Saturday, November 2, 8 pm
Sunday, November 3, 2 pm
Performance Network

November 2013
Ballet Preljocaj
"And Then, One Thousand Years of Peace"
Angelin Preljocaj, artistic director
Friday, November 1, 8 pm
Saturday, November 2, 8 pm
Power Center

Apollo's Fire
Jeannette Sorrell, music director and harpsichord
Sunday, November 3, 4 pm
Hill Auditorium

Steve Lehman Octet
Saturday, November 9, 8 pm
Lydia Mendelssohn Theatre

Ukulele Orchestra of Great Britain
Tuesday, November 12, 7:30 pm
Michigan Theater

Hagen Quartet
Wednesday, November 13, 7:30 pm
Rackham Auditorium

San Francisco Symphony
Michael Tilson Thomas, conductor Sarah Cooke, mezzo‐soprano UMS Choral Union
Saturday, November 16, 8 pm
Hill Auditorium

Brooklyn Rider
Bela Fleck, banjo
Sunday, November 24, 4 pm
Rackham Auditorium

December 2013
Handel's Messiah
Ann Arbor Symphony Orchestra, UMS Choral Union
Jerry Blackstone, conductor
Saturday, December 7, 8 pm
Sunday, December 8, 2 pm
Hill Auditorium

January 2014
"Bullet Catch" By Rob Drummond
Arches Productions
Tuesday, January 7, 7:30 pm
Wednesday, January 8, 7:30 pm
Thursday, January 9, 7:30 pm
Friday, January 10, 8 pm
Saturday, January 11, 8 pm
Sunday, January 12, 2 pm
Arthur Miller Theatre

Colin Stetson
Wednesday, January 15, 7:30 pm
Thursday, January 16, 7:30 pm
Arthur Miller Theatre

Kronos Quartet
Friday, January 17, 8 pm
Saturday, January 18, 8 pm
Power Center

Denis Matsuev
Sunday, January 26, 4 pm
Hill Auditorium

Fred Hersch Trio
Thursday, January 30, 7:30 pm & 9:30 pm (two different sets)
Lydia Mendelssohn Theatre

February 2014
Ariel Quartet
Alisa Weilerstein, cello
Wednesday, February 5, 7:30 pm
Rackham Auditorium

Kremerata Baltica
Gidon Kremer, violin and conductor
Thursday, February 6, 7:30 pm
Hill Auditorium

One Night in Bamako
Bassekou Kouyate and Ngoni Ba Fatoumata Diawara
Friday, February 7, 8 pm
Michigan Theater

St. Lawrence String Quartet
Friday, February 14, 8 pm
Rackham Auditorium

Compagnie Kafig: "Correria & Agwa"
Mourad Merzouki, artistic director and choreographer
Friday, February 14, 8 pm
Saturday, February 15, 8 pm
Power Center

Joshua Bell, violin Pianist TBA
Sunday, February 16, 4 pm
Hill Auditorium

Theatre des Bouffes du Nord: "The Suit"
Written by Can Themba, Mothobi Mutloatse, and Barney Simon Directed by Peter Brook
Wednesday, February 19, 7:30 pm
Thursday, February 20, 7:30 pm
Friday, February 21, 8 pm
Saturday, February 22, 8 pm
Power Center

St. Petersburg Philharmonic Yuri Temirkanov, conductor Denis Kozhukhin, piano
Saturday, February 22, 8 pm
Hill Auditorium

March 2013
Alfredo Rodríguez Trio and Pedro Martinez Group
Friday, March 14, 8 pm
Michigan Theater

Israel Philharmonic Orchestra Zubin Mehta, conductor
Saturday, March 15, 8 pm
Hill Auditorium

Elias String Quartet
Tuesday, March 18, 7:30 pm
Rackham Auditorium

Tara Erraught, mezzo-soprano; Henning Ruhe, piano
Thursday, March 20, 7:30 pm
Hill Auditorium

Asif Ali Khan Qawwali: Music of Pakistan
Friday, March 22, 8 p.m.
Rackham Auditorium

"Restless Creature"
Starring Wendy Whelan
A new evening of dance created by and danced with Kyle Abraham, Joshua Beamish, Brian Brooks, and Alejandro Cerrudo
Tuesday, March 25, 7:30 pm
Power Center

Tenebrae
Thursday, March 27, 7:30 pm
St. Francis of Assisi Catholic Church

Jazz at Lincoln Center Orchestra; Wynton Marsalis, trumpet
Sunday, March 30, 4 pm
Hill Auditorium

April 2013
Brahms' German Requiem
Ann Arbor Symphony Orchestra; UMS Choral Union
Jerry Blackstone, conductor Friday, April 4, 8 pm
Hill Auditorium

Los Angeles Guitar Quartet
Thursday, April 10, 7:30 pm
Michigan Theater

Akademie fur Alte Musik Berlin
Sunday, April 13, 4 pm
Hill Auditorium