Posted on
Fri, Jul 26, 2013 : 5:36 a.m.
Violinist Alicia Doudna shares her inspiring story of recovery after crash
By Jennifer Eberbach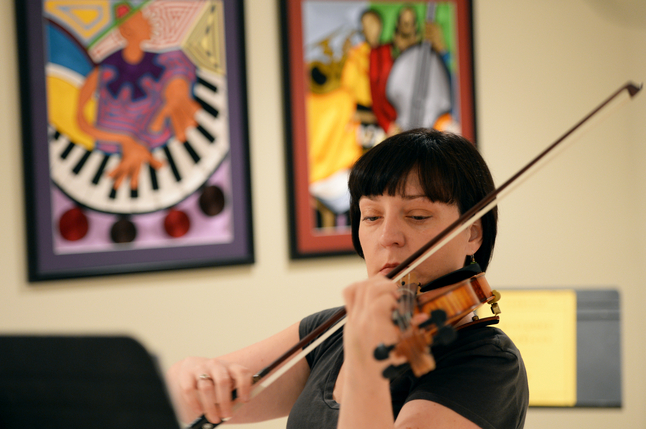 Melanie Maxwell | AnnArbor.com
As violinist
Alicia Doudna
raised her bow for Mozart's "Sonata in B" and began her recital at the
Kerrytown Concert House
last month, it marked another chapter in her inspiring comeback story.
"Patience is key" to recovering from an auto accident as terrible as the one that seriously injured Doudna and her fiance Andrew Kratzat, also a musician, back in 2011, she says. The crash left her with a traumatic brain injury that affected her memory, and Kratzat is continuing to recover from serious injury as well.
At the concert, held on Father's Day, she was surrounded by people who are no doubt extremely proud of her—her parents, fiance, family members, friends, colleagues, and strangers from the community all came out to support her.
Kerrytown Concert House is a special place for Doudna. She was able to play violin at a benefit concert that the venue held for the couple, in November 2011. And she also used to teach students in an upstairs studio there.
Doudna is grateful for many things, which she thinks helped save her life. "The medical system here in Michigan is unbelievable. I'm grateful that traumatic brain injuries are treated better now than they were 5 years ago," she says.
But music is aiding in her recovery, she adds: "I've said this a million times: I really think music's wiring in my brain helped save my life. I think music wires the brain differently. Music is amazing. It is incredibly positive and offers so many qualities of life. It's emotional and educational."
She has also found music to be "therapeutic." It is an activity she spends, on average, 2 to 5 hours of day doing. "I like to focus on emotionally positive activities," says Doudna, who also enjoys yoga and reading.
The positive feeling she gets from music is something that radiated from her at the Kerrytown Concert House recital. In her comments to the crowd, it showed.
"Something pretty horrific happened to me a while back," she briefly mentioned at the concert—not lingering on it—"but like I tell students and children, Block it out. Put it on the back burner. Let's forget about that for now."
For her, the concert seemed to be more about turning attention back to the music. And she showed a lot of gratitude for all the support she has received.
The concert was particularly special for Doudna because 8 of her friends and musical colleagues assembled, from all over the place, to play. Her friend Hannah Shields accompanied her on piano for the opening piece, followed by Schubert's "Notturno" and Dvorak's "Romance in F minor, Opus 11." There was amazing musical chemistry between her and another close friend, cellist Mary Ann Ramos, during the "Notturno." And her former teacher turned colleague Annie Fullard was 1st violin for Mendelssohn's "Octet in E-flat major, Opus 20," which also featured friends and musical comrades Meg McDonough (violin) and Dan McDonough (cello), Nelson Lee (violin), Rebecca Albers (viola), and Stephanie Fong (viola). They are all meaningful people in her life.
Melanie Maxwell | AnnArbor.com
In her early 30s, Doudna is a highly accomplished musician and music teacher. Her bio from the recital's program covers some of her accomplishments: "She has performed with Itzhak Perlman, Paul Katz, Ronald Copes and members of the Cavani Quartet. As a chamber musician she has appeared at various festivals including Yellow Barn, Kneisel Hall, The Great Lakes Chamber Music Festival and the Festival de Musique de Chamber du Larzac in France. She has also performed as a guest with various chamber orchestras and ensembles, including A Far Cry, The East Coast Chamber Orchestra, The Suedama Ensemble, Radius Ensemble, The Saint Paul Chamber Orchestra and The Detroit Symphony Orchestra. As a member of the Phoenix Quartet, she performed and taught as an artist-in-residence at the University of Michigan."
Now Doudna—who started teaching her first students when she was only in high school—is starting to teach again. "I really think private teaching is my calling," says the certified Suzuki teacher.
The most important thing Doudna wants to share: "I'm so grateful and thankful for all of the positivity in my life." Her doctors were astounded by how many of her family members and friends visited her in the hospital, and even more called on the phone. "The thoughts and prayers, and the level of positivity, saved my life even more than the wiring of music in my brain," she says.
Above all, she is grateful for the people in her life—many of whom traveled to Kerrytown to see her show.