Posted on
Mon, Dec 3, 2012 : 5:57 a.m.
Continuum of care allows seniors to happily age in place in one community
By Alan Caldwell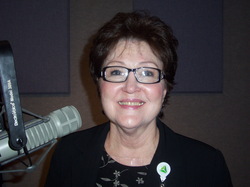 Just to the southwest of Ann Arbor, in the happening little city of Adrian, there is a terrific senior community offering independent living through end of life care. Kathy Quigley is the director of Charlotte Stephenson Manor in Adrian and was our guest on the radio show this past weekend.
Kathy has been with this 49-bed senior facility since it opened in 1999. Kathy says her responsibility is to make all the puzzle pieces fit, and she seems to be doing that quite well. She is blessed to have a loyal staff that has gotten to really know and appreciate their residents.
Charlotte Stevenson Manor is part of the not-for-profit ProMedica Health System, which can provide skilled medical services to residents if necessary. Kathy's community offers independent living with their Preferred Choice program, which is ideal for seniors still active in the local area. Their assisted living has five levels of care for those needing some hands-on care to those experiencing end of life.
We also learned about Charlotte Stevenson's innovative Snowbird Program, new just this winter. Families that are helping care for an elderly loved one may wish to go south for the winter. Their elderly family member can move into the facility for the winter and get the care they need and enjoy the worry-free lifestyle.
Kathy's community also offers memory care (dementia care) that provides a secure area and services tailored to those with Alzheimer's or other dementia conditions. As Kathy stated, there is a rapidly growing need for dementia care as our country's population continues to age.
To hear this 13-minute discussion, click the audio link:
To get in touch with Kathy or Charlotte Stephenson Manor, call 517-266-0943 or access the website promedica.org.
Next on the program, we were quite fortunate to have two representatives from the Ann Arbor Heartland Health Care Center. Jennifer Pruitt is the administrator, and Jessica Prescott is the admissions and marketing director.
Jennifer explained that Heartland is a large, 180-bed post-acute care facility, specializing in rehabilitation, including therapy, nursing and social services. It's a busy place admitting (and discharging) about 40 people every week. About 90 percent of their patients need short-term rehab and are with Heartland for a few weeks. A typical patient has two to two and half hours of therapy every day.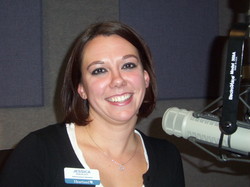 Photos by Sheila Doeden
Jessica shared that most of their patients are coming from the hospital and recovering from emergency or elective surgery. Those that have had orthopedic surgery will likely stay in their newly designated orthopedic wing where these patients will get appropriate care to manage any pain and continue rehabilitating until they can safely return home.
We discussed hospital readmissions and the associated significant cost issues and patient care problems. Jennifer was previously involved in a large-scale project to reduce hospital readmissions. The Heartland Center now has more patients with increased medical complexity — part of working with hospitals to help manage costs.
Jennifer's staff works with patients and their families to educate them on how to manage chronic disease conditions. Of significance, Congestive Heart Failure and Chronic Obstructive Pulmonary Disease (COPD) are the two conditions that most often send people to the hospital in the first place and also cause the most readmissions. Better lifestyle management can improve these situations — monitoring weight, lowering sodium intake, looking for signs and symptoms of heart problems and managing medications.
To listen to this 13-minute talk, click the audio link:
To get in touch with Jennifer, Jessica, or the Ann Arbor Heartland Health Care Center, call 734-975-2600 or visit their website hcr-manorcare.com.
Alan Caldwell and Sheila Doeden co-host Everything Elderly every Saturday morning at 8:30 on 1290 WLBY. In their day jobs, Alan and Sheila co-own and co-manage Senior Helpers, providing in-home care services, primarily to the elderly. Both can be contacted at homecareexcellence@seniorhelpers.com, or at 734-927-3111.