Posted on
Mon, Feb 13, 2012 : 5:57 a.m.
Many meaningful volunteer opportunities available to local seniors
By Alan Caldwell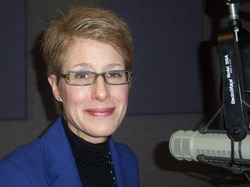 Seniors generally have a bit of free time and are often looking for meaningful ways to contribute to their local community. We had the distinct pleasure of hosting two program guests this week that highlighted especially meaningful ways seniors can help.
Wendy Brightman is the managing director of Ele's Place in Ann Arbor. This is such a wonderful caring organization; it is hard to overstate the importance of the work they do. Ele's Place is a healing center for grieving children, for kids who have important people in their lives, most frequently parents or siblings. The organizatino is a nonprofit and charges no fees.
Children come to Ele's Place for group support. Kids are placed with other kids just like them, of similar ages and going through a significant loss. The kids themselves provide the biggest resource; they help each other cope with their grief. Wendy says, "Ele's Place is love. Kids can put down their guard and find a new normal."
Wendy has a team of more than 100 volunteers, "amazing dedicated volunteers," that handle a wide range of responsibilities, from facilitating the kid groups to helping serve and clean up the pot-luck dinners. Ele's Place asks for a one year commitment from new volunteers, as continuity with the children is important.
At Ele's Place, they pose questions to the kids as conversation starters. Wendy remembers a girl in their 9- to 11-year-old group being asked, "Do you have someone to share your story with when you're sad?" The young girl said she had no one, but that "Ele's Place is where I can come talk and share. This is the one place."
To listen to our 13-minute talk, click the audio linnk:
To get in touch with Wendy or Ele's Place, call 734-929-6640 or visit the website elesplace.org.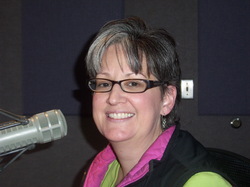 Photos by Sheila Doeden
Michelle Grysko joined us next on the program. Michelle is the volunteer coordinator for Heartland Home Health Care and Hospice. Michelle's volunteers work closely with their hospice service to provide comfort care to the patients and their families.
Michelle is very enthusiastic and passionate about her vocation and about hospice care. The focus is on comfort and about hope — hope that tomorrow I will be feeling better, connecting with family and friends and continuing to really live until the last breath.
At Heartland, it's very much a team approach, and the volunteers are an important part of that team. Volunteers serve as friendly faces. Their role is very informal, listening to the stories of their hospice patients, and, as Michelle says, "They all have wonderful stories to share!" Michelle emphasizes the simple "power of presence" the volunteers provide — just the being there, providing a warm friendly presence.
We enjoyed learning about the volunteers that bring their dogs with them. Michelle shared a wonderful story about a reserved, somber gentleman who was visited by a volunteer with her dog. He began to pet the dog, and a calm came over him as he began speaking about his own pet dog from years ago. The transformation was sudden and so positive as he came out of his shell and engaged in a heartfelt conversation.
Michelle also has a unique vigil volunteer program to serve patients in the active stage of dying. These volunteers sit with patients that have no family or provide family members with a break. While this is obviously an emotional period, these volunteers know they provide a very special meaningful service.
To hear this 13-minute discussion, click the audio link:
To contact Michelle or Heartland Hospice, call 734-973-1145, or you may visit the website hcr-manorcare.com.
Alan Caldwell and Sheila Doeden co-host Everything Elderly every Saturday morning at 8:30 on 1290 WLBY. In their day jobs, Alan and Sheila co-own and co-manage Senior Helpers, providing in-home care services, primarily to the elderly. Both can be contacted at homecareexcellence@seniorhelpers.com, or at 734-927-3111.