Posted on
Wed, Dec 12, 2012 : 6 a.m.
5 innovative improvement tool suggestions for the avid do-it-yourself types on your list
By Keith A. Paul
Photo by: i.tbs.com
Hi Keith,
I've seen your past articles regarding new tools, and I am searching for a few ideas for my do-it-yourselfer husband. Any advice on popular or new home improvement tools would be helpful. If I can get him a newer tool maybe I can get a new bathroom in 2013!
Thank you,
—Denise, Ann Arbor
Hi Denise,
I remember a few Christmases ago when my wife heard me talking about a new innovative Multi-tool which many of our company's technicians were excited about. It was versatile, innovative and effective for replacing many of my existing worn out tools.
Wouldn't you know it, under the Christmas tree there it was, a brand new, nicely-wrapped Christmas toy for me called the Multimaster tool. I was almost as excited as the Dad receiving the leg lamp in the movie "A Christmas Story."
By choosing the right gift, maybe you'll have a Leg Lamp story of your own. Then, hopefully a newly renovated bathroom in 2013.
Below are a few ideas that I've heard from our staff, used myself, or have seen, which I believe may be useful:
Craftsman Bolt-On Modular Tool System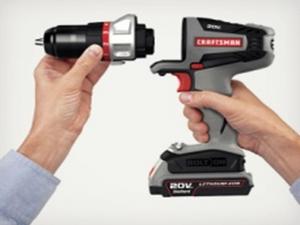 Photo by: Craftsman.com
1. This new Sears product is an innovative home improvement product which can be used and replace many battery tools such as a drill, sander, skill saw, jig saw and more. Expect to pay approximately $120, with each additional "add-on" costing $30-$40. With packing a punch of 20V lithium batteries, it's slightly more powerful than many of it's competitor's predecessors.
General Tools Moisture Meter with LED Display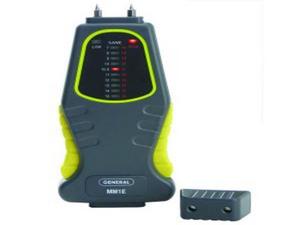 Photo by: Homedepot.com
2. If you are concerned about a moisture problem, perhaps from a leaky pipe or roof, this tool can be used to detect and give a moisture reading for your peace of mind. For under $30, this tool is also used to detect surface moisture prior to painting or sealing concrete, wood, plaster, etc.
Rapid Tools/Rapid Edge Utility Knife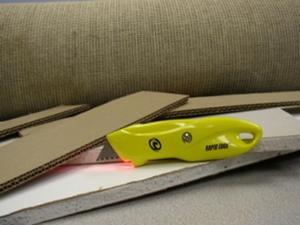 Photo by: Rapidtools.net
3. Costing $6-$10 this special cutting knife will solve the issue of inaccurate cuts with the LED lighting. Cutting carpet, drywall, nylon rope and asphalt shingles requires the right tool for the job. Forget about those old utility knives with hard to grip holders.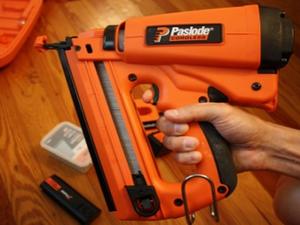 Photo by: Paslode.com
4. Tired of hammering your thumbs or fingers? Tired of the time it takes to set up an air compressor and hose? Now you can grab a battery charged Pasload nail gun for finish and rough carpentry. Costs range from $220-$350. It will help simplify and expedite matters for the busy handyman. http://www.paslode.com/
Milwaukee Digital Inspection Camera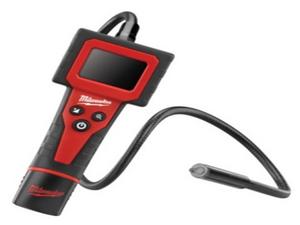 Photo by: Milwaukeetool.com
5. Currently, I have in my office a 6" X 8" plaque with a mounted copper water pipe. On the pipe is a screw drilled into the side. Although it always brings a laugh to everyone who sees it, it is a reminder to our team that we need to use caution prior to drilling any holes into a wall. This Inspection camera will allow you to peek into walls or hard to reach places prior to drilling and avoid damaging a pipe, or worse yet, hitting an electrical line. Costing approximately $200, it could save you thousands in repairs or doctor bills.
Whether Santa Claus is bringing these home improvement toys for the professional remodeler or just the avid DIY'er, they are sure to enjoy what new technology has brought under the Christmas tree. I just hope my wife is able to catch a glimpse of this article… hint hint.
Keith A. Paul is a State of Michigan Licensed Builder and a Certified Aging in Place Specialist. Paul serves as President and founding member of Nationally franchised HandyPro Handyman Service, servicing Washtenaw, Wayne and Oakland Counties. www.handypro.com. Email questions or comments to kpaul@handypro.com.