Posted on
Thu, Aug 22, 2013 : 5:56 a.m.
10 more teachers recalled to Ann Arbor schools; about 30 remain laid off
By Amy Biolchini
With one and a half weeks until the first day of school, 10 more teachers that had received layoff notices have been called back to work for Ann Arbor Public Schools, officials said Wednesday.
That leaves about 30 of 233 teachers issued pink slips at the end of last school year that still have not received notice that they will have a job with the district this fall.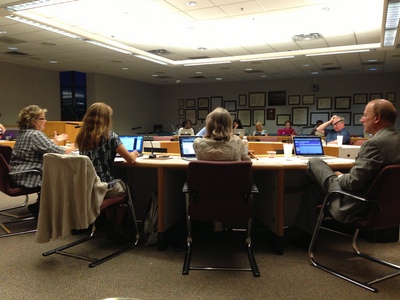 Amy Biolchini | AnnArbor.com
"I'd say that I'm hopeful, but I'm
not certain
," said Interim Superintendent
David Comsa
to AnnArbor.com on whether the approximately 30 teachers would be called back to work.
Comsa announced the recall of the 10 teachers during his final report in his interim role to the Board of Education during its regular meeting Wednesday night.
His time as interim superintendent ends when the district's newly hired superintendent from Colorado Springs—Jeanice Kerr Swift—takes the reins Aug. 27. Comsa will return to his role as legal counsel and deputy superintendent of human resources and legal services.
The district has been recalling teachers on an incremental basis this summer as the administration works to balance the retirements of 41 employees against the 40 positions cut as a result of the 2013-14 budget reduction.
"You may have a French teacher that resigned and you may have a math teacher that was laid off," Comsa said as an example.
Cutting 40 staff positions accounted for $3.9 million—or 45 percent—of $8.7 million in cuts the district made from its operational budget in June. The budget was developed by district administration under the guidance of former Superintendent Patricia Green, who announced her resignation abruptly in April.
District staff have been working to match the laid-off staff with positions that they still have open. As of the regular Board of Education meeting 7 p.m. Wednesday, Comsa said one of the district staff members was still at the office working on the staffing plan to see if more teachers could be recalled.
"We're looking at what classes are being offered, what the building administrators are suggesting, what the certifications and qualifications are of the laid-off staff, based on their seniority … on where we place them in one or two buildings or more, based on how we need them," Comsa said.
The remaining pink-slipped teachers that have not been recalled span all grade levels and specialties, Comsa said.
There is no deadline for when the district must call teachers back, Comsa said—as enrollment figures after the start of school may present a different picture than the administration anticipated. Teachers could be called back after the start of school.
District officials declined to release to AnnArbor.com the list of teachers that had not yet been recalled.
Should the approximately 30 teachers not be recalled to their jobs, it will be the first teacher layoffs in the district's recent history.
Amy Biolchini is the K-12 education reporter for AnnArbor.com. Reach her at (734) 623-2552, amybiolchini@annarbor.com or on Twitter.