Posted on
Thu, Apr 25, 2013 : 5:59 a.m.
Ann Arbor schools administration's budget proposal could result in teacher layoffs
By Danielle Arndt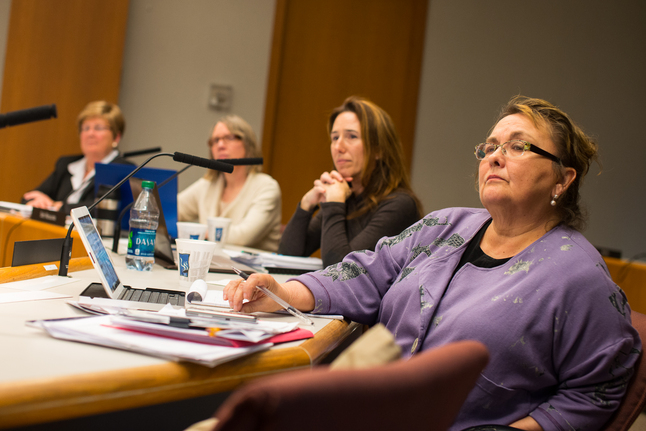 Courtney Sacco | AnnArbor.com
Nearly 50 teaching positions are on the chopping block in the budget that the Ann Arbor Public Schools central administration recommended Wednesday night.
And for the first time since the district's financial struggles began, AAPS may be forced to lay off teachers.
Eliminating the full-time equivalent of 32 teachers for a savings of $3.2 million was part of the $180.59 million expenditure budget that Superintendent Patricia Green and her team of cabinet members proposed Wednesday.
Reductions totaling $8.67 million are needed to balance the budget for the 2013-14 academic year. The administration's budget calls for $6.26 million of those cuts to come from instructional services, with the elimination of teachers to account for more than half of that amount.
Other instructional cuts the administration proposed that would require reducing teaching staff were:
Move Skyline High School from a trimester schedule to a semester schedule to save $300,000 by cutting 3 full-time equivalents.
Eliminate seventh-hour courses at Huron and Pioneer high schools for a loss of 5 FTE and a savings of $500,000.
Eliminate all 10 reading intervention teachers for a savings of $1 million.
Reduce the fine arts and physical education positions through attrition (3 FTE, to save $200,000).
This brings the number to 53 FTEs that the administration proposes to cut from its teaching staff.
Aside from staff reductions, the administration also recommended eliminating high school transportation; cuts to athletics, particularly at the middle school level; closing the middle school pools; and reducing funding for the district's theater programs.
Although what was presented Wednesday is the administration's recommendation and the board has the final say in what stays and what goes, it appears the Roberto Clemente Student Development Center program has survived another year. Administrators proposed in early March moving this program to Pioneer. Another program that survived the formal recommendations was the fifth-grade instrumental music program.
Eliminating 32 teachers was among the reductions proposed by administrators last budget cycle as well. However, when they presented their budget recommendations last April, the district already had received nearly 32 retirement notices from staff leaving the district.
So it was unlikely last budget cycle that the district would have to consider layoffs. Instead, AAPS was able to reduce the number of staff through attrition, and even hired replacements for some teachers by seeking inexperienced instructors, who cost the district less to employ.
But the situation this April is different.
To date, the district has received 12 retirement notices. David Comsa, deputy superintendent for human resources and legal services, said annually AAPS usually has about 40 to 50 staff retire.
As part of the budget cuts for the current school year, AAPS eliminated its early notification incentive for staff members who informed the district in advance of their intentions to retire. This saved the district $40,000.
"The fewer notifications could be a reflection of that," said Director of Finance Nancy Hoover.
"This budget year, I think, we really are going to be confronted with the problem of layoffs," board Treasurer Glenn Nelson said, adding this should really alert and alarm all school officials.
The Board of Education has until June 30 to pass a balanced budget for the 2013-14 academic year. A tentative second briefing and approval of the budget was set for May 22.
In the upcoming weeks, the board and administration will continue to work on tweaking and modifying the proposals brought forward.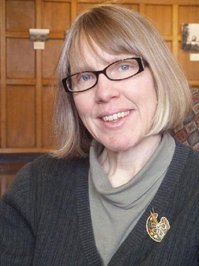 Layoffs would come into play if the number of retirements and resignations ended up being fewer than the number of FTE reductions the board agreed to in its budget. Comsa said AAPS would have until the end of the current school year to issue pink slips to teachers.
Not laying off teachers has been a point of pride for the Ann Arbor Public Schools. Board President Deb Mexicotte said about three or four years ago was one of the few times the district has issued layoff notices. No staff ended up being laid off, but the process is "astonishingly complicated," she said. In this previous instance, the district had to notify about 200 teachers, despite only needing to find 30 positions to lay off.
Mexicotte explained this is because if the retirements don't match what the district needs, as far as teachers being able to teach certain courses, then officials must follow specific procedures to identify instructors with the correct credentials and to lay off those in other areas where the number of staff exceeds the need.
"You have to look at probationary teachers first," she said. "... Then you have to go through a very intricate seniority system, where it's done by building, by years in the district, by certification ... In many ways, you have to frighten a larger portion of your teaching staff around all of the moving parts."
Mexicotte said she is saddened that the district is a position where it must consider layoffs this year.
"It violates a long-held practice and philosophy in this district," she said. "It is something we have prided ourselves on. It is a partnership we have had with our teaching staff because we value them so highly. We don't want to lose a single one of them.
"We typically try to use them in different ways or we strive to get those positions through attrition. There have been times where we've missed our targets, and we've actually carried those additional teachers on as long-term subs or as waiting for positions to open up, but sometimes that just makes it even a larger number (of positions) that you have to absorb down the road."
Additionally, the board has opted to use money from its fund balance in the past to avoid laying off employees. However, that is not a favorable option this year for many trustees.
The district is projected to have $8.1 million in its primary savings account, or fund balance, by the end of the school year. It has been estimated the AAPS needs about $9 million in fund equity in order to make payroll for district employees during the summer months, without borrowing money from the state as other districts do.
Mexicotte said she is "disturbed" that cutting teachers — whether through attrition or layoffs — only further increases class sizes, which already is a concern of the community's and the board's.
The Ann Arbor Education Association, as well as the AAEA office professionals and paraeducators unions, agreed to a 3-percent pay cut last month to save AAPS a collective $3.4 million.
The district still is in negotiations with the Ann Arbor Administrators Association, which is for principals and assistant principals, and the central administration to determine what, if any, concessions these employees will be willing to make. Comsa said there definitely will be a pay reduction for the district's central administrators.
"But I can't give you a number now because we don't have it totaled," he told the board.
During the AAEA's update at Wednesday's Board of Education meeting, prior to the administration's budget presentation, union President Linda Carter said the teachers will be watching and listening carefully to the budget discussions in the coming weeks.
"We gave a lot of money to keep the quality of instruction for all students at the highest level. However, we cannot continue to see smaller paychecks," she said. "The AAEA bank is officially closed."
Carter did not stay for the duration of the meeting.
Danielle Arndt covers K-12 education for AnnArbor.com. Follow her on Twitter @DanielleArndt or email her at daniellearndt@annarbor.com.