Posted on
Wed, Jul 11, 2012 : 5:58 a.m.
2nd Ward Ann Arbor City Council candidates differ on what should go atop Library Lot
By Ryan J. Stanton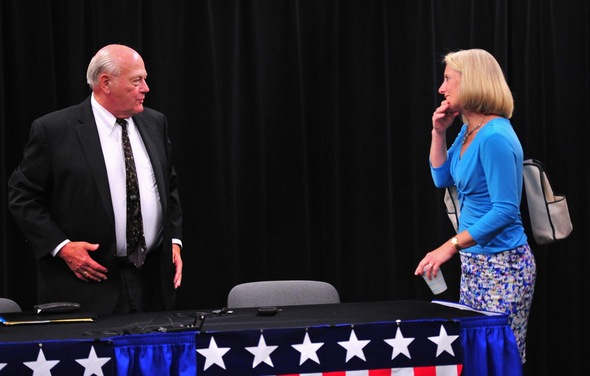 Ryan J. Stanton | AnnArbor.com
The two candidates competing in the
2nd Ward race
for the
Ann Arbor City Council
have at least one thing in common: They're both Harvard grads.
Incumbent Tony Derezinski holds a master of laws degree from the prestigious Ivy League school, while his opponent, Sally Hart Petersen, holds an MBA from there.
But they don't exactly see eye to eye on every issue facing Ann Arbor. For example, both have different visions for what the city should build atop a new underground parking garage.
"The most appealing option that I have heard discussed is putting park space there," Petersen said Tuesday night at a debate hosted by the League of Women Voters in Ann Arbor.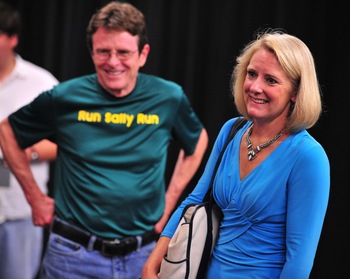 Ryan J. Stanton | AnnArbor.com
"I know some people are opposed to that," she said. "But I think keeping that as green space would be cost effective and would fit with the character of the Fifth Avenue corridor."
Derezinski noted the underground garage was purposely built with foundational reinforcements to support a large vertical development on top.
The Ann Arbor Downtown Development Authority is inviting the public to celebrate the grand opening of the new underground garage at 5 p.m. Thursday, and even the flier for the event depicts a vision for future vertical development on the site.
Derezinski said he's in favor of moving slowly to make the decision. He recalled the city already went through a process of vetting proposals and rejected a hotel and conference center.
"It just didn't fit with what Ann Arbor wanted," he said. "Now it's going to be a surface lot for a while — while we make a decision — because it's a critical thing. Remember, too, that's the most valuable real estate in Ann Arbor. It's sitting on 700-plus parking spots."
Derezinski said the City Council will have to choose wisely what goes on the so-called Library Lot, and he thinks it could be a mix of retail, office and residential uses.
"And a plaza, I think, should be part of it," he said. "But the extent of that is how it fits in with the other uses."
Petersen stressed that just because she thinks the Library Lot is well suited for a park, she doesn't think every open space downtown needs to be a park.
"I think we have room to build moderate-sized buildings," she said. "I don't think we need any skyscrapers downtown. But I think we do need some additional development to house the companies that are coming out of the University of Michigan."
Derezinski and Petersen will face off in the Aug. 7 primary. Both are running as Democrats and no Republican challenger awaits the winner in November.
Petersen, a stay-at-home mom since 2007, touted her past experience in senior marketing positions at companies like CFI Group and Health Media Inc.
"It is my goal to bring unmatched business expertise, community involvement and positive energy to the City Council table," she said.
She also talked about her community involvement, which includes serving as a board member of the Neutral Zone teen center and president of Tappan Middle School's PTSO.
"I come from a civic-minded family," she said. "My father was an Episcopal priest and a civil rights activist who demonstrated the value of living a life dedicated to community service."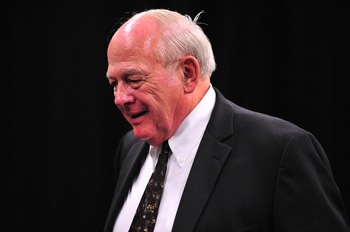 Ryan J. Stanton | AnnArbor.com
Derezinski stressed his background in municipal law and his four years of experience on the City Council.
"I've had 40 years of representing municipalities, school boards, townships, villages and what have you in their problems and also providing them advice," he said.
As director of government relations for the Michigan Association of School Boards, Derezinski said he taught a number of courses in governance and worked with local school boards that were having issues with getting along.
"That's something that I bring to the table," he said. "I think we have a lot of big issues to face and I'd like to work on collaborative efforts where we can bring the council together."
The two candidates continued to differ on the issue of building a new train station on Fuller Road, an initiative Derezinski has supported.
Petersen said if there ever is federal money to build a new station, the city should renovate and expand the Amtrak station on Depot Street and use the adjacent MichCon property.
"It could be some development and some green space," she said of the MichCon site. "I think that would be a great place to have a beautiful train station along the river."
Derezinski took issue with Petersen's vision, saying it just wouldn't work logistically.
"It's been looked at and it's got a lot of problems," he said, noting the number of passengers using the station is expected to double in the next two decades.
"We really do need a new site because the present site won't work. That was looked at as a possibility and rejected," he said. "So you shouldn't offer false hope."
On the issue of protecting parkland, Petersen said she doesn't think the City Council should have a right to repurpose any park land without a vote of the public. That's come up twice in the last two years with Fuller Park and the Huron Hills Golf Course.
"I am particularly concerned about the future of the 18-hole golf course at Huron Hills. I think it is still relevant," Petersen said.
Derezinski disagreed it's still relevant. He said he golfs at Huron Hills at least three or four times a year and he wants to see it preserved.
"And we voted down the proposal that would have privatized it," he said. "That issue, as far as I'm concerned, is gone. However, we have to face the realities of that, which means we are subsidizing that and how can we make it more effective?"
Courtesy of DDA
Derezinski said he's proud of the city's vast parks system, but he's still in favor of building a new Amtrak train station on a portion of Fuller Park along Fuller Road.
"I think we have to look at the future," he said. "We have to decide where we're going as a community in terms of mass transit."
Petersen said wherever development takes place in Ann Arbor, there needs to be a balance of new buildings and open spaces.
"We're fortunate in Ann Arbor to have the University of Michigan here that spawns off a new company every four to five weeks," she said. "And I really see all of the downtown, including Lower Town, as opportunities to really grow and be fertile ground for these companies."
Petersen is campaigning on the platform that her business expertise and MBA distinguishes her from Derezinski and everybody else on council.
"What my skills and experiences help me bring to the table are financial acumen when it comes to studying budgets and really understanding what the bottom line implications are," she said, adding she also has analytical skills and could bring a fresh perspective.
"I guess I can't be considered fresh," Derezinski mused. "I've had a full four years, but I'm not that stale either yet. I'm seasoned. I've worked in municipal government for 40 years."
Ryan J. Stanton covers government and politics for AnnArbor.com. Reach him at ryanstanton@annarbor.com or 734-623-2529. You also can follow him on Twitter or subscribe to AnnArbor.com's email newsletters.