Posted on
Thu, Mar 28, 2013 : 5:59 a.m.
Future downtown Ann Arbor train station? Officials eye 415 W. Washington as part of WALLY study
By Ryan J. Stanton
Ryan J. Stanton | AnnArbor.com
Local officials working on the
WALLY commuter rail project
say city-owned property at
415 W. Washington St.
is a potential site for a future downtown Ann Arbor train station.
"The 415 site is a candidate, but is not the only possibility," said Michael Benham, the Ann Arbor Transportation Authority's strategic planner.
Benham said work has just begun on the first phase of the WALLY Station Location and Design Project, which includes a search for a downtown station location.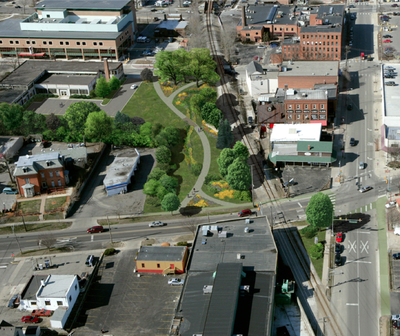 Allen Creek Greenway Conservancy
"This effort will evaluate sites all along the tracks that go through downtown from roughly Summit Street to Hill Street," he said.
Asked what other potential sites have been identified, Benham responded: "Any area along the tracks where a station might fit is a candidate at this point."
Ann Arbor officials announced this week they're leaning toward demolishing the dilapidated building that stands at 415 W. Washington on the west edge of downtown, across from the YMCA.
The city still has plans for a greenway park with trails running through the site, but the enthusiasm behind the idea of turning the building into a community arts center seems to be shifting over to another city-owned property at 721 N. Main St., where multiple unused buildings stand. That opens up new possibilities for 415 W. Washington.
A commuter rail station at 415 W. Washington is unlikely to happen until years into the future even if the site is chosen and funding becomes available. In theory, it would service the north-south commuter rail line known as WALLY (Washtenaw and Livingston Line), which is in the planning stages now and would link Ann Arbor and Howell with stops in between.
The plans for a downtown commuter rail station along the north-south Ann Arbor Railroad tracks are entirely separate from the new Amtrak passenger train station some city officials want to see built on Fuller Road along the east-west Norfolk Southern tracks between Detroit and Chicago.
Eli Cooper, the city's transportation program manager, said a downtown Ann Arbor commuter rail station wouldn't have to take up much space.
"It could simply be a platform with shelters attached to the platform or a small waiting facility, much of which could actually be accommodated in the railroad right-of-way," he said. "And although it may be in proximity to the 415 W. Washington site, it may not occupy the footprint of that site at all."
He said the nature of a commuter rail station is entirely different from the kind of full-service Amtrak station with large parking facilities that the city is talking about on Fuller Road.
He said there wouldn't need to be a large parking component at a downtown Ann Arbor commuter rail station, because the idea for WALLY is it would be a single-directional service — bringing people into Ann Arbor in the morning, and back to points north at the end of the work day.
Asked whether a train station at 415 W. Washington would conflict with the city's vision for a greenway park there, Benham said he doesn't think so.
"Again, the station location study is intended to answer this question definitively, but my casual look at the site suggests that the two projects could work very well together," he said.
Benham said it's critical that station planning takes place in cooperation with other efforts aimed at improving the downtown area.
"Our objective would be to support other plans for downtown as much as possible," he said. "The rail project is likely to need a fairly narrow band of the corridor, at any location."
Past planning efforts for WALLY have looked at station locations and designs at a fairly high or conceptual level, Benham said, but the upcoming work is intended to identify more precise locations of stations, because there are multiple possibilities in most communities.
The work will include developing station designs that take into account specific local conditions such as topography, utility locations, and pedestrian, automobile and bicycle links.
Benham said the work will support an analysis of environmental impacts, as required by the National and Environmental Policy Act, and will help make cost estimates more detailed and precise.
The work is funded largely by a Federal Highway Administration grant, with some local contributions from Howell, the Ann Arbor Downtown Development Authority and Washtenaw County.
Benham said the work is organized into two phases. The first phase, which is taking place now through August, includes looking at downtown Ann Arbor station locations. The second phase includes all other possible station locations, plus the design and NEPA work.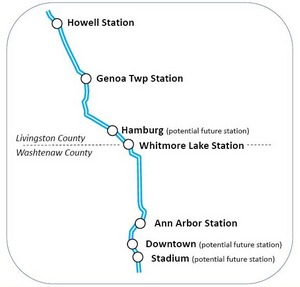 "Both phases include extensive public involvement," Benham said. "In the case of Ann Arbor, there will be two widely publicized public meetings to obtain ideas of interested citizens."
Those meetings aren't scheduled yet. The selected consultant for the project is Ann-Arbor-based Smith Group/JJR.
A previous study estimated about 1,300 riders each way per day would use a commuter rail service between Ann Arbor and Howell.
It's also estimated to require $19 million to $35 million in capital costs. The total estimated operating cost is about $7.1 million annually.
Benham said much of that would be covered by passenger fares plus an assumed level of state operating funds, resulting in a local share of about $2.2 million. So-called "wild cards" that could affect operating costs are insurance and trackage rights.
Supporters of a north-south rail line bringing commuters into Ann Arbor argue it would be significantly more costly to add extra highway lanes for automobile traffic on US-23. The Michigan Department of Transportation previously estimated adding a third lane to US-23 would cost about $500 million.
Some remain skeptical there's enough demand to support WALLY, though, and some question the money being spent to investigate multiple long-range transit initiatives at once.
In addition to WALLY, efforts are under way to launch an east-west commuter rail service between Ann Arbor and Detroit, a new Amtrak station in Ann Arbor to take advantage of high-speed rail promised between Detroit and Chicago, a high-capacity transit system such as light rail or bus rapid transit in Ann Arbor, expanded bus services between Ann Arbor and Ypsilanti, and now a Regional Transit Authority connecting Ann Arbor to Wayne, Oakland and Macomb counties via buses.
City Council Member Jane Lumm, an Independent who represents the 2nd Ward, said at a council meeting in September the costs to implement all of those initiatives amount to hundreds of millions of dollars and she doesn't see where the money is going to come from.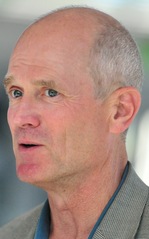 "We continue to proceed on these multiple fronts without answers to basic questions and I really feel strongly that needs to stop," she said.
Mayor John Hieftje told AnnArbor.com in January he supports WALLY as an alternative to adding more lanes on US-23. He said adding more lanes won't eliminate congestion.
"Look at the 12-lane roads in L.A. and Atlanta that used to be two lanes," he said. "The same thing has happened north of Detroit. Cars flow like water to where there is the least resistance."
Hieftje said an estimated 68,000 workers drive to Ann Arbor every day from outside the city, and he guessed maybe a fifth of them come from the north.
He noted the University of Michigan has offered to subsidize the cost of WALLY tickets for its employees who want to commute to work by rail.
"As I recall, back in 2007 or '08, the U-M surveyed their employees who lived in zip codes along the WALLY line and 1,400 of them said they would ride the train if given the choice," he said.
Hieftje said anyone who ever criticized the city or U-M for building parking structures should be a fan of WALLY and trains, unless they'd rather not see more jobs created in Ann Arbor.
Ryan J. Stanton covers government and politics for AnnArbor.com. Reach him at ryanstanton@annarbor.com or 734-623-2529. You also can follow him on Twitter or subscribe to AnnArbor.com's email newsletters.