Posted on
Sun, Mar 3, 2013 : 5:59 a.m.
When will Ann Arbor train station project go to a public vote? Council members differ on issue
By Ryan J. Stanton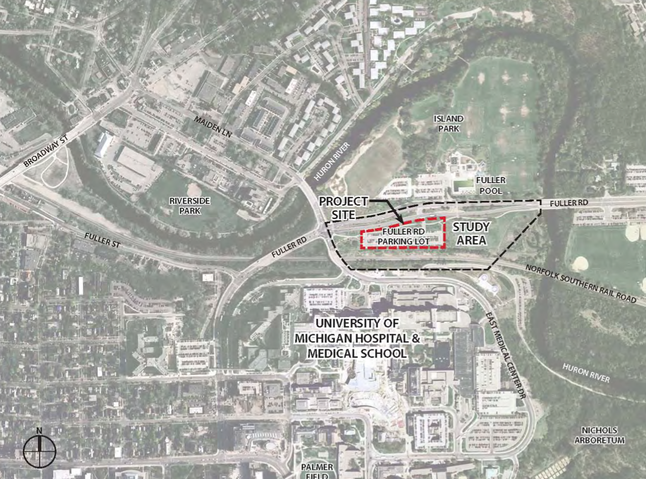 City of Ann Arbor
As the city of
Ann Arbor's train station project
continues to chug along, a big question mark still hangs in the air: When will the project go to a public vote?
The City Council agreed last fall to eventually put the question of a new Amtrak station on a city ballot before construction occurs, but exactly when that happens isn't decided.
Some argue the project, which has been controversial the past few years as it's moved through the planning stages, should go to voters before any more money is spent.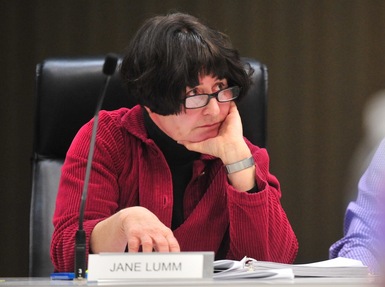 Ryan J. Stanton | AnnArbor.com
"The city should not have spent the substantial amounts we have on the project already without a clear mandate from the community," said City Council Member
Jane Lumm
, an Independent who represents the 2nd Ward and questions the need for a new train station.
Lumm estimated the city already has spent about $2.7 million of residents' money, counting money spent on consultants, and studies and sewer and water main improvements along Fuller Road, the city's first choice for where to put the new station.
Mayor John Hieftje said the $1.34 million worth of utility work done on Fuller Road had been planned for a long time and was needed regardless of any potential train station project there.
"The work provided much-needed improvements for the medical center, Fuller Pool, and, as I recall, 30,000 Northside residents," he said.
Lumm now questions the latest projections that show the city might have to spend another $9.4 million in local dollars for design and construction.
"Where is that local money going to come from for the upfront capital cost? Don't know that," she said. "How about any incremental costs for operations? Don't know that either."
AnnArbor.com put the question of the timing of a public vote on the Ann Arbor Station project to all 11 members of the City Council this past week. Nine responded, and their answers varied widely.
Their answers suggest there likely won't be a public vote this year.
Council Member Christopher Taylor, D-3rd Ward, questioned the logic of going to voters before completing the final design.
"The investment to design an adequate Ann Arbor train station will be money well spent," he said. "It makes no sense to put an incomplete proposal before the voters.
Ryan J. Stanton | AnnArbor.com
"We cannot develop a financing plan without a final design. No one, neither voter nor council member, would be able to make an informed decision about a new train station without a final design."
The city's tentative capital projects budget shows a $2.6 million line item for final design in the fiscal year starting July 1, 2014.
The city is counting on 80 percent of those funds coming from the federal government, leaving roughly $520,000 tentatively planned to come from the city's general fund.
The city's staff acknowledges the final design is unfunded at the moment. For the project to move forward, the preliminary engineering and environmental review phase — costing more than $3 million — must be completed with a determination to head into final design on a specific site the federal government will help choose.
The city received a $2.8 million federal grant for the work that's being done now, and voted in October to chip in another $550,000 from the city's general fund cash reserves as a local match.
The actual construction cost of a new train station, estimated at $44.5 million, is another piece that remains unfunded, though the city expects the same 80-20 split between federal and local dollars.
For now, the city is assuming $35.6 million in construction funds will come from the Federal Railroad Administration, leaving an $8.9 million placeholder in the city's general fund in 2015-16.
The city's staff expects to work with other potential funding partners to meet the local match for construction, according to a recent memo shared with council.
Hieftje said he's not discouraged by critics who question whether federal funds will be forthcoming for eventual construction of a new train station in Ann Arbor.
"They're building and working on stations across the state along the rail line," he said of the federal government's interest in rail in Michigan. "There's absolutely no reason to believe they're not going to be prepared to (fund a station in Ann Arbor). They've already given us the first stage funding and are working closely with our people. There's absolutely no reason to believe that they won't be following through with upgrading the stations, particularly the busiest station in the state."
Council Member Sumi Kailasapathy, D-1st Ward, said the city first must decide whether there is majority support on council for spending general funds for a train station, wherever it might be located.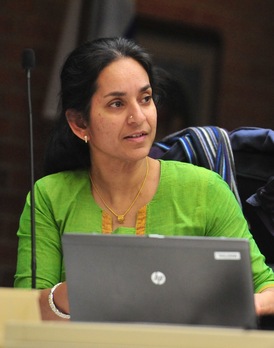 Ryan J. Stanton | AnnArbor.com
The city has focused heavily on the site on Fuller Road — on the footprint of what's now a paved parking lot in front of the University of Michigan Hospital — but it hasn't completely ruled out
re-using the existing Amtrak station site
just a stone's throw away on Depot Street.
If there is support for spending more money, then the city needs to wait for the FRA to approve a site for that train station, Kailasapathy said.
"Only after the FRA has made a determination, and only if the FRA recommends the Fuller Park site, should we ask voters to approve the use of that parkland for a train station," she said.
"While we wait for these things to happen, we should spend no more general fund money planning or preparing for a train station," she added.
Kailasapathy said it's possible the current council, which has a few new faces, does not support spending any further general funds to plan or build a train station.
Since the council last voted 8-2 to spend the $550,000 from its general fund cash reserves, Kailasapathy, Sally Hart Petersen and Chuck Warpehoski have joined the council's ranks.
Petersen, D-2nd Ward, said an appropriate time for a public vote would be after the conceptual planning and before the final design.
She said it's noteworthy that the first phase of the contract with SmithGroup JJR, one of the city's consultants, requires a conceptual plan workshop, public meetings, and conceptual designs of both the Fuller Road and current Amtrak site plans.
"So, the public can expect to weigh in on the conceptual design before its completion and before any voting," she said.
Warpehoski, D-5th Ward, said he hopes the city will pursue other sources of funding to help make up the local match for the next phases, so the general fund contribution will be much less.
He pointed out the council isn't being asked to make any additional funding allocations for the train station project in the coming fiscal year that starts July 1.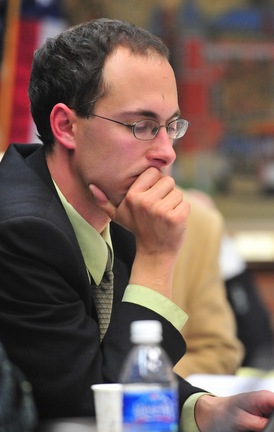 Ryan J. Stanton | AnnArbor.com
"So I don't see it as a factor as we pass this year's budget," he said.
Warpehoski said he sees two logical windows for a vote: Either after the environmental review work that's being done this year, or after the final design work expected in 2014-15.
One concern Warpehoski said he heard from voters during the library bond debate last fall was the lack of a design or final plan for the new downtown library the bond would have funded. The result was that the $65 million bond proposal was defeated with less than 45 percent in favor.
"Given that concern, my preference would be to bring this to the voters when we can have all the relevant questions addressed: Where will it be? What will it look like? Who else is contributing funding?" Warpehoski said, suggesting he wants to see the city proactively look for funding partners so it's not on the hook for more than half the final design costs.
Council Member Sabra Briere, D-1st Ward, noted the resolution the council approved last fall stipulated the project would go to voters "at or before the completion of a final design."
Briere said the already-funded work being done includes a recommendation about the location, and the federal grant the city received contains enough funding for preliminary designs.
"So, after the environmental assessment is completed, but before more money is spent on a final design — that seems to be the meaning of the resolution," she said.
Briere said she believes the public vote must take place before any final decisions are made regarding the location of a new train station.
Hieftje told AnnArbor.com in an interview this past week the $520,000 from the general fund for final design is only a rough estimate, and it actually could be more than $700,000. He said it's not written in stone which will come first — the final design or the public vote.
"For one thing, we don't have a good determination of what the match will be for the final design, because if the FRA frankly chooses the Fuller Road site, then the design work that's already done greatly reduces whatever match is required," he said. "It looks like the maximum would be about $700,000 and change, but again that could be split between our partners."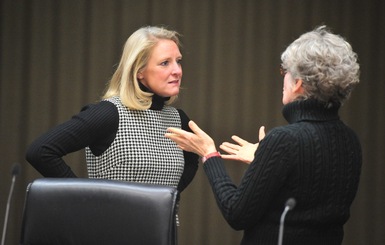 Ryan J. Stanton | AnnArbor.com
Hieftje said there are two ways to look at the timing issue.
"Some people believe that if you don't have a complete design, it's really not fair to voters to say, 'Hey, you really don't know what you're voting for.' Others believe you don't need the complete design," he said. "But again, if it came back that most of the match was already covered, then why not wait for the full design? And if it comes back that there's a whole lot that we would have to come up with as a city, then we may make the decision another way."
Hieftje said there will be a public vote regardless of which site is chosen — not just if it happens to be proposed on city parkland in Fuller Park.
"Basically it's the federal government's money, so they're going to make a decision on where they spend it," he said. "But we need to get through this stage — the environmental work — before we can make the next decision."
Lumm thinks a voter referendum on the project needs to happen now before the final design is complete. She believes once the design is complete, proponents will argue too money has been invested in a new station not to go forward with the project.
Lumm also continues to question whether the tens of millions of dollars in federal funds for construction of the station will materialize.
"And we continue to spend money on a project where the fundamental need isn't clearly established, at a site that I believe — despite claims to the contrary — is pre-determined, is parkland, and is likely not the low-cost alternative," she said, suggesting there are more pressing city needs and priorities, as well as a great deal of uncertainty regarding regional transportation in Southeast Michigan.
Council Member Stephen Kunselman, D-3rd Ward, said there's no need for council to include a new train station design in the city's fiscal year 2014-15 budget since there still remains, in his opinion, a great deal of ambiguity about the location and funding sources for a new train station.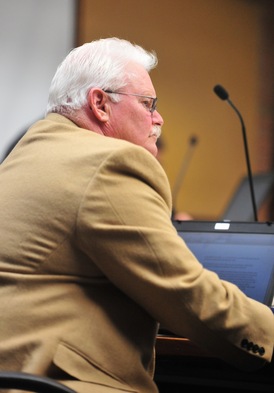 Ryan J. Stanton | AnnArbor.com
As long as Fuller Park remains the preferred site for a new train station, Kunselman said he doubts the mayor has the necessary support of the majority of council members to even approve ballot language for any initiative to proceed with a new train station.
"Until Fuller Park as a proposed train station site and WALLY are removed from further consideration, and community trust in train transit can be restored, I have no reason to support a ballot proposal asking for community support for a new train station," he said.
Kunselman said he's personally a staunch supporter of inter-city train travel, but it is seems the mayor's "transit by train" initiatives such Ann Arbor Station have created widespread community distrust due to citizen expectations that city tax subsidies will be required.
He predicts any ballot proposal soliciting community support for a new train station — if it even makes the ballot — will be defeated by voters.
Kailasapathy agreed.
"I believe there is a strong possibility that voters will not approve the use of the Fuller Park site for a train station," she said. "For that reason, I believe we should not spend any more money on planning the station until we have permission from the voters."
Council Member Mike Anglin, D-5th Ward, said he was amazed the train station project was included in the city's updated Capital Improvements Plan without clear direction from council.
"At this time, I would not be in favor of building a new train station since we have a train station now that functions well for the community," he said. "City staff time and transportation resources are better placed on providing better bus service, since bus service is more reliable and nimble and therefore able to respond to current and future needs and travel timetables."
The local Huron Valley Group of the Sierra Club has been concerned about the precedent that would be set by building a train station on a portion of Fuller Park, even if it is a parking lot now.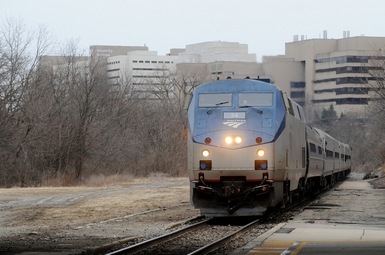 Melanie Maxwell I AnnArbor.com
Chairwoman
Nancy Shiffler
said her group continues to support both rail transit and protection of parks, but the question to be presented for a public vote is currently vague at best.
"We want the city to present a clearly defined question to the public for a vote," she said, "including the proposed location, and the city's costs to build and operate, all of which will be best understood after completion of the environmental assessment and preliminary engineering designs, as required by the federal grant accepted by the city in the summer of 2012."
While the Sierra Club has been mostly critical of the project, the Ann Arbor-based Ecology Center has endorsed it.
Mike Garfield, the Ecology Center's director, said his group's position remains unchanged from October when it lobbied council to approve funding the current phase of work.
"I'd be open to relocating the train station development to another adequate site, but I haven't seen an adequate alternative suggested," Garfield said.

City of Ann Arbor
Ryan J. Stanton covers government and politics for AnnArbor.com. Reach him at ryanstanton@annarbor.com or 734-623-2529. You also can follow him on Twitter or subscribe to AnnArbor.com's email newsletters.