Posted on
Thu, Jul 11, 2013 : 11 a.m.
4th Ward Ann Arbor council candidates clash over development issues and neighborhood flooding
By Ryan J. Stanton
The candidates running for the 4th Ward seat on the Ann Arbor City Council traded subtle criticisms during a League of Women Voters forum Wednesday night, as they clashed over issues ranging from downtown development to neighborhood flooding problems.
"This election provides a clear choice for Ward 4 voters," said challenger Jack Eaton. "If you elect me to council, I will provide responsive representation.
"I will answer your emails. I will return your phone calls. I will meet with neighborhood groups. I will release a regular email update."
Incumbent Marcia Higgins, D-4th Ward, suggested Eaton is one of those candidates who fears "change of any kind" and can only say "no" to things. She said change is coming to Ann Arbor, and she'll continue to engage with residents to find solutions and thoughtfully prepare for it.
Ryan J. Stanton | AnnArbor.com
"During my years on council, my constant focus has been on building our infrastructure, and it's always keeping an eye toward the future while respecting our past," she said.
Eaton, a labor attorney and longtime neighborhood activist, is trying to unseat Higgins, Ann Arbor's mayor pro tem and a council member since 1999, in the Democratic primary on Aug. 6.
He said Ward 4 residents tell him the City Council needs to focus on more sensible priorities such as essential infrastructure and core services.
"I'm running for office because I've been involved in local politics — I've been active in my neighborhood association and in helping other neighborhoods organize," Eaton said. "What I've found is that our council is unresponsive to the concerns of city residents."
The 4th Ward, perhaps more than any other ward in Ann Arbor, has been plagued by flooding problems that have sometimes filled residents' basements with water and led to sewage backups. Eaton raised concerns that the city is dragging its feet on the issue.
"In 1997, the city did a major flood study in the Lawton neighborhood and simply failed to follow up on any of the recommendations, and here we are 15 years later repeating the process of studying the problem we already ignored," he said.
The city of Ann Arbor, in close cooperation with the Washtenaw County Water Resources Commissioner's Office, has multiple efforts underway to look at the city's stormwater and sanitary sewer systems and related flooding problems.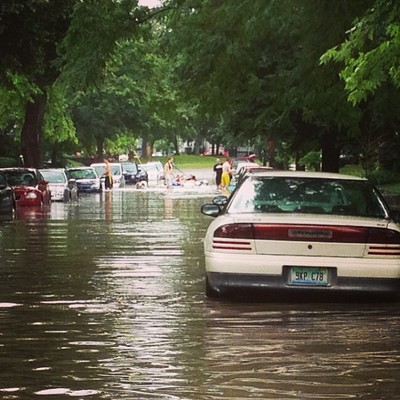 Courtesy of Judy Ramos
That includes a two-year study that involves monitoring and evaluating stormwater behavior throughout the city.
The study includes intensive data gathering to fine-tune or calibrate the city's stormwater model, which will be used to develop recommendations for improving the stormwater system.
"We have been experiencing flooding in Ann Arbor for years," Higgins said. "We have new tools that we can look at, and we have several different projects underway right now.
"To move forward just to move forward quickly — if it's not the right solution, we can exacerbate the problem further down the stream," she said. "So we're taking this time period to look at this, and we're working with the water resources commissioner and using his expertise."
Higgins said Ann Arbor's streets were purposely designed years ago so that when the city's storm sewers reached capacity, the streets would hold the extra water.
"Not everybody understands that," she said. "So if you see a street flooding, it's actually supposed to do that. But because of the additional storm events that we're having, the higher storm events, we're seeing that flooding go over land and that's what we're dealing with."
Eaton said two of the area's main watersheds — the Mallets Creek and Allen Creek — don't have the capacity to handle the level of stormwater the city is experiencing, yet the city continues to plan for more development. He said the city needs to approach the problem in a variety of ways.
"We need to use paving materials that allow the stormwater to soak into the ground at the site, rather than just moving it down the stream," he said. "We need to increase our capacity to move water through the Allen's Creek and the Mallets Creek to the river. And we need to set up retention and detention ponds in neighborhoods to delay flow into the downtown areas."
If elected to council, Eaton said he'd be a voice for sensible priorities such as public safety, protecting local transportation and maintaining essential infrastructure.
"It's our responsibility now to set the foundation with our infrastructure so that 10 or 20 years from now we don't continue to suffer the bad roads we have now, we don't continue to suffer flooding that allows people to kayak in the street," he said. "We need to take responsibility for the problems we have now so those future generations can build on what we have done."
Higgins argued the city has been tackling long-term issues related to transportation and what the downtown looks like, while paying attention to infrastructure.
"We've rebuilt five bridges in the past 10 years," she said. "We've put in miles of roads, we've replaced water mains and sewer pipes, we've replaced sidewalks, and most importantly we've done it while in a terrible economic downturn."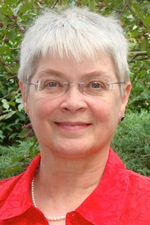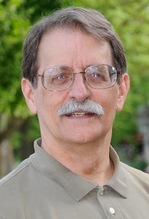 She added, "We have a great budget — it's balanced every year, we're not raising taxes, we're providing services, our core services are intact."
Higgins said the city's parks and recreation facilities also remain a tremendous asset, and the city continues to win awards for livability and is envied by other cities.
Eaton said he doesn't think Ann Arbor has a good enough relationship with the University of Michigan and that's something he'd like to see improve.
Higgins argued the city already has a good working relationship with the university. She said city staff and university administrators meet on a monthly basis to discuss issues coming up and they try to find opportunities for collaboration.
As for the issue of city-owned properties in the downtown, Higgins said the city has been working with the Downtown Development Authority on that and just recently contracted with a real estate professional to look at selling the Y Lot — the parking lot at Fifth Avenue and William Street.
Any future decisions about what to do with city-owned properties should be driven by the community, Higgins said, noting no decisions have been made yet.
Eaton said it makes sense to sell the Y Lot as soon as possible to pay the debt owed on the property, but he said the city should make sure it's zoned appropriately first.
"The other properties that we don't owe any money on are really public assets and we should be careful how we use or dispose of those properties," he said. "I believe that we should take a close look at developing downtown parks, creating downtown performance centers — things that actually serve the community rather than just simply selling it for a price."
Higgins talked about her involvement in the multi-year process that led to zoning changes in the downtown. She said there was community consensus around increased density, and until she hears something different, she's going to continue to support that.
She said there are issues where areas zoned for 180-foot development abut near-downtown neighborhoods and the city is taking a close look at that.
Eaton said it's his understanding that when the city rezoned the downtown to allow more density, it was trying to attract both young professionals and empty nesters.
"And I think we've actually failed on both counts," he said. "The massive building that's happening in the downtown area has been student housing — not for young professionals, not for empty nesters, not for any just normal residents of town.
"So I believe the downtown zoning efforts have really seriously failed and we need to go back and address what it would take to make that area more inviting for those groups."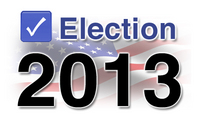 Higgins doesn't believe the city has failed. She said there still are wonderful lofts above historic buildings downtown and condos in Sloan Plaza on East Huron Street that attract empty nesters.
Eaton and Higgins stand at odds on the 14-story apartment high-rise planned for 413 E. Huron St. Eaton opposed it, while Higgins voted to approve it in May.
Higgins noted almost 60 percent of the units will be one and two bedrooms, so she thinks those could attract young professionals and empty nesters.
Eaton said there needs to be a buffer between downtown core density and near-downtown neighborhoods, and the 413 E. Huron project violates that.
"I think we do have competing visions," he said. "It seems that some of our leaders in Ann Arbor envision making radical changes to our town, changing the character of downtown dramatically, and perhaps even making this a mini-metropolis. I'm not sure that everyone supports that."
He also spoke critically of the proposed Packard Square apartment development that's planned for the site where the Georgetown Mall recently was demolished.
"We've extended this idea of density out into the neighborhoods, so we're going to allow a four-story, massive, apartment and multi-use project on the Georgetown Mall site in the middle of a residential block," Eaton said. "I'm not sure that's an appropriate use of density."
Ryan J. Stanton covers government and politics for AnnArbor.com. Reach him at ryanstanton@annarbor.com or 734-623-2529. You also can follow him on Twitter or subscribe to AnnArbor.com's email newsletters.