Posted on
Tue, Oct 25, 2011 : 1:48 p.m.
5 lessons for Ann Arbor from Heritage Row/City Place
By Paula Gardner
I'll admit a sense of relief that Ann Arbor can stop engaging in the faux-debate of Heritage Row versus City Place.
With City Council's vote on Monday night, hopes evaporate for a new historic district and a moratorium on building on the block of South Fifth - and now the developer says he'll proceed with City Place.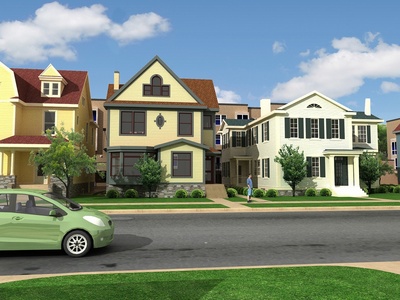 A look at the Heritage Row proposal by Alex de Perry.
Residents nearby are disappointed by the outcome, and rightly so: They'd been given hope that the 7 houses on the street could survive this entire process.
But was that hope really viable? In my opinion, no more so than the Heritage Row plans that have been shelved.
Whether City Place actually happens or not, Ann Arbor can take some lessons out of the multi-year approval process. Here are my top 5 lessons from Heritage Row/City Place:
1. Projects as proposed aren't necessarily viable.
Yes, the average person - and council member - could assume that part of the application process would assume that what's proposed could actually be built.
But what I see from this entire City Place v. Heritage Row situation is wish-list development that could never be brought to market. The recent letter to council from Jeff Helminski detailing what kinds of changes the city needed to approve to get Heritage Row makes that clear.
The red flag for me on this project all along was the underground parking. There's a reason it hasn't been a major part of other developments over the years: The cost. Limited numbers of spaces have been added to high-rises and they become premiums offered for extra cost.
Sure enough, the parking comes out of the equation when someone wants to sign a construction contract. The unit count goes up. The homes no longer are guaranteed to survive.
This point alone makes it unfortunate that so much time and energy were spent on a City Place v. Heritage Row debate, because Helminski's letter confirms that Heritage Row simply wasn't going to be built. That's why I call it a faux debate. It never was an either/or.
2. If there are other buildings in Ann Arbor that deserve historic designation, now's the time to make it happen.
Say what you will about the restrictions and limitations of a historic district - in certain neighborhoods of Ann Arbor, particularly close to campus, it will be the only way to preserve buildings for the future. And the time to consider that is not after someone submits building plans.
Pursuing historic district status didn't work for the City Place block. But all sides of development forces will benefit from better defining what the city wants to consider historic. This economic downturn offers the city opportunity to define what it wants to preserve around the city amid what's still a relative cool-down of building efforts.
3. Five bedroom floorplans really do signal student housing.
That was contested when the Moravian went through approvals, but it seems closed to debate now: Student housing construction can get financing in Ann Arbor, and that's what's happening on South Fifth Avenue. Find me a group of professionals who plan on living in a five-bedroom apartment, and … well, just find me one. We are talking student housing.
4. It's OK to step out of a losing battle.
From today's story: "Council Member Margie Teall, D-4th Ward, argued the council already has become a joke for how it's handled the City Place saga over the last few years.
"'I, too, feel disappointed about losing these houses," she said. "I don't like the idea of those houses being destroyed, but I do think that was a decision that we made a year and a half ago, and I don't want to try to rehash all of this over and over and over again." ' The mistakes were already made. Bringing it back seemed desperate - and underscored that council and residents need to understand the impact of a vote because it's not that easy to change course.
5. That 'losing battle' lesson fits the developer, too.
What is the city supposed to think when it hears the essence of "We don't really want to build City Place, but we will if we have to" over and over?
It may have been said to manipulate council or influence staff, but the message to residents resonates in a different way. We realize that there's a race to build more student housing in town, but the pace is such that anything coming online from here forward raises questions about just how much the market can bear.
Maybe you did get caught in an unfair battle. Maybe the city did send mixed signals. But building something you don't want to build isn't confidence-inspiring. And it raises even more questions about what will happen on that property - and whether anyone will end up well-served (including investors) if the result is City Place.
Paula Gardner, news editor of AnnArbor.com, covered real estate and development in Ann Arbor for many years. She can be reached by email. Follow her on Twitter.