Posted on
Mon, Dec 19, 2011 : 1:28 p.m.
59 Ann Arbor schools employees topped $100,000 in annual pay in 2010
By Paula Gardner
A total of 59 employees of the Ann Arbor Public Schools earned more than $100,000 in 2010, the most recent data that's available.
The total compares to 88 in 2009, when 4 percent of the district's then-2,082 employees earned a six-figure paycheck.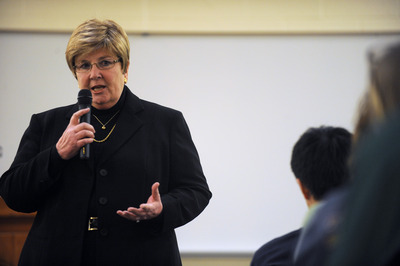 The data was posted to the district's website on Friday as part of its mandated transparency reporting.
The difference in the fewer number of employees earning six figures is due to the fact that the 2009 list represented a year with 27 payroll dates instead of 26, according to the district.
The timing of the list's release follows a vote last week by the Board of Education to approve raises for two administrators following the hiring of an administrator from outside of the district who will earn more than her predecessor. That hiring was not approved by the board at the time, but Superintendent Patricia Green asked for retroactive approval last week in addition to the raises.
The numbers - based on 2010 federal W-2 reporting - also include total payments by the district for each employee. Those payments are FICA tax payments, retirement contributions, as well as health and other insurance.
The data is listed by position and does not include the employees' names.
On the list:
--The superintendent was paid $176,165.50, with total compensation of $212,304.29. That number represents pay to former Superintendent Todd Roberts. The new base pay for the position is $245,000.
--Six high school principals, who earn a range of $112,909 to $131,234 per year.
--Six assistant high school principals, one of whom also is an athletic director. They're paid $104,374 to $123,013 per year.
--Five middle school principals, earning $105,175 to $120,398 per year.
--Five assistant middle school principals, earning $103,561 to $110,281 per year.
--Nineteen elementary principals, earning $100,045 to $114,924 per year.
--One preschool principal, earning $107,236 per year, and the director of community education, earning $$112,069.
--Four teachers. Those rates are $117,021, $101,578, $101,292, $101,274. Administrators have said those pay rates reflect extra duties, such as coaching, in addition to classroom instruction.
Other positions include deputy superintendents, three assistant directors for student instructional support (each about $116,000), an executive director for physical properties ($124,649) and a director of operations ($118,661).
The total wages for the 59 employees is $6.903 million, or $9.321 million including benefits.
The district's total operating budget for 2011-12 is $183.5 million. The district is planning to cut an estimated $14 million in 2012-13.
A request has been made to the district for the total headcount during the timing of this report so that the percentage of employees making more than $100,000 can be determined. That will be added to this story when it's obtained.
Read the district's list of employees making $100,000 or more.