Posted on
Tue, Aug 7, 2012 : 8:55 p.m.
Race for 7th District seat on Washtenaw County Board of Commissioners: LaBarre wins primary
By Amy Biolchini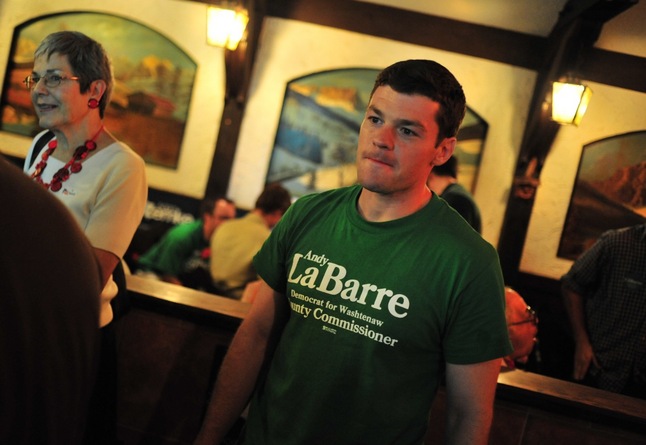 Ryan J. Stanton | AnnArbor.com
Ann Arbor Democrat
Andy LaBarre
has won a spot on the November ballot for a new 7th District seat on the
Washtenaw County Board of Commissioners
over Democratic opponent
Christina Montague
after Tuesday's primary election.
At a meeting of the local Democratic party in downtown Ann Arbor Tuesday night, LaBarre celebrated his victory over Montague in advance of the final vote tallies.
LaBarre, 30, is a former staffer for U.S. State Rep. John Dingell's office both in Washington D.C. and in Ann Arbor before joining the A2Y Regional Chamber, where he is currently employed.
During a speech LaBarre gave Tuesday night, he thanked Dingell for his support -- to which Dingell responded later in the evening by toasting LaBarre's success.
LaBarre also thanked the local Democratic party contingent for their support, as well as his pregnant wife, Megan.
"Thank god it worked out," LaBarre said in an interview with AnnArbor.com. "At the polls I owe voters a debt of gratitude."
LaBarre was initially slow to admit his success in the primary Tuesday night.
"If it works out tonight, the hard work begins tomorrow," he said.
As the winner of Tuesday's primary, LaBarre will face the sole Republican candidate David Parker of Ann Arbor in November.
The new 7th District, which comprises the eastern half of Ann Arbor, is composed of former 8th, 9th and 11th districts and is currently represented by Democratic Commissioners Barbara Levin Bergman, Leah Gunn and Yousef Rabhi, respectively.
Bergman's 8th District makes up a majority of the new 7th District, but Bergman is not running for re-election this year. Gunn is also not seeking office.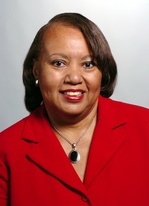 County commissioners are paid a base salary of $15,500 and per diems of $25 per meeting.
LaBarre garnered 65 percent of the vote to Montague's 34 percent.
Montague, 60, of Ann Arbor, is a social worker for the Ann Arbor Public Schools and served on the county board of commissioners from 1990 to 2002.
LaBarre reported raising $26,560 so far this election cycle, compared to Montague's $5,416.
Montague's campaign was mostly self-financed, according to the campaign finance spending reports submitted to the county clerk.
LaBarre's lengthy endorsement list stacked up against Montague's strategy of enlisting the support of the Rev. Jesse Jackson in a rally.
Amy Biolchini covers Washtenaw County, health and environmental issues for AnnArbor.com. Reach her at (734) 623-2552, amybiolchini@annarbor.com or on Twitter.