Posted on
Wed, Sep 21, 2011 : 1:30 p.m.
8 tickets written so far under Ann Arbor's new pedestrian safety ordinance, police say
By Ryan J. Stanton
A total of eight tickets had been written under Ann Arbor's pedestrian safety ordinance as of 7 a.m. today, according to Ann Arbor Police Lt. Renee Bush.
Enforcement of the new law started on Sunday, and police officers have been strategically taking time during their shifts to observe crosswalk behavior at several locations throughout the city as part of a ramped-up awareness campaign expected to last two weeks.
AnnArbor.com was along for the ride when one of the first tickets was written on Monday morning. A silver Toyota Camry cruised through the blinking yellow light at the intersection of Seventh and Washington streets where a pedestrian was waiting in the rain to cross.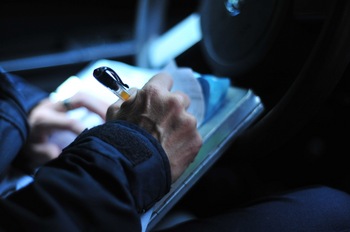 Ryan J. Stanton | AnnArbor.com
Under the city's pedestrian safety ordinance, the penalty for not stopping for pedestrians approaching a crosswalk is a $100 fine and two points on a driver's license.
The Ann Arbor City Council approved the landmark ordinance in July 2010, hoping to make it safer for pedestrians to cross busy city streets. While it's always been the law that motorists must stop for pedestrians already within a crosswalk, the stopping requirement now applies to pedestrians approaching a crosswalk — the idea being that they don't have to risk life and limb to get a car to stop for them. The ordinance does not apply to bicyclists unless they're walking.
"When traffic-control signals are not in place or are not in operation, the driver of a vehicle shall stop and yield the right-of-way to every pedestrian approaching or within a crosswalk," the ordinance reads. "A pedestrian shall not suddenly leave a curb or other place of safety and walk or run into a path of a vehicle that is so close that it is impossible for the driver to yield."
The ordinance further states that every pedestrian crossing a street at any point other than within a marked crosswalk — or within an unmarked crosswalk at an intersection — must yield the right-of-way to all vehicles on the street.
Ryan J. Stanton covers government and politics for AnnArbor.com. Reach him at ryanstanton@annarbor.com or 734-623-2529. You also can follow him on Twitter or subscribe to AnnArbor.com's e-mail newsletters.