Posted on
Thu, Jul 21, 2011 : 5:59 a.m.
Ypsilanti businesses see more vibrant downtown as lofts bring renters, though challenges remain
By Tom Perkins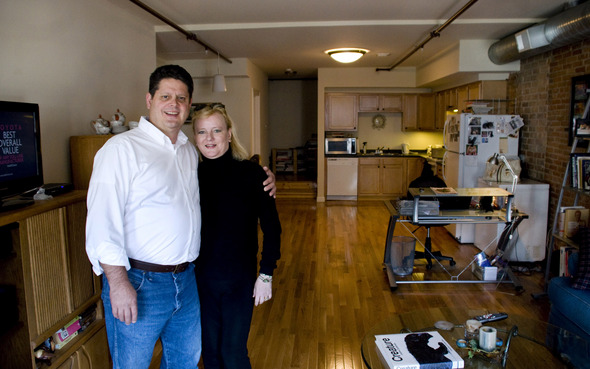 Tom Perkins | For AnnArbor.com
Nearly two years ago, Mike Gendich and his wife, Dawn, decided to move from their suburban Livonia home to a more urban location, but one still close to Gendich's Canton office.
Dawn grew up in London, and wanted an apartment similar to the flats she lived in before moving to the United States, so the couple began exploring their options. They looked at spaces available in downtown Northville, Ann Arbor and Plymouth, but found the cities a little too stuffy for their tastes.
Then they discovered a loft at the Maurer Management-owned Mack and Mack building on Michigan Avenue in downtown Ypsilanti. The roughly 1,600-square-foot, two-story loft they lease for $1,000 monthly fits their tastes perfectly, as does the downtown.
"We looked at a couple different places, but this had that old-town feel, it has all kinds of flavor, color, all kinds of people — it's different," Gendich said. "I was a little hesitant at first, but we moved in and I'm thoroughly pleased that we did so."
More residents like the Gendiches are calling downtown Ypsilanti home over the past decade, and city officials, merchants and business people all agree it's a positive trend.
When Maurer Management completes its $2.2 million renovation of the Mellencamp Building at 120-124 W. Michigan Ave., 12 more lofts priced from $800 to $1,000 a month will be on the market.
That will equate to 46 new loft apartments — or 37 percent of downtown's housing stock — added since 2001, and mean an increased taxable value estimated at more than $2.3 million.
Those figures don't include smaller apartments that city planner Teresa Gillotti said have been "cleaned up" or undergone smaller scale renovations. Since all loft projects utilized OPRA tax breaks, the city is only collecting taxes from the Flour Mill Building renovated in 2001, and will start collecting from the five other loft buildings over the next decade.
Gillotti said the boost in housing, population and additional traffic that residents bring through downtown helps achieve the vibrancy for which the city is aiming in its "blueprint for downtown," a five-year plan for revitalizing the area City Council adopted in 2008.
"One of the key strategies is making the area into a 24-hour downtown, so people aren't just coming in, visiting and leaving, but living here all the time," she said. "When you have people living here as well as people coming in, you have different markets using downtown constantly."
Still, those renovating in downtown Ypsilanti face some challenges. Landlords who have added the new housing say their units fetch less in rent than they did five or 10 years ago because of the economy. The Maurers have also stated their intent to retire from property renovation, and partly attributed their decision to Ypsilanti's high taxes.
There have also been some challenges retaining businesses.
Most notably, lights remain out at four large nightlife and dining venues along Washington Street, two of which are on the ground level of a Maurer-owned loft building. But Gillotti said their failure was related to a dispute with DTE Energy and other problems, more than it was a question of demand. And she pointed out that the liquor license at Club Divine was the most productive in Washtenaw County while the nightspot was open.
Several merchants who occupy the first floor of the buildings or neighboring spaces to the downtown housing say they benefit to different degrees.
Officials acknowledge some of the attorneys or accounting firms in town might not directly benefit, but others, like Bonnie Penet at Mix, said she regularly talks to residents who live upstairs and shop in her boutique.
"I have a real excitement about the lofts," Penet said. "About once a week we meet people who live in them. They all lead very busy lives, but they will come to an event here, grab a card real quick for a gift or do some shopping. And the hardware store is always highly praised."
Don Britton, co-owner of the Congdon's Ace Hardware on Pearl Street for 30 years, said downtown has grown more lively in recent years and he talks to more people living nearby.
He said the store has benefited to a degree, but he added that landlords typically take care of the apartments' repairs, so his wares aren't as much in demand as those of other merchants.
"It's hard to track, but I'm sure it has helped because there are so many more people who need even small stuff from us," he said, adding that the Maurers directly help because of the scale of the proximity of their three renovations.
Gendich said he has visited nearly every store and restaurant in downtown since moving there 18 months ago. All the essentials are available, he said, and his only desire is more dining options beyond bar food or Coney Islands.
But he added that Red Rock Barbecue, which will soon open several doors down from his building, is a nice start to resolving that problem.
Ypsilanti Downtown Development Authority Director Tim Colbeck also highlighted other benefits to an increased population. Crime traditionally decreases as people move into once-vacant downtown space, he said.
One of the only potential issues he could find was a lack of parking spaces, but he said Ypsilanti isn't there yet, and he called it a good problem.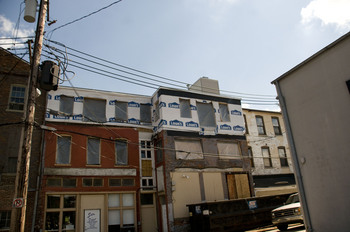 Tom Perkins | For AnnArbor.com
"Almost universally, there would be no negative impact from an increase in residential units downtown," he said. "It's positive for the city, for the DDA, businesses, residents all the events that happen nearby … and in terms of planned economic development principals, this is what we go for."
One of the challenges facing downtown is its size, Gillotti said, which allows it to have destination stores but not enough storefronts to maintain regular foot traffic. Swisher Commercial Real Estate broker Tony Caprarese regularly lists downtown properties and called the area's progress slow but steady.
He also said the city was supporting its destination businesses, but questioned whether enough people live in the area to fully support a commercial community. He added that Water Street is the type of project that could turn that corner.
"Anytime you can bolster a downtown with more foot traffic and more of a residential population, it's good for the city," he said. "Those are people who have demand for certain services that will hopefully attract merchants who want to provide those services. The question is: Is it enough where it's getting to a point where there's a critical mass?"
The other benefit that comes the loft is the wealth of those residents leasing the units. The 46 new lofts means significantly more people around downtown who can afford $600 to over $1,000 in monthly rent at the Maurer lofts, for example.
"I think the housing is slightly more upscale," Gillotti said. "People have been attracted to it — 'Oh, look this is a cool loft.'"
While the lofts go for more than other smaller apartments in downtown, Bill Kinley, president of the Phoenix Contractors company that renovated the Flour Mill lofts in 2001, reported rents have dropped by roughly one-third since opening. Karen Maurer said the prices in the 200 W. Michigan building have also gone down due to the economy.
But Erik Maurer said their downtown lofts are the most popular units they own, have remained full since opening, and he expects the new units will rent as quickly as their other buildings. While the price is slightly higher than most of Ypsilanti's rental housing stock, it's also cheaper than neighboring cities' lofts and in a diverse, urban environment
"Our renters' thinking is 'We want all the amenities and a really nice place to live, but we don't want to pay Ann Arbor prices," he said.
Tom Perkins is a freelance reporter for AnnArbor.com. Reach the news desk at 734-623-2530 or news@annarbor.com.