Posted on
Mon, Apr 18, 2011 : 5:55 a.m.
The newest idea for Ypsilanti's Water Street: An $8 million to $10 million county recreation center
By Tom Perkins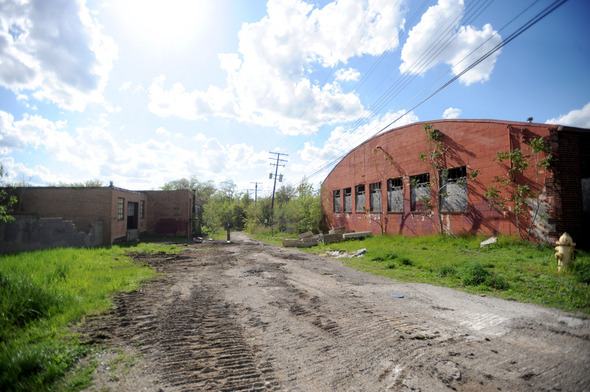 Angela J. Cesere | AnnArbor.com file
Washtenaw County officials are beginning to push for a new recreation center to be built on Ypsilanti's Water Street property. The $8 million to $10 million recreation center could spur Water Street development and serve as the centerpiece in a series of area parks linked by the eastern Washtenaw County Border to Border Trail, its planners say.
Last week, the Washtenaw County Parks and Recreation Commission discussed the possibility of building the new 50,000-square-foot recreation facility on a parcel of Water Street along the Huron River.
Officials on all sides underscored that the idea is only being discussed, but Washtenaw County Parks and Recreation Director Bob Tetens said all the discussions have been positive and the Parks and Recreation Commission "has given the green light" to begin exploring the possibility.
The 38-acre Water Street site is adjacent to downtown Ypsilanti, off Michigan Avenue. Tetens said a recreation center would need 10 to 12 acres of that property, ideally along the Huron River, which flows into Ford Lake less than a mile downstream. The city recently cleared Water Street of its remaining abandoned buildings and Tetens called the property a "diamond in the rough."
"Having a river and lake in the heart of an urban area is so rare and valuable and special that we need to take advantage of this," he said. "There's a lot of opportunity here. It could take a couple years to pull this off, but in the end it will be a catalyst for development."
Janis Bobrin, a Parks and Recreation commissioner and Washtenaw County Water Resources commissioner, said the center could be a "huge community asset" and is pleased that it would be designed to be sensitive to the river.
"We have one recreation center already, but the eastern part of the county has been growing and could use a similar facility," she said. "And this is a terrific opportunity to help launch an economic recovery in that area of Ypsilanti."
Tetens said he couldn't offer any details on the center's facilities, but it would likely include a fitness center, a gymnasium and a pool, and is a similar concept to the Meri Lou Murray Recreation Center on Washtenaw Avenue in Ann Arbor.
The building would be framed by small urban parks, Tetens said, and he envisions taking advantage of access to the river and the Border to Border Trail, which runs through Water Street.
Tetens said there is no specific timeline, but the center could be built and open in 2013 at the earliest.
How to proceed with attracting development to Water Street has been a source of debate among Ypsilanti City Council members. The city started acquiring parcels of the property in 2001 with the expectation that it would quickly attract mixed-use development.
Officials thought that development would add to the tax rolls and pay off the bond issued to fund the purchase. The development never came, and the city made its first bi-annual debt service payment of $476,000 last May. The city faces $31 million in debt after it refinanced the bond in 2006, as well as bi-annual payments that will grow to $1.3 million through 2031.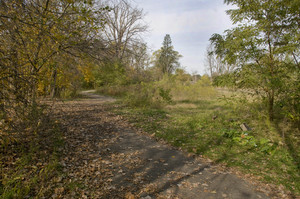 Tom Perkins | For AnnArbor.com
City Council rejected a developer's proposal to put a Burger King on the site last April.
Ypsilanti Mayor Paul Schreiber said he has only had one informal conversation with City Manager Ed Koryzno about the idea, but said it fit his vision for the property more than a Burger King would have.
"I think it would be a very interesting idea if it were seriously proposed," he said.
Because the recreation center would be a county building, it would be exempt from paying city taxes. Koryzno said the City Council would have to decide whether it wants a building that doesn't contribute taxes and whether it's the type of project that would attract other development.
Tetens said he expects such a center would attract development, and pointed to similar river development projects in Detroit, Lansing and Battle Creek. He said developers are afraid to be the first to build on such a property, and the center would address that issue.
"The objective is to get more people downtown, and more people to the river," he said.
Bob Marans, president of the Parks and Recreation Commission, agreed. Marans is also a registered architect, professor emeritus in the University of Michigan Taubman College of Architecture and Urban Planning and the county representative on the Metro Parks Board of Commissioners.
"I think it could be one of the most significant things to happen in the city of Ypsilanti since I've been in Washtenaw County, and I've been here 40 years," he said. "It could be a catalyst for all kinds of new development. All you have to do is look at what the YMCA has done for the east side of Ann Arbor, and you can imagine what this might do for downtown Ypsilanti."
Marans said the center could serve as a focal point in a string of parks running from Ford Lake up the Huron River to Peninsular Place Park near Huron River Drive and LeForge Road. The site is just to the north of Ford Lake Park, and Tetens recently met with the chairman of the state transportation commission to discuss building a pedestrian bridge connecting Ford Lake Park and Water Works Park on either side of the I-94 bridge.
Additionally, Angstrom, which recently purchased the former Visteon Plant, has agreed to donate a portion of land along the river that could be utilized for the Border to Border Trail and park space.
North of Water Street, Washtenaw Parks and Recreation and the city of Ypsilanti are building a pedestrian bridge underneath the Michigan Avenue bridge that will link the Border to Border Trail to Riverside and Frog Island Park. Beyond Frog Island Park, the Border to Border Trail turns into bike lanes through the city.
Washtenaw Parks and Recreation has been planning a recreation center in the eastern part of the county for several years, and eventually would like to build one on the western side, Tetens said.The organization is funded by a millage, and the project would partially be paid for with money from its fund balance. The rest would be covered by bonding, Tetens said.
The millage is set to expire in 2014, and Tetens said Parks and Recreation must also decide whether to wait to build until it is assured of continued funding or build based on past success in renewing millages.
Washtenaw County Commissioner Rolland Sizemore has played a central role in the recent discussion. He said he plans to work with local officials and county commissioners to make the project a reality.
Ann Arbor News file
"We feel it brings something to the city that residents need and deserve, and the key is working together," Sizemore said.
Koryzno said the project could offer some benefits.
"If the council determined that the recreation center could locate here in the city, it could address recreation needs, potentially spur additional development in Water Street, and contribute to creating a sense of place," he said.
Ypsilanti Council Member Brian Robb said the idea has been discussed for several months and he's "glad that it it's out in the open and we can have a public discussion."
Tetens said the next step is to meet with Koryzno and county commissioners this week. He said once the concept is solidified and approved, they will move into a design phase in which public input will be sought.
He said graduate students from Eastern Michigan University and U-M might be tapped for assistance with planning and design.
"There's an opportunity to have a lot of partners in this, and I hope everybody recognizes its value," Tetens said. "The more momentum we can get behind it, the better."
Tom Perkins is a freelance reporter for AnnArbor.com. Reach the news desk at news@annarbor.com or 734-623-2530.