Posted on
Thu, Dec 22, 2011 : 5:59 a.m.
New report: Ann Arbor has 'a significant fire problem' and fails to meet response time standards
By Ryan J. Stanton
The Ann Arbor Fire Department should make it a top priority to respond more quickly to fires and other emergencies, according to a new report.
The department fails to meet national standards and there's "a significant fire problem within the city," according to the International City/County Management Association.
The city released a final draft copy of the long-awaited report on Tuesday. AnnArbor.com has analyzed all 63 pages of the study, which cost the city $54,000.
ICMA's report echoes previous analyses by AnnArbor.com that showed the fire department, after years of cutbacks, is struggling to meet national standards for response times.
The ICMA report touches on staffing levels, ways to increase public education about fire prevention, new deployment methods and technologies to be more effective in fighting fires, and what ICMA is calling "lucrative benefits" provided to firefighters.
It also suggests the fire department would be well served by undergoing a strategic planning process with input from the community to figure out appropriate levels of service.
Failing to meet national standards
ICMA looked at whether the fire department is meeting National Fire Protection Association standards for turnout and response times on both emergency medical calls and fires.
Turnout time is defined as the period beginning when units acknowledge notification of the emergency to the initial point of response. Response time is the period that follows, beginning when units are en route and ending when units arrive on the scene.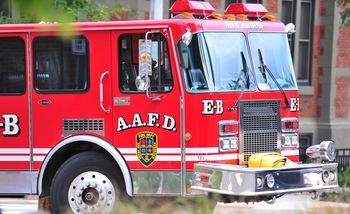 Ryan J. Stanton | AnnArbor.com
NFPA recommends turnout time of 80 seconds or less for fires and 60 seconds for emergency medical calls.
ICMA found the actual turnout time was 120 seconds for fires and 121 seconds for medical calls. Both of those times fail to meet the national standards.
"This is where ICMA data analysis reveals the greatest opportunities for improvements," reads a draft copy of the report obtained by AnnArbor.com.
The report goes on to indicate the average turnout time ranged from 1.8 to 3.1 minutes in different cases. ICMA called special attention to the average turnout time between 1 a.m. and 6 a.m., which was longer than 2.9 minutes and "significantly outside the recommendation."
As for response times, the ICMA report offers actual times only for emergency medical calls, pointing out the department is again failing to meet national standards there.
"Currently AAFD has a response time of 10.4 minutes for EMS calls 90 percent of the time," the report states, noting that exceeds the NFPA-recommended 6.5 minutes.
The report doesn't provide any actual response times for fires, but an AnnArbor.com analysis earlier this year showed the department was struggling to meet national standards there, too, and that was before the city made more cuts to fire services.
According to ICMA, the most effective way to improve outcomes for both fires and medical emergencies is to reduce response times. ICMA recommends the city develop its own response time standards based on the community's desired level of service.
ICMA also recommends the city consider upgrading station notification systems and monitor crew turnout performance to help get to fires and emergencies quicker.
According to ICMA, the method of communication between the dispatch center and the fire station might be causing a delay in getting the units out of the station faster.
"Improvements in this area may include equipping response vehicles with mobile data units, upgrading station notification systems to automatically turn on lights and open fire apparatus bay doors, or again, monitoring crew turnout to ensure a timely exit from the fire station," the report states.
ICMA's analysis indicates the turnout times are generally longer during the 24-hour shift period when crews are sleeping.
"In review of the current average response time for AAFD, there appears to be opportunities to decrease response time without adding additional stations or resources," the report states.
According to ICMA, there are five parts in determining the total "reflex time" after receiving an initial call: dispatch time, turnout time, response time, access time and setup time.
But the city does not track the last two parts, and ICMA recommends the city start tracking those to improve performance.
Access time is the time required for a crew to move from where a vehicle stops to the emergency, and setup time is the time required to connect hoses, position ladders and otherwise prepare to extinguish a fire.
'Such lucrative benefits'
ICMA recommends the city make serious efforts to seek concessions from the firefighters union, including on health care, food allowances and tuition reimbursement.
According to figures cited in the report, the city has been spending about $90,000 a year on food allowances for firefighters. That's one of multiple benefits provided to firefighters that ICMA argues is "hard to justify given the difficult economic times."
"Given the city's current financial situation, it is difficult to justify to community stakeholders why such an agreement exists," the report states. "ICMA staff is not aware of any collective bargaining agreements within recent history offering such lucrative benefits."
The report also draws attention to a part of the collective bargaining agreement that provides for full reimbursement for registration, tuition and books for firefighters, up to $2,500 per year.
According to ICMA, a more equitable education incentive would be to reimburse firefighters for 50 percent of tuition costs and make them pay for their textbooks.
"A plan offering 100 percent reimbursement far exceeds that offered by the majority of municipalities," the report states.
Another collective bargaining issue that ICMA suggests reviewing is the level of health insurance provided to firefighters, an issue AnnArbor.com analyzed earlier this year.
"This benefit represents a substantial allocation of city funds that is out of line with what is usually provided to employees elsewhere in the country," the ICMA report states.
The city could save hundreds of thousands of dollars if those contract changes were made. Negotiations between the city and the firefighters union have been at a standstill, though, and they're now going through a binding arbitration process.
'A significant fire problem'
The report identifies one area where ICMA believes the Ann Arbor Fire Department is "minimally staffed," and that's in public education about fire prevention.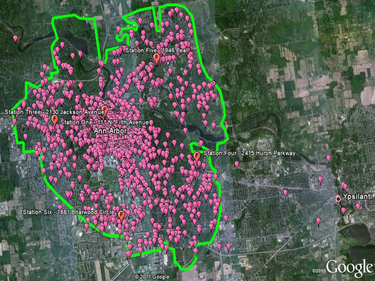 The city has only one full-time employee to handle those responsibilities, which ICMA considers a "critical function" in addressing what has been identified through the group's data analysis as "a significant fire problem within the city."
The fire department responded to 278 fires last year, 116 of which were reported as structure fires. Of those, 101 happened inside homes or apartments.
Those fires killed two people and caused an estimated $1.3 million in property damages last year, records show. Most of the damages — $1.24 million worth — happened to homes and apartments, while businesses and other buildings were less affected.
ICMA recommends the city address "the residential fire problem" through implementation of planned public education and fire prevention programs. It suggests the city consider hiring civilian employees for fire inspector and public education specialist positions.
"Smoke detectors have long proven effective in reducing deaths and property loss in residential structures," the report states. "An active campaign providing free smoke detectors, including installation by firefighters, will go a long way toward bringing the issue under control."
Though money can be a limiting factor, the report states, it shouldn't keep the city from investigating opportunities to secure grant funding, including donations from businesses.
Training is another area where ICMA believes the city could improve.
"The AAFD undertakes the responsibility for providing continual staff training with somewhat less efficiency and effectiveness than would be considered appropriate for a public safety agency," the report states, arguing an "inordinate amount of time" — 1 p.m. to 5 p.m. each day — is blocked out as "health and fitness" time for firefighters.
"The fact that so much time is given personnel in this area may be due to a lack of additional resources within the administrative staff to serve as training instructors," the report states, recommending the fire department use all of its existing resources to improve and increase the amount of training provided to firefighters.
A look at staffing levels
The number of full-time employees in the Ann Arbor Fire Department has dropped from 131 to 82 over the last decade.
Seven positions were cut under the budget that took effect July 1, and the plan for next year is to trim another five firefighter positions in the spring.
Right now, Ann Arbor has 0.72 firefighters per 1,000 residents — a figure that drops to 0.67 with the cuts proposed to take effect next July.
ICMA compared Ann Arbor's firefighter staffing levels to those in five other cities of similar size and density in the region.
But the ICMA report uses fiscal year 2009-10 staffing levels to do the comparison. The city had 94 full-time firefighters then, but has gone through two rounds of cuts since.
Based on the two-year-old staffing numbers, Ann Arbor had 0.83 firefighters per 1,000 residents, compared to 0.74 in Warren, 0.76 in Sterling Heights, 0.88 in Livonia, 0.98 in Flint, and 2.06 in Lansing, according to the ICMA report.


With an annual budget of about $14 million, the Ann Arbor Fire Department's expenditures totaled $124 per resident last year.
According to figures provided by ICMA, that's in line with most of the other fire departments. Lansing, however, spent twice as much.
ICMA also compared Ann Arbor to three similar-sized cities with a major university: Berkeley, Calif., Athens, Ga., and Provo, Utah.
Again using 2009-10 staffing levels, Ann Arbor's 94 full-time firefighters compared to 190 in Athens, 136 in Berkeley and 77 in Provo, according to the report.
In terms of the number of firefighters per 1,000 residents, Ann Arbor's 0.83 figure compared with 1.7 in Athens, 1.2 in Berkeley and 0.68 in Provo.
The report acknowledges the questions of how many firefighters and fire stations a community needs have vexed local decision makers for many years. But ICMA believes the debate that rages has, at times, become more emotional than analytical.
"Pressure from some politically involved professional organizations would have fire stations within a drive time radius of every one and one-half miles, with four to five personnel staffing every response vehicle," the report states.
In Ann Arbor, a fire company is composed of a minimum of three firefighters using an engine, ladder, tower or rescue vehicle. Of the five fire stations in the city, only the downtown station — with two active trucks — has multiple companies.
The report doesn't mention that on most days at least one of the two active fire trucks at Ann Arbor's downtown fire station is listed as "out of service" due to low staffing levels.
Options for reducing staffing
The study looked at the locations of Ann Arbor's five fire stations relative to fire calls and found they're well placed.
The report doesn't recommend adding or decreasing stations, but it does identify an option for reducing staffing at two of them.
For each of the three busiest fire units, emergency medical calls consumed more than 60 percent of engine company workload, according to ICMA.
The report identifies an alternative deployment option that would have light suppression vehicles — manned by two firefighters instead of three —responding to calls.
ICMA recommends the city consider that to reduce staffing by one firefighter at Station 3, 2130 Jackson Ave., and also at Station 4, 2415 Huron Parkway.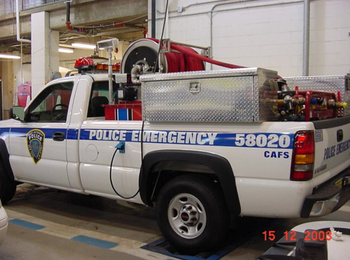 But that would have to be negotiated with the firefighters, as the union's current contract requires all fire suppression vehicles to be staffed with a minimum of three firefighters.
According to ICMA, technological advances in fire suppression make it possible to increase the overall effectiveness of a reduced workforce. One particular technology is a compressed air foam system, or CAFS, a pumping and delivery system that mixes water, foam and air.
"It reduces the amount of water needed to suppress a vast majority of fires, so primary water tanks and fire engines can be downsized, possibly fewer firefighters are needed, and attacks on a fire can be made from a safer distance," the report states.
ICMA suggests the use of a mid-sized pumper truck or quick response vehicle equipped with fire suppression tools such as CAFS could work in certain parts of the city.
The report also raises questions about whether it makes sense for Ann Arbor to have consistent 24-hour staffing that doesn't take into account demand levels.
"What is the purpose of maintaining a constant staffing level over a 24-hour period when statistics show that off-peak hours require fewer staffed units?" the report states, pointing out calls for service in Ann Arbor are lowest between 2 a.m. and 8 a.m.
The department is the busiest from 10 a.m. to 10 p.m., according to ICMA.
The report also suggests the city should work to cut back on the number of runs for false fire alarms.
According to records reviewed by AnnArbor.com, there were 750 false fire alarms in the city last year. That was about 12.4 percent of all incidents reported by the fire department, and most were deemed unintentional or the result of a system malfunction.
The City Council already approved raising the penalty fee for first-time false alarms in October 2010, going from zero to $250.
"If cause is due to improperly maintained systems, then stiffer penalties should be implemented as a means to bring property owners in compliance," the ICMA report states.
Long-term planning
According to ICMA, every fire department should conduct and periodically update a community fire risk analysis.
"This process enables the department to determine what assets within the community are at risk and what resources are available or needed to effectively deal with them," the report states. "The AAFD has not conducted such an analysis within its jurisdiction."
ICMA suggests the city adopt a strategic goal of achieving fire department accreditation within a specific time period.
The report notes an accreditation process managed by the Commission on Fire Accreditation International provides an analytical self-assessment tool to evaluate 10 categories and causes managers to examine more than 240 separate performance indicators.
"Integrated within these categories is an expectation for the community to analyze itself by planning zones and for each planning zone to identify the hazards posed," the report states. "The community then ranks the hazards by potential severity to ensure that the appropriate resources are available to manage the hazards."
ICMA also suggests the city undergo a strategic planning process and develop a fire protection master plan that helps identify priorities and levels of service.
The Ann Arbor Fire Department published a five-year strategic plan in July 2008, but there is no evidence that an "environmental scan" took place, according to ICMA.
"This is a critical step in understanding fully the external factors that will influence the direction and goals of the organization," the report states, noting it could indicate the number of students attending the University of Michigan may increase or decrease significantly. "This would undoubtedly have an effect on the appropriate level of service needed."
The report suggests Ann Arbor officials shouldn't worry too much about meeting the NFPA's national standards for staffing, though.
"While the NFPA is a highly respected and creditable organization, bringing many life safety standards into use today, there is little scientific evidence to support its minimum staffing standard," the report states, going on to suggest Ann Arbor should conduct its own analysis to determine the appropriate staffing levels for the fire department.
"There is no evidence that AAFD has conducted any performance standards test to determine appropriate crew size for its department based on level of risk assessment and acceptability," the report states. "It would serve both firefighters and the public if such tests were conducted."
The report also touches on the city's relationship with Huron Valley Ambulance. Under new protocols put in place in April, Ann Arbor firefighters now respond only to the most serious emergency medical calls, leaving routine medical calls up to HVA paramedics.
ICMA compared response times from the fire department and HVA and found "insignificant differences in arrival times among the various call types," the report states.
Ryan J. Stanton covers government and politics for AnnArbor.com. Reach him at ryanstanton@annarbor.com or 734-623-2529. You also can follow him on Twitter or subscribe to AnnArbor.com's email newsletters.