Posted on
Fri, Feb 17, 2012 : 9:06 a.m.
AATA board approves Detroit airport shuttle and voices support for regional transit authority
By Ryan J. Stanton
The Ann Arbor Transportation Authority's governing board voted Thursday night to approve a new Detroit airport shuttle service and voiced support for a regional transit authority.
The airport shuttle service is expected to start in April, scheduling trips between Ann Arbor and the Detroit Metropolitan Airport.
That's one step forward for the AATA as it pushes ahead with a countywide expansion of public transit services in Washtenaw County.
"The staff is working incredibly hard and is getting a great deal done. I'm very excited and proud of the u196 people," said AATA Board Chairman Jesse Bernstein, referring to those serving on an unincorporated countywide transit authority board called the u196 board.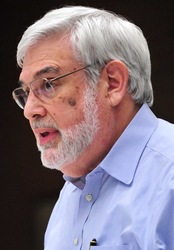 That's a reference to Public Act 196, the state law under which a proposed countywide transit authority replacing the AATA is expected to be formed.
"I think we're moving in the right direction and at the right tempo to figure out what kind of transit we should have in this county going forward," Bernstein said.
While the AATA makes its own plans for a new countywide authority, talks are picking up at the state level about a new regional transit authority for Southeast Michigan.
The AATA board passed a resolution offering conditional support for state legislation to create a four-county RTA.
The board went on record saying it supports an RTA to provide connector corridor transit services and will participate in the planning and implementation. But to guarantee the continuation of existing services, AATA leaders say the RTA must find its own source of new funding.
"We support the notion of a regional transit authority for the major connecting routes and we believe we should stay independent," Bernstein said after the meeting. "Any monies for those routes should be new money not taken from our funds."
The Senate Transportation Committee earlier this week kicked off debate on the RTA concept being pushed by Gov. Rick Snyder's administration. Early plans call for connecting 22 communities through 110 miles of road along four designated routes.
Senate Bills 909-912 create a 10-person authority that would put before voters of Macomb, Oakland, Washtenaw and Wayne counties a funding mechanism to pay for the system.
According to a MIRS article published on Tuesday, the idea is that the Detroit Department of Transportation and the Suburban Mobility Authority for Regional Transportation, along with AATA, could redirect routes to allow the new RTA to run its routes on underused roadway with long buses that could activate green lights as they approach.
In theory, the buses would only stop at the designated stops while reaching speeds of 65 mph, according to MIRS.
The AATA board also took action Thursday night to extend its contract with Steer Davies Gleave, the consultant first hired in April 2010 to help craft a 30-year transit master plan. The original contract with the international consultant amounted to $399,805.
The board voted on a $193,318 contract extension last July, which has kept the consultant working on the AATA's countywide expansion, including support to an ad hoc financial task force that is developing funding recommendations due to be released soon.
The latest extension approved Thursday keeps the consultant on through June 2013 at an additional cost of $95,500. Added up, that's nearly $700,000 the consultant will have been paid by the AATA to assist in planning and implementing the countywide expansion.
Ryan J. Stanton covers government and politics for AnnArbor.com. Reach him at ryanstanton@annarbor.com or 734-623-2529. You also can follow him on Twitter or subscribe to AnnArbor.com's email newsletters.