Posted on
Fri, Nov 19, 2010 : 6:06 a.m.
AATA officials say countywide transit plan halfway done, has broad implications for urban growth
By Ryan J. Stanton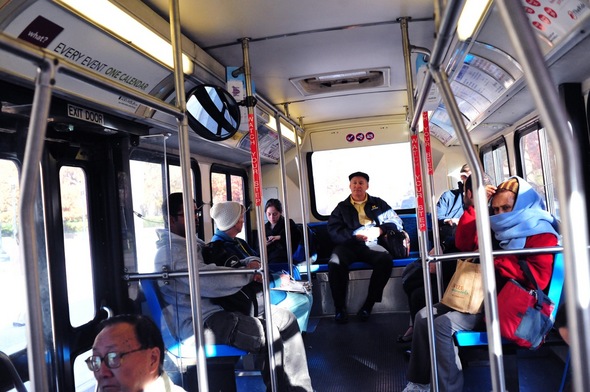 Ryan J. Stanton | AnnArbor.com
Strategic transit improvements over the next 30 years will help steer smart growth in Washtenaw County, promoting dense development in urban cores while combatting sprawl, a planning consultant told Ann Arbor Transportation Authority officials.
AATA's governing board received a 59-page report Thursday night on progress made to date on the agency's countywide transit master planning process.
There to give the report was Michael Benham, AATA's special assistant for strategic planning, and Juliet Edmondson, a transportation planner with Steer Davies Gleave, the international consultant the AATA hired in April to help develop the plan.
"All around the world, people have been quite reactive in transit planning. So it's kind of, you know, 'There's a housing development, let's serve it,'" Edmondson said.
"Increasingly, we're trying to get one step ahead and say, 'Where do we want that housing development to even be built?' and really provide the economic stimulus through transit — and really steer land use — to sort of build that community that resembles the community we like, that doesn't let strip malls or suburban sprawl happen."
Benham put it this way: "Transit relies on density, but transit also creates density."
After dozens of public input meetings and extensive research, a five-step process to come up with a 30-year transit master plan for Washtenaw County is now about halfway complete. AATA officials say they have consulted nearly 2,000 community members to identify a list of specific goals and unmet needs a countywide transit system could address.
They're now working on a menu of options, determining specific projects and services for meeting the county's long-term transit needs.
One AATA official used the analogy that it's like trying to decide what to order at a restaurant. AATA Board Chairman Jesse Bernstein said he thinks it's more complex than that.
"It's more like planning your meals for the next 30 years," he said.
The board voted unanimously Thursday night on a $32,500 contract extension with Steer Davies Gleave that will last through mid-April. Between now and January, the consultant and AATA officials will be working to come up with three different scenarios for what the transportation system could look like in Washtenaw County in another 30 years.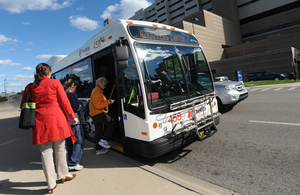 File photo
"It's really going to frame the debate over what the transit master plan should be," Benham said. "We're very soon going to get to the good stuff here."
Edmondson expects to come back in April with a final report, at which time board members will be asked to decide on an implementation plan and funding strategy. It's still undecided, but AATA officials could go before voters with a countywide millage request next year.
The vision in the works has broad implications for the future of the Ann Arbor region, according to AATA officials. In addition to improving access to transit services countywide, the goals of the plan include supporting economic growth, promoting livability, protecting the environment, improving safety and facilitating a healthier community.
"These are all things we think we can influence with changes to the transit system," Benham said, pointing to decreased congestion and increased business growth as examples.
Board member David Nacht said he hopes the final transit master plan takes into account what AATA officials have learned from other communities.
"If we're going to ask voters ultimately to take their money in favor of a vision, I want to be able to say, 'Look at this community that did a similar vision in this respect and look how it worked,'" he said, suggesting that looking at what hasn't worked also is important.
"If I want to sell voters, and, frankly, if I'm going to be sold … I want to believe that that vision is viable from example, and not just wishful thinking," he said.
"It ain't soup yet, but we know you're all working on it, and I look forward to enjoying the meal with you," Bernstein said, thanking those who've worked on the project.
CEO Michael Ford gave a report in which he said more than 140 meetings have been held throughout the community to discuss the transit master plan and get feedback.
Benham said the AATA has identified many gaps in service. Fixed-route services are virtually non-existent outside of the Ann Arbor and Ypsilanti area, he said, and wide areas of the county are underserved, while services on nights and weekends are lacking.
Of the AATA's 27 routes, only 13 provide Sunday service, 14 provide Saturday service and 19 provide evening service.
"There's really a lack of connectivity throughout the county in terms of people getting from point A to point B," Benham said. "We've heard so many stories from people about trips that can't be made. I can't stress that enough. It goes on and on."
File photo
Edmondson presented a map showing the possibilities for creating transit connections within population centers in Washtenaw County, as well as regional connections with cities like Detroit and Jackson. The map shows enhanced bus services connecting Ann Arbor, Ypsilanti, Saline, Milan, Dexter, Chelsea, Manchester and Whitmore Lake.
The list of transit options Edmondson presented includes local circulators, dial-a-ride programs, express buses, coach services, park-and-ride lots, commuter rail, bus priority and bus lanes, bus rapid transit, light rail transit and streetcars or trolleys.
Edmondson also talked about transit-oriented development — the concept of creating vibrant, livable communities that are compact, walkable and centered around high-quality transit. One example, she said, is the Reimagining Washtenaw Avenue corridor study project.
She highlighted examples of how transit-oriented development has been facilitated in other communities, including in San Mateo, Calif., where financial incentives are offered for building dense housing within one-third of a mile of a rail transit station.
Board member Anya Dale, project manager for the county's Economic Development & Energy Department, agreed transit can stimulate density.
"I think to make this successful it's going to be important not just to sort of pay tribute to transit-oriented development in language, but to actually have within the scenarios policies or recommendations for how to coordinate with, for example, the local communities," she said, adding it's important to make sure townships and cities are working toward a shared vision.
Bernstein said it's important to think long-term.
"In my mind, we can't just be looking at solving today's problems," he said. "If we start with a more robust bus system and then that gives us more development, then do we go to light rail? I think we need to be able to say, 'Yes, that's what we want on these corridors, so in 30 years we'd like to see this. Here's how we're going to get there.'"
Ryan J. Stanton covers government and politics for AnnArbor.com. Reach him at ryanstanton@annarbor.com or 734-623-2529.