Posted on
Fri, Jan 4, 2013 : 9:05 a.m.
AATA rejects anti-Israel ad on buses for second time
By Cindy Heflin
The Ann Arbor Transportation Authority has, for the second time, rejected a request from Ann Arbor resident Blaine Coleman to place an anti-Israel advertisement on its buses, the Ann Arbor Chronicle reported.
The board met Thursday to consider the request. AATA was under a court order to reconsider the ad, which it first rejected more than a year ago. AATA considered the ad Thursday under a revised advertising policy.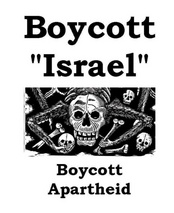 AATA's original rejection of the ad
prompted a lawsuit
on Coleman's behalf from the
American Civil Liberties Union
, which alleged AATA violated Coleman's First Amendment right to free speech and 14th Amendment right to due process.
In rejecting the ad in November of 2011, AATA said the ad violated AATA's policy prohibiting any advertisement that "defames or is likely to hold up to scorn or ridicule a person or group of persons."
The ad features the words "Boycott 'Israel,' Boycott Apartheid," with the word Israel in quotation marks. It includes a cartoonish black-and-white image that depicts a skeleton-like figure holding a skull in its right hand and a bone in its left.
The board also cited the wording in its policy that stated AATA does not "intend to create a public forum," that AATA reserves the right to approve all advertising and "all advertising must be considered in good taste and shall uphold the aesthetic standards as determined by AATA."
A federal judge ruled in favor of the ACLU and Coleman in September, arguing the AATA's advertising policy was vague and unconstitutional. The judge said the First Amendment overpowers the AATA's discretion to run only ads it considers in "good taste."
AATA then revised its policy in November but said at the time that Coleman's ad still wouldn't be allowed.
A judge in December ordered AATA to reconsider the ad and issue a ruling by Jan. 4, the Chronicle reported. The judge also ruled a telephone status conference would be held on this matter Jan. 9 to discuss whether additional relief is necessary and what "additional proceedings … may be required."
In rejecting the ad Thursday, AATA's board cited its "prohibition of political or political campaign advertising, as well as a prohibition against holding a person or group up to scorn and ridicule," the Chronicle reported.