Posted on
Tue, Jun 12, 2012 : 7:17 p.m.
'Severely dry conditions': Officials issue open burn bans in light of recent fires
By John Counts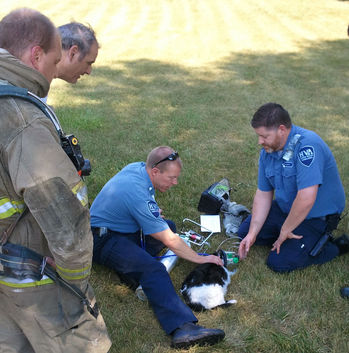 Courtesy of the Saline Area Fire Department
Editor's note: The title of Pittsfield Township Fire Chief Sean Gleason has been corrected in this article. There has also been information added regarding Ypsilanti and Augusta townships.
Pittsfield Township firefighters fought three grass fires three days in a row last week.
The Ann Arbor Fire Department attended to three small grass fires on the eastbound lane of Interstate 94 near the Ann Arbor-Saline Road exit Tuesday around 4:30 p.m.
Extremely dry conditions link these fires and have caused fire officials in Pittsfield and Saline to issue bans on open burns until further notice.
A resident was burning yard waste Sunday in the driveway of a home in the 1300 block of Judd Road when it spread to nearby shrubs, a deck and finally the house itself.
"It was dry. That was part of the problem," Saline Area Fire Chief Craig Hoeft said. "It was a perfect example of how quick it can happen. It's dangerous out there."
The blaze in Saline even had firefighters administering oxygen to the rescued family cat.
No one was injured in the fire, but the family feline was inside when fire crews arrived.
"The firefighters pulled the cat out of the house," said Hoeft. "The firefighters got it out and the paramedics gave it oxygen."
Since there seems to be no reprieve from the dry weather in sight, Hoeft issued a ban on open burn piles. This includes Lodi, York and Saline townships in addition to the city of Saline.
Pittsfield Township issued a similar ban on open burn piles after three grass fires in three days, according to Fire Chief Sean Gleason.
Pittsfield firefighters fought grass fires near the 6000 block of Carpenter Road Thursday, Lohr and Textile roads Friday and U.S. 23 and Washtenaw Avenue Saturday.
"We're under severely dry conditions," Gleason said. "The rainfall we got (Monday) wasn't even close. Once (a fire) takes off, it goes any way the wind is going."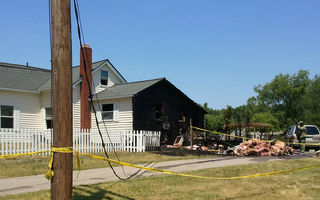 Courtesy of the Saline Area Fire Department
When it's this dry, embers from virtually anything - such a flicked lit cigarette - could be enough to start a dangerous fire, officials said.
In the case of Tuesday's grass fire on I-94, the fire was probably due to sparks from a wrecker towing a car, according to Steven Lowe, a battalion chief with the Ann Arbor Fire Department.
"Because it's a little drier, it might be more of an issue," he said. "If it continues to be dry, it could be more of a problem."
The Ann Arbor Fire Department said opening burning is not allowed in the city, but they are still responding to the arid weather by not issuing any types of burn permits until the dry spell snaps.
Vic Chevrette, who serves as fire marshal for Ypsilanti Township and fire chief for Augusta Township, said both of those municipalities have also issued a ban on open burns.
"Vegetation is just too dry and the little ran we got the other day was not sufficient to keep everything green," he said.
The Dexter Area Fire Department and the Chelsea Area Fire Department said they currently do not have any additional restrictions on burns. Dexter fire officials said they typically follow the state's Department of Natural Resources lead in the matter of any type of burn bans.
Fire departments in Ann Arbor and Scio townships also have not issued any bans. Some fire officials at those departments also said they would if the DNR asked them to.
"As a general rule, you expect people to control burning their yard waste," said Scio Township Fire Chief Carl Ferch.
When in doubt, fire officials urge the public to contact their local fire authority to find out the current regulations.
John Counts covers cops and courts for AnnArbor.com. He can be reached at johncounts@annarbor.com or you can follow him on Twitter.