Posted on
Wed, Feb 2, 2011 : 5:30 a.m.
Ann Arbor area sees 6 inches of snow; blizzard alert downgraded to winter weather advisory
By Amalie Nash
Ann Arbor area residents are waking to more than 6 inches of snow on the ground this morning, but Tuesday's blizzard warning has been downgraded to a winter weather advisory.
That advisory is in effect until noon. And meteorologists say we could see one final punch from this storm, with another 1-2 inches of snow possible later this morning.
But overall, the much-warned-about winter storm wasn't as bad as predicted in this area, said Marc Breckenridge, Washtenaw County's director of emergency operations.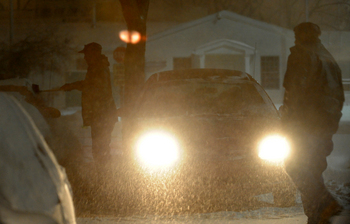 Melanie Maxwell | AnnArbror.com
"It was better than the forecast called for, glad to say," Breckenridge said at 5 a.m. "Our part of Metro Detroit did pretty well, but they were hit harder further north."
In Washtenaw County, snowfall totals weren't as high as expected because the snow turned to sleet in the early morning hours, which reduces the accumulation on the ground, said Phil Kurimski, a senior meteorologist with the National Weather Service's White Lake Township office.
The blizzard warning was bumped down to a winter weather warning early this morning, and before 8 a.m. had become an advisory.
Across Metro Detroit, most areas saw 4-6 inches of snow, Kurimski said. Tecumseh was on the high end with 7 inches, while Port Huron and Flint reported blizzard-like conditions due to high winds.
High winds are the main danger for today, Breckenridge said. The strongest wind gusts overnight were just under 40 mph, and the wind has been 15-20 mph for much of the night in Ann Arbor and Ypsilanti, Breckenridge said.
Eastern Washtenaw County was in the range of 4-5 inches of snow, while most of western Washtenaw County saw 6-6.5 inches, Breckenridge said.
At 5 a.m., the end of the storm system was still near Chicago, and meteorologists were watching it to see if it would impact Southeast Michigan.
"A lot of the heavy stuff has ended, and right now there's a break in action," Kurimski said at 4:45 a.m. "There's a chance for more snow and sleet and freezing rain."
Washtenaw County dispatchers had a mostly quiet night as motorists heeded advice to stay off the roads, Breckenridge said.
"We saw very, very few traffic-related problems, and dispatch reported a normal or even light volume of emergency calls," Breckenridge said.
Limited power outages were reported. The Dexter area saw some scattered outages overnight, with most restored by 5 a.m., Breckenridge said. Another outage affected the northeast Ann Arbor and Ann Arbor Township area, and less than 1,000 customers remained without power at 5 a.m.
Kurimski said the weather service received several reports of thunder during the storm, which saw 1-2 inches of snow falling per hour during its height.
Although the storm wasn't as bad as expected, authorities still advised people to stay home if possible. The blowing snow is likely to make roads hazardous.
Many local residents can easily heed that advice — all schools are closed, along with many businesses, Eastern Michigan University and Washtenaw Community College. The University of Michigan is open today, and officials there said students and staff should make every reasonable effort to get to campus, while using good judgment about the risks of travel.
The Ann Arbor Transportation Authority said all buses are running this morning, except the EMU shuttle (route 33). But riders should expect delays as the morning progresses, officials said.
"There's a lot of blowing snow, and it will be easier to get roads maintained and serviced without traffic," Breckenridge said.
Reach Amalie Nash at amalienash@annarbor.com.