Posted on
Tue, Nov 27, 2012 : 5:57 a.m.
Ann Arbor braces for wintery roads: City orders new snow removal equipment and tons of street salt
By Ryan J. Stanton
Watch out, winter. Ann Arbor is ready for you.
The city of Ann Arbor is stockpiling literally tons of salt to combat snow and ice accumulations on city streets this winter, and city workers are getting some new equipment to do the job, too.
The Ann Arbor City Council voted back in June to purchase 11 new dump trucks and four front-mounting snowplows from Dearborn-based Wolverine Truck Sales for $1.55 million.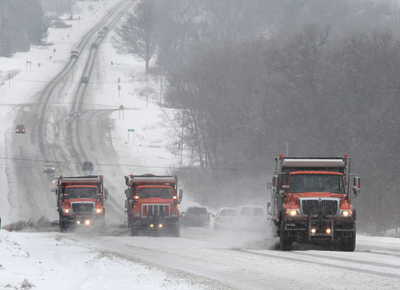 File photo
Nine of those trucks — equipped with salt spreaders and underbody scrapers — will be used by the city's street maintenance unit.
The four plows being purchased will mount to the front of any of those trucks and will be put into service during heavy snowfalls.
Kirk Pennington, the city's field operations supervisor, said he's looking forward to delivery of the first truck in early December. He expects one additional truck delivered every week and a half.
"There'll be less downtime due to breakdowns and the trucks will be safer because they're not rusted away," he said.
With winter on its way, Ann Arbor officials already have spent $67,099 for an early supply of 1,700 tons of ice-control salt from the Detroit Salt Co. at a rate of $39.47 per ton.
Pennington said that completely filled the barn at the city's maintenance yard on Stone School Road. Crews already were putting some of that salt to use on city streets Sunday morning.
Depending on how much more is needed, the city is prepared to spend another $203,895 this winter for 4,500 tons of backup salt from the Detroit Salt Co. at a rate of $45.31 per ton.
The amount of salt the city uses fluctuates year to year. Last winter, city crews applied more than 3,500 tons, which was about half the 7,011 tons used in 2010-11.
Each year, the state of Michigan solicits a statewide bid for bulk ice-control salt, allowing communities like Ann Arbor that participate to receive advantageous pricing. The Detroit Salt Co. was the low bidder this year for both the early fill and seasonal backup supplies.
Pennington said the contract locks the city into buying the entire early fill quantity, but it allows the city to purchase anywhere from 70 percent to 130 percent of the seasonal backup quantity. That means the city could get up to an additional 5,850 tons this winter at the low rate of $45.31 per ton.
If the city needs any additional salt beyond that, it will pay the market rate, Pennington said, noting the market rate reached $140 per ton in January 2009.
The new trucks will replace vehicles that date between 1999 and 2003. City officials said the aging trucks have averaged $14,000 in repair costs each over the past five years.
The four front plows will replace equipment purchased in 1979, 1980 and 1981. Thomas Gibbons, financial analyst for the fleet and facility unit, said the old plows have a fixed angle and the new plows have hydraulic cylinders allowing drivers to change the angle from inside the truck.
Gibbons said the majority of the old dump truck bodies rusted out to a point that necessitated total replacement. He said the old trucks have been averaging more than 15 breakdowns per year each, for a total of 600-plus hours of downtime.
With stainless-steel bodies, all aluminum cabs and 20,000-pound front axles, Gibbons said, the new trucks should last 50 percent longer than the vehicles they're replacing.
In addition, they'll be equipped with diesel engines that meet current emissions standards. That's estimated to increase fuel-efficiency by 5 percent, saving 12,000 gallons of diesel fuel and abating 121 metric tons of greenhouse gas emissions over the life of the vehicles.
Pennington said he's not making predictions about the upcoming winter. Guessing how bad the roads might get or how much salt might be required, he said, is "more of a matter of luck than skill."
The city launched a new online tracking tool last year that allows members of the public to follow the city's snow removal efforts essentially in real-time.
Craig Hupy, the city's public services administrator, said the online tracking tool will be offered again this season after a successful test run last winter.
"From our standpoint, it worked out very well," he said. "The first snowstorm we had when the tool was up and running, we had so many hits on the website that it crashed. We had to go back and beef up the site to make it more robust, and that told us there's more interest than we thought."
Hupy said the site is working as planned. Users are able to track the locations of the city's trucks (with about a 15-minute delay) and tell when their blades are down and when they're salting.
The city has different guidelines for snow removal depending on how much snow or ice has accumulated. When there is light snow — meaning less than four inches — or ice conditions, about 98 miles of major streets are cleared with chemical de-icing agents.
When heavier snowfall of four inches or more occurs, street plowing begins with the city using all salt and plow trucks and available staff.
At that point, all snow removal equipment is staffed on a 24-hour schedule — in 12-hour shifts — until all city-maintained streets are cleared. According to city officials, the goal is to clear all major and residential streets within 24 hours of an average four-inch snowstorm.
The city has 197 miles of local residential streets, which are a second priority to major arterial streets during snowstorms.
Pennington said the city uses calibrated spreader controls that regulate the amount of salt being spread. By doing that, he said, the city is able to minimize salt usage and comply with the city policy of using the least amount of salt consistent with traffic safety.
Ryan J. Stanton covers government and politics for AnnArbor.com. Reach him at ryanstanton@annarbor.com or 734-623-2529. You also can follow him on Twitter or subscribe to AnnArbor.com's email newsletters.