Ann Arbor City Council approves vehicle code changes that could spell increased speed limits
Posted on Tue, Jan 4, 2011 : 6:03 a.m.
The debate over potential speed limit increases in Ann Arbor continued Monday night as the City Council gave final approval to long-anticipated motor vehicle code changes.
On the advice of the city attorney's office, the City Council voted 10-0 to readopt sections of the Michigan Vehicle Code that it rejected two years ago — specifically those dealing with how speed limits should be set. Council Member Mike Anglin was absent.
The ordinance changes also include adopting the Michigan Uniform Traffic Code. That will allow the city's traffic engineers to conduct studies to justify setting speed limits at levels that might differ from the Michigan Vehicle Code's access-point formula.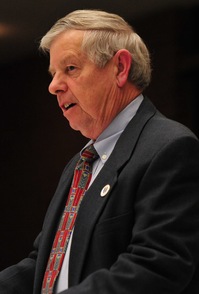 Ryan J. Stanton | AnnArbor.com
The changes will put the city in a better position to defend its speed limits in court, according to the city attorney's office. City officials acknowledge it also likely will result in raising speed limits on certain roads where motorists have complained for years about speed traps.
Local resident Jim Walker, a board member of the National Motorists Association who has been pushing the city to make the changes under threat of a lawsuit, told council members Monday night he's not yet convinced the city is actually going to set the safest speed limits.
"The artificially low speed limits that are common on the main roads in Ann Arbor tend to create more speed variance, more conflicts between users, and a less smooth and less predictable traffic flow," Walker said. "This decreases safety for all users. And, of course, it promotes unfair enforcement versus some of our safest drivers."
City officials have acknowledged the ordinance change is an attempt by the city to get back in step with state law, while also continuing to conduct its own traffic studies to justify setting speed limits that might vary from those determined by the state's formula.
Walker told council members Monday night he thinks the ordinance language leaves a "gaping loophole" that the city could use to "do the wrong things in the future and make the code changes meaningless."
He noted city officials have said the first road likely to see a speed limit increase is Newport, which could go from 25 to 30 mph. Walker subscribes to the Michigan State Police's belief that limits should be set near the speed at which 85 percent of drivers travel in normal conditions.
Walker said essentially no one drives the 25 mph posted speed limit on Newport right now. According to his own data, he said, about 82 percent of drivers still would be arbitrarily defined as violators if it were changed to 30 mph. He argues it should be set at 40 mph.
Walker had a speeding ticket thrown out in court about two years ago and helped another motorist in Ann Arbor, Dietrich Bergmann, beat a speeding ticket.
The city more recently lost another case — one involving Scio Township resident Mike Weikle, who was ticketed for driving over the limit on Huron River Drive in October 2009. Weikle was driving over 50 mph, but was cited for doing 40 in a 35.
Weikle argued the city's 35 mph speed limit was improper because it was not set according to the state's vehicle access-point formula.
Whether speed limits in Ann Arbor end up increasing after the code changes remains to be seen, but the Washtenaw Bicycling and Walking Coalition has expressed concerns.
The group cites this statistic: As motor vehicle speeds increase from 20 to 30 to 40 mph, the likelihood of death for a pedestrian struck by a vehicle goes up from 5 to 45 to 85 percent.