Posted on
Thu, Jun 21, 2012 : 11:53 a.m.
Ann Arbor City Council candidates bicker over signs before tense debate
By Ryan J. Stanton
Ryan J. Stanton | AnnArbor.com
The gloves were off before the debate even started Wednesday night between 1st Ward
Ann Arbor City Council
candidates
Eric Sturgis
and
Sumi Kailasapathy
.
The two Democrats, who will face off in the Aug. 7 primary, engaged in a heated verbal sparring match outside the Arrowwood Community Center after Sturgis' mother took down a handful of Kailasapathy's campaign signs that were on the property.
"You don't have a right to remove my signs," Kailasapathy said, yelling at Sturgis, who argued Kailasapathy was violating city ordinance by having the signs up.
After organizers of the debate intervened, Sturgis agreed to retrieve the signs from around the side of the building where his mother placed them. He begrudgingly put them back up.
Sturgis accused those who intervened of being rude about the ordeal, but a representative of the Arrowwood Hills Cooperative said Sturgis could have handled the situation better.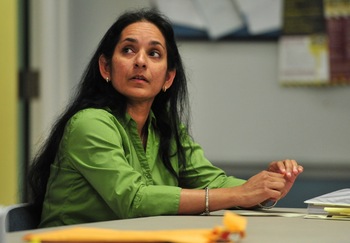 Ryan J. Stanton | AnnArbor.com
"If the signs aren't supposed to be up, then come and tell us and we'll take them down," said
Charles Lewis
, program director for the co-op. "But to have his mother come, pull the signs down, and move away with them? No, that's ridiculous. It's almost like high school."
That set the tone for the rest of the night, during which both candidates attempted to discredit the other. Sturgis tried to paint Kailasapathy as a supporter of Republicans.
About two dozen residents attended the debate, which was moderated by Michael Henry, co-chair of the Ann Arbor Democratic Party.
"My opponent openly supported Jane Lumm and openly supported Ahmar Iqbal, who is on the Michigan Republican National Committee and who has given money to George Bush and Tim Walberg," Sturgis said at one point.
Kailasapathy said she had no hesitations about supporting Lumm, a Republican who ran as an Independent for City Council last year.
"She's really amazing in supporting the core services for the city and asking the right questions," she said. "She does her homework and I believe we need a diversity of opinion."
As for Iqbal, Kailasapathy said she didn't give money to his campaign, but thought he had some good ideas about reforming school finances and not cutting student services.
"Since I was known in my neighborhood, I did introduce him to some neighbors and they on their own met with him and decided whether they liked his politics or not," she said. "They made their own individual decisions. I was not part of that process. I merely facilitated him to meet some local organizers. Since it was a nonpartisan position, I had no problems doing it."
Kailasapathy pointed out Sturgis donated to Republican Rick Snyder's campaign for governor in 2010. Sturgis clarified that he supported Democrat Virg Bernero in the general election, but backed Snyder in the primary when he was up against more right-wing opponents.
"I supported him in the Republican primary against crazy Pete Hoekstra, who God help us, we don't want him," Sturgis said, noting there were other GOP candidates just as bad. "Those people are absolutely nuts and I supported a guy who was more moderate."
Sturgis confessed that he supported Lumm when she ran as a Republican against Mayor John Hieftje in 2004.
"And do I regret that now? Yes," he said.
Sturgis dismissed rumors that he simultaneously supported both Lumm and Stephen Rapundalo when they were running against each other for City Council last year.
"I worked and supported Stephen Rapundalo and I knew Jane Lumm," he said. "I put a phone call into her, never got a hold of her … so never once did I campaign for Jane."
Both candidates, who are seeking the seat being vacated by Sandi Smith, said they were running with a focus on making sure police and fire services are fully funded.
A new train station
The candidates differed on the idea of new train station in Ann Arbor. Kailasapathy earlier this month urged council members to hold off on accepting a $2.8 million federal planning grant for the project, characterizing it as a "phantom transit plan."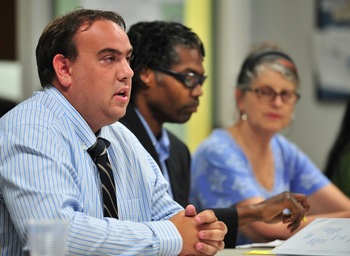 Ryan J. Stanton | AnnArbor.com
Sturgis said he's glad the City Council voted 9-2, with only
Mike Anglin
and
Jane Lumm
objecting, to accept the federal money at no extra cost to the city.
"I support transit as a Democrat. It's good for the environment. It's going to allow more people into the city," he said. "And I think we need to support transit and support getting more people into the city and into downtown, so that we can continue to build our downtown base."
Kailasapathy said she understands Amtrak is going to increase the number of daily passenger train trips running between Detroit and Chicago from six to 10, but she hasn't seen evidence of how it's possible to have commuter trains as well. She also said she hasn't seen information about what the fares would be or how many people would use such a service.
"I haven't seen any of those numbers," she said, suggesting the city would be better off if it expanded the current Amtrak station on Depot Street instead of building a new one.
If parking is an issue, she said, the city should look at adding parking on the MichCon property next to the existing train station.
Sturgis said there's been no firm decision made whether the city will build a new train station on Fuller Road or expand the Amtrak station — both options are being studied. But he said Fuller Road is obviously preferred, given the logistic problems with the current site.
As for any future capital costs, Sturgis said, 80 percent would come from the federal government and 20 percent would be matched locally.
"Which can be funded by a whole different group of people, so it's not going to cost us that much more money," he said.
Thoughts on the mayor
Kailasapathy acknowledged her disagreements with the mayor, but she said she doesn't have to like him to work with him.
Ryan J. Stanton | AnnArbor.com
"For me, it's not whether I like somebody or not. That's not an issue," she said. "If I need to work with the mayor, I will work with the mayor."
Sturgis criticized Kailasapathy for running as part of an "anti-mayor slate" led by mayoral candidate Patricia Lesko two years ago.
"The mayor genuinely cares about Ann Arbor," he said. "In his six times running, I can count on my hand how many precincts he's lost. He's won over 75 percent of the vote, so I think the majority of residents of Ann Arbor feel like working with the mayor's important."
Sturgis said he wholeheartedly supports Hieftje.
"John's taken us out of one of the worst recessions we've had and we had a surplus last year, and I have a great respect for that," he said.
But he said he and the mayor don't always agree.
"I might try to be a little more committed to police and fire," he said. "I would not cut police and fire. So maybe with police and fire, he and I are a little different."
Kailasapathy said she takes issue with Hieftje on environmental issues. Even though he's often touted as "the green mayor," she said, he doesn't seem to focus enough on preservation.
She said she'd push Hieftje to do more to preserve the character of Ann Arbor because a lot of residents are concerned about the erosion of the city's charm. She said she's against bulldozing historic homes to make way for large developments.
618 South Main
The two candidates took different stances on the City Council's recent decision to allow the developer of 618 South Main apartments to go forward with a building that's 25 feet taller than the 60-foot maximum allowed under the city's D2 zoning.
Sturgis said he supports it.
"I think we have to look at each project and look at — is it good for the city, is it good for the neighborhoods?" he said. "I'm not for giving favors to developers."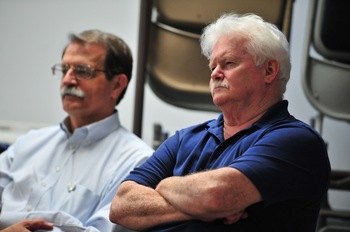 Ryan J. Stanton | AnnArbor.com
Kailasapathy said her general philosophy is that giving away tax dollars for public-private partnerships is problematic. The developer of 618 South Main is expected to get reimbursed $3.7 million through a tax-increment financing plan for the project.
"This is a capitalistic economy, and if a business cannot really survive without our handouts, then you really need to rethink whether that project is going to be viable," Kailasapathy said. "So kind of giving these tax breaks kind of makes the playing field uneven."
Controlling costs
Both candidates said addressing the city's unfunded pension and retiree health care liabilities is important.
Pointing out the city's health care costs are going up again this year, Kailasapathy said it may be the biggest issue for the city to tackle.
"We really need to renegotiate with the unions because there's no other option," she said, suggesting the city also should raise the retirement age to 60 or 62. "We need to change with times, and changing with times is raising the retirement age."
Sturgis said the city already is taking steps to address its long-term liabilities, but it doesn't have $200 million to spend to fully address the problem in one year.
"It's a multi-faceted plan, and I think right now the city is taking the right steps by allowing more overtime — not hiring more employees and then having to pay more," he said.
Public art
Sturgis said he supports the city's Percent for Art Program, which channels hundreds of thousands of dollars toward public art annually. He called it "a good thing for the city."
He said he'd like to see the city use local artists as much as it can when funding public art projects. He said he's glad local contractors are doing work on the installations.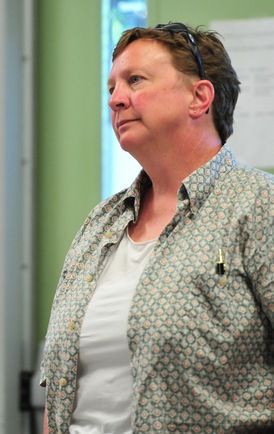 Ryan J. Stanton | AnnArbor.com
"But I realize that there are going to be artists from other places that give us better opportunities," he said.
Kailasapathy said she'd like to see more opportunities for local artists to exhibit their work and promote the arts.
"I would just take a different direction on it," she said, calling art and music "the soul of any culture" and "what beautifies life."
Expanding transit
Kailasapathy raised concerns about the countywide expansion of the Ann Arbor Transportation Authority, an initiative Sturgis supports.
"I'm still grappling with it," Kailasapathy said. "I have an issue about our perpetual millage and what will happen."
Sturgis said expanding public transit is a good move.
"It's going to bring more people into Ann Arbor, more people into downtown, help build the tax base and help Ann Arbor," he said. "I would like to see us move forward with it."
Kailasapathy said she's in favor of expanding public transit, but she thinks the countywide plan needs some fine-tuning.
Sturgis said he's in favor of putting a countywide transit tax on the ballot for voters to decide. He also said he supports the push for commuter rail from Ann Arbor to Detroit.
Kailasapathy said she's still waiting to see the details.
Ryan J. Stanton covers government and politics for AnnArbor.com. Reach him at ryanstanton@annarbor.com or 734-623-2529. You also can follow him on Twitter or subscribe to AnnArbor.com's email newsletters.