Posted on
Tue, May 15, 2012 : 5:57 p.m.
Sturgis vs. Kailasapathy: 1st Ward race for Ann Arbor City Council is a choice between two new faces
By Ryan J. Stanton
The 1st Ward race for the Ann Arbor City Council leaves voters with a choice between a 26-year-old tennis coach and a 45-year-old accountant from Sri Lanka.
No matter who wins between Eric Sturgis and Sumi Kailasapathy, there'll be a new face on council later this year, as incumbent Sandi Smith, D-1st Ward, isn't seeking re-election.
Sturgis and Kailasapathy will face off in the Democratic primary on Aug. 7. No Republicans have filed to run in the 1st Ward.
Ryan J. Stanton | AnnArbor.com
"I feel like I bring the view of somebody who's a little bit younger and can give more of a younger person's perspective on council," said Sturgis, who filed this week and already has backing from people who supported Smith in past elections.
He has been endorsed by longtime 1st Ward resident and activist Phillis Engelbert; 1st Ward resident Tony Ramirez, a member of the city's Housing and Human Services Advisory Board; County Commissioner Leah Gunn; and Water Resources Commissioner Janis Bobrin.
Kailasapathy, a certified public accountant and Ann Arbor resident of 15 years, tried to oust Smith in 2010 and remains heavily critical of the council majority.
She has backing from Jane Lumm and Mike Anglin, the two council members most often at odds with Mayor John Hieftje and his political allies.
"I just feel it's very different from what it was two years ago," Kailasapathy said, suggesting more 1st Ward residents want change this year. "I just can see people are really more observant now of what's going on and asking questions and really wanting change."
Kailasapathy ran as part of a slate of four candidates seeking to overthrow Hieftje and three other incumbents in 2010, but they all lost in the Democratic primary.
Only one other member of the slate — 4th Ward candidate Jack Eaton — is making another run this year, but Kailasapathy said there's no coordination between their campaigns.
"I'm running on my own," she said. "A bunch of people ran last cycle and they had a critique of the way city was running and I was one of them, but this is a new election cycle."
Kailasapathy said politics for her is a quest for social justice and a government for all, not just a privileged few. She said that was her dream as a young political activist in Sri Lanka, her native country, and it's still her guiding political principle today.
She believes her accounting background will be an asset on council, where she said she'd focus on prioritizing city spending and tackling the city's unfunded liabilities.
"If your income is limited, you prioritize," she said. "I would first fund fire and police. That would be the main thing. And even if you look at the fund balances, there's still a lot of money in the road fund, so those could be spent. We could think of several roads in pretty bad shape."
Sturgis said he supports common-sense solutions to the challenges facing the city, including prioritizing public safety and protecting neighborhoods from inappropriate development.
"I feel like now we're at a time when we need people on council who are going to be independent and aren't running to be anti-this or anti-that," Sturgis said.
Despite some of the names backing him, Sturgis said he wasn't prodded by anybody to run for office. He said he's an independent at heart and made the decision on his own.
As proof of his independence, he acknowledges he openly supported Lumm when she waged a long-shot campaign for mayor as a Republican in 2004 and lost to Hieftje. Sturgis said he also supported Democrat Wendy Woods when she ran against Hieftje in 2006.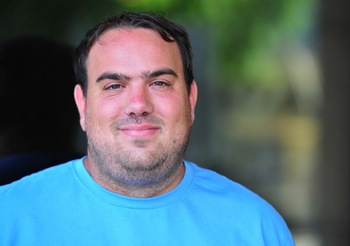 Ryan J. Stanton | AnnArbor.com
"There are things I disagree with John on and there are things I agree with him on," Sturgis said of the mayor, criticizing Kailasapathy for running as part of a slate with former mayoral candidate
Patricia Lesko
, who lost to Hieftje two years ago.
"When you align yourself with somebody like Pat Lesko who goes out and spreads false information, false stuff about the mayor, to me that tells me a lot about your character and what you're going to do on council," Sturgis said. "We can't have somebody who's anti-mayor running. We have to have somebody who's pro-Ann Arbor, pro-1st Ward."
Kailasapathy called dissent "the highest form of patriotism" and said she thinks she can be pro-Ann Arbor and critical of the mayor and council at the same time.
She said it's precisely because she loves Ann Arbor so much that she critiques what is wrong with it and is trying to run for office to make it better.
"I'm coming to this debate primarily because I'm a CPA and I really feel it would be a good addition to the City Council, especially with big projects coming up," she said, citing the expansion of public transit services and a proposed train station project.
She said those are great ideas in concept, but the council could benefit from having an objective accountant looking at the numbers to see what does and doesn't make sense.
"My ward people are concerned about the fire and police safety levels going down every year," she added, vowing to work on bringing both departments up to national standards.
Sturgis said he'd like to see the City Council get rid of the pedestrian safety ordinance, which requires motorists to stop for pedestrians at crosswalks.
He also said the city hasn't handled issues involving the fire department very well.
"When we're going to cut city services, we have to first look at the costs and benefits, and I'm very hesitant to cut any more services than we already have," he said.
"Generally I oppose cuts in police and fire and city services, but obviously there are times when we have to look at the budget and do that," he added.
Sturgis grew up in the 1st Ward and attended Northside Elementary School and Clague Middle School. He graduated from Huron High School and earned an associate degree in liberal arts from Oakland Community College.
He's now working on finishing a bachelor's degree at Eastern Michigan University. He said he worked as a high school tennis coach in the Troy area last year and this summer he'll be working for Ann Arbor Rec & Ed and volunteer coaching at Skyline High School.
For now, he's not working.
"But that's experience that I have," he said. "Being unemployed, I understand the constraints of the economy. And being somebody who's unemployed, I have time and I think I bring a perspective where we have to look out for everybody in the city."
Added Sturgis: "Am I a CPA? No. Do I have an MBA from Harvard? No. But as somebody who's grown up in Ann Arbor and lived in the 1st Ward my whole life, I've seen the issues."
Kailasapathy graduated magna cum laude from Wellesley College and completed her graduate degrees at the New School for Social Research.
Before becoming an accountant, she taught courses in gender studies, international political economy and globalization at EMU for about 10 years. She also has worked as an accountant at the University of Michigan. Her husband is a professor at EMU.
Ryan J. Stanton covers government and politics for AnnArbor.com. Reach him at ryanstanton@annarbor.com or 734-623-2529. You also can follow him on Twitter or subscribe to AnnArbor.com's email newsletters.