Posted on
Tue, Apr 12, 2011 : 5:58 a.m.
More than $3 million in school taxes to help fund Georgetown Mall redevelopment in Ann Arbor
By Ryan J. Stanton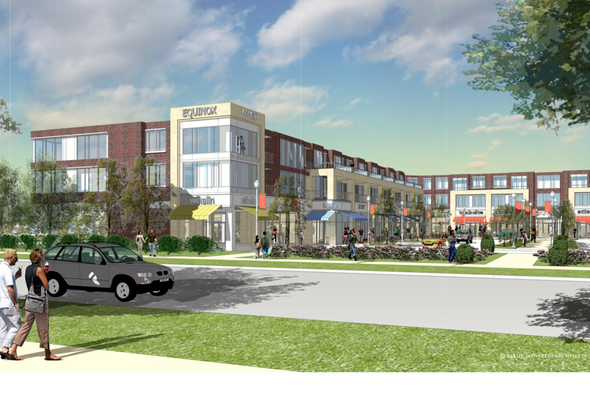 From The Harbor Companies LLC
About $5.8 million in taxes is proposed to be captured over a 14-year period as part of a private developer's plan to finance a redevelopment of the former Georgetown Mall in Ann Arbor.
A 27-page brownfield plan and tax-increment financing table has been submitted to the city by Bloomfield Hills-based developer Packard Square LLC.
The $48.2 million project involves demolishing three existing buildings at 2502-2568 Packard St. and constructing a new four-story retail and residential building with 230 apartments.
The developer is seeking tax-increment financing to help pay for items such as cleanup of contaminated soils, demolition and lead and asbestos removal.
Through tax-increment financing, no existing taxes are abated. However, the incremental increases in tax revenues that result from improvements to a property are channeled back to the developer to help cover costs and provide an incentive for development.
The city's Brownfield Review Committee discussed the latest brownfield plan for the Packard Square project at its meeting Monday night. The developer has submitted a full report showing which tax dollars would be captured to help finance the project.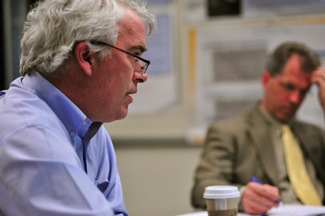 Ryan J. Stanton | AnnArbor.com
If the city approves the brownfield plan, more than $3 million in taxes would be diverted from schools to help finance the project. Another $1.24 million would be diverted from the city's general fund and the Ann Arbor Transportation Authority, nearly $16,000 from city parks, nearly $20,000 from city street repairs, more than $57,000 from Washtenaw County government, more than $15,400 from libraries, and lesser amounts from various entities.
Of the $5.8 million in eligible brownfield activities, $3.6 million would be directly reimbursable to the developer, plus another $717,236 in interest. Another $358,222 would go to the Washtenaw County Brownfield Redevelopment Authority, while $1.18 million would go to what's known as the Local Site Remediation Revolving Fund to fund future remediation activities.
City Treasurer Matt Horning said it's important to note that none of the incremental taxes captured by the project would exist but for the project, so it's not technically lost tax revenue.
"Theoretically, these taxes never would have come about unless we had the development," he said. "Essentially what we're doing is we're agreeing to delay the taxation of the property."
And that delay would last through 2026.
Horning noted the developer owes more than $324,000 in delinquent taxes from 2009 and 2010 on the property that must be paid before the project can go forward.
The brownfield plan is expected to come back to committee for approval on April 25, with final approval of the project and the brownfield plan by the City Council following on May 2. The developer hopes to break ground on the project later this year.
The project was approved by the Planning Commission last month, but it was heavily criticized by commissioners for a lack of imagination in its design.
The committee discussed Monday night whether to ask the developer to do more soil removal than is outlined in the current brownfield plan. Matt Naud, the city's environmental coordinator, said the plan proposed by the developer would do a good job of cleaning up the site, but there's more soil — albeit less heavily contaminated — that could be removed.
"It's always better the more we can take out," Naud said. "I think the question is what's the added protection we get by spending $1.4 million removing an additional amount of soil, and whether we would prefer those monies get invested in this project and then repaid to the developer 20 years out, or 20 years out do we want those monies coming back into the tax rolls. It's just not clear to me at this point that we get a lot of additional benefit for that investment."
The developer traces the source of the site's environmental contamination to a dry-cleaning facility that once operated along the southern portion of the property. Previous investigations identified both soil and groundwater contamination, including chlorinated solvents.
Naud said it will be a policy question for the City Council to decide how far to go with cleanup of the site. The city could choose to have 2,300 truck tons of soil removed, or double that.
"The beauty of the brownfield process in Ann Arbor is in virtually anywhere in the state you could pave over a contaminated site, not remove any contamination, and that would be OK with the state," Naud said. "Here, what we're looking at is a question of just how much source removal, how much contaminated soil we're going to take away. And I think no matter what happens at this site, if the brownfield plan is approved, we will get a lot of source removal. A significant amount of the contamination will be removed."
Ryan J. Stanton covers government and politics for AnnArbor.com. Reach him at ryanstanton@annarbor.com or 734-623-2529. You also can follow him on Twitter or subscribe to AnnArbor.com's e-mail newsletters.