Posted on
Tue, Jul 19, 2011 : 6 a.m.
City Council giving second thought to Recycle Ann Arbor contract after single-stream miscalculations
By Ryan J. Stanton
The Ann Arbor City Council voted unanimously Monday night to reconsider the recent defeat of a proposal to boost payments to Recycle Ann Arbor by about $107,000 annually.
The council will take up the issue at its Aug. 4 meeting, and it appears likely an outcome will be reached that will prove favorable for Recycle Ann Arbor, the nonprofit organization responsible for curbside collection of recycling carts in the city.
Earlier this month, city staff reported that expectations for Ann Arbor's new single-stream recycling program — launched in July 2010 — had proven overly optimistic.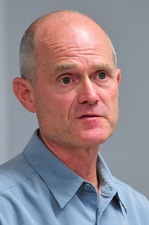 A consultant had projected the city would collect 18,425 tons of recyclables for fiscal year 2010-11, but the actual number is closer to 10,800 tons, a 40 percent shortfall.
The number of recycling carts deployed as part of the single-stream program also turned out to be 9.2 percent lower than initial projections that anticipated 32,779 carts being deployed.
As a result of those miscalculations by the city's consultant, Recycle Ann Arbor received $337,527 less than it expected from its contract with the city this past year.
To partially offset those losses, the City Council was asked to consider a contract change to increase the fees it pays to Recycle Ann Arbor earlier this month. But the proposal to change the per-month tipping fee from $3.25 to $3.55 per cart failed to garner enough support.
But it had the support of five council members, including Mayor John Hieftje, former chairman of the volunteer board for Recycle Ann Arbor.
And so all Recycle Ann Arbor needs is one more vote.
That could easily happen if one of two council members who were absent — Margie Teall and Sandi Smith — vote yes. Or if any of four council members who opposed it — Stephen Kunselman, Carsten Hohnke, Mike Anglin and Sabra Briere — change their mind.
Briere and Hohnke made clear Monday night they're giving serious consideration to changing their votes. Hohnke, who made the motion to reconsider the contract, said he wants to take a hard look at all the data available and then make up his mind at the next meeting.
Briere said she could be swayed if the city did away with a $200,000 annual contract with a company called RecycleBank, which operates the city's recycling rewards program. The program incentivizes recycling by rewarding residents with points that are redeemable at retail outlets and restaurants, but Briere thinks the program has been ineffective.
Hieftje, who supported the contract change the first time around, said he appreciated that council members were willing to give it reconsideration. He said he thinks there are some changes the city can make involving RecycleBank that could "even things out" financially.
"I thought it was unfortunate that the Recycle Ann Arbor resolution wasn't successful the first time around," he said, adding he thinks there's a misperception that somehow Recycle Ann Arbor had done something wrong. "And they haven't. The numbers their contract was based on were incorrect estimates of the number of carts that would be out there."
The main reason for the lower-than-expected numbers of carts, city officials said, is that many of the smaller, multi-family residential units that were previously using the 11-gallon recycling totes are able to share recycling carts. In addition, they said, it was discovered there was inadvertent double-counting of some residential units in the original projections.
City officials said those projections were based on per-household generation rates provided by RecycleBank that were from communities that had a much larger percentage of single-family homes than Ann Arbor, which is almost 50 percent multi-family housing.
Recycle Ann Arbor started as a volunteer organization in the 1970s, providing monthly curbside collection to a limited number of homes on the Old West Side. It since has grown into a service that provides weekly collection to every home and many businesses in the city.
The city amended its curbside collection contract with Recycle Ann Arbor in March 2010. The previous contract paid $19.30 to $102.58 per ton depending on the annual tons, as well as $2.41 per service unit, with a total of 48,886 service units.
With the amendment, the city now pays a revised rate of $18.74 to $30 per ton, as well as $3.25 per cart, which replaced the per service unit fee.
Hieftje said he didn't think it was a conflict of interest that he's voting on contracts with Recycle Ann Arbor when he served on its board throughout the 1980s and chaired the board from 1989 to 1990. He also accepted $150 in political contributions during his last mayoral campaign from David Stead, a Recycle Ann Arbor board member, and $100 from Mike Garfield, who is director of the Ecology Center, Recycle Ann Arbor's parent organization.
"I would just like to see them get a fair shake," Hieftje said, recalling his past involvement with the group. "It's a wonderful organization that, particularly back in those days, brought recycling to Ann Arbor. It started with people in their own pickup trucks going out and picking up recycling. It was a grassroots organization and it's grown into a premier recycling company."
Hieftje said he was never paid by Recycle Ann Arbor for his service on its board and hasn't had any affiliation with the group since then.
Ryan J. Stanton covers government and politics for AnnArbor.com. Reach him at ryanstanton@annarbor.com or 734-623-2529. You also can follow him on Twitter or subscribe to AnnArbor.com's e-mail newsletters.