Posted on
Sun, Jul 21, 2013 : 5:58 a.m.
Marcia Higgins facing criticism for missing Ann Arbor City Council meetings
By Ryan J. Stanton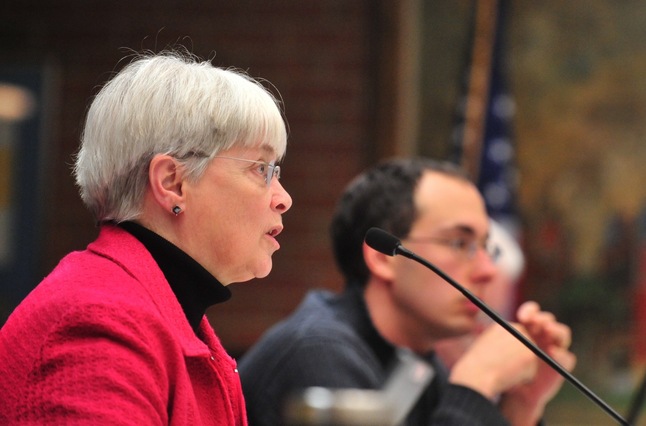 Ryan J. Stanton | AnnArbor.com
Now in her 14th year on the
Ann Arbor City Council
,
Marcia Higgins
, D-4th Ward, is facing criticism over her council attendance record as she campaigns for re-election.
She's up against Jack Eaton, a labor attorney and neighborhood activist, in the Aug. 6 primary. Eaton said he isn't making an issue out of the incumbent's absences, but some of his supporters are.
Someone anonymously launched an anti-Higgins website at HigginsForCouncil.com, which used to be Higgins' old campaign site before she let it expire.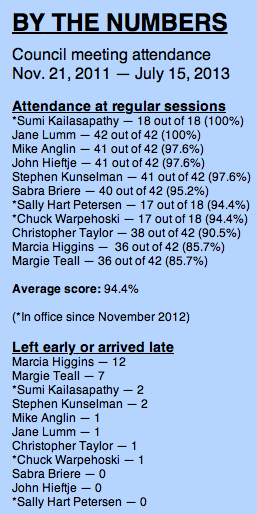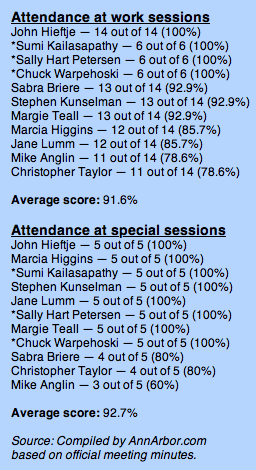 The website is now dedicated to criticizing Higgins for missing meetings, calling her "The Invisible Woman."
Higgins calls that a low blow and wonders about Eaton's involvement.
"I just find it kind of interesting that something I've had forever — that is my campaign name — is just bought up. I think it's bad politics," Higgins said.
Eaton said he doesn't know who started the website and he's not taking a position on it.
"I'm not running against her on the basis of her attendance," he said. "I would really rather run on the basis of our differences on issues, rather than engaging in that kind of attack."
AnnArbor.com ran the numbers to find out where Higgins stands in relation to her peers on council when it comes to meeting attendance.
An analysis of the past 61 meetings shows Higgins has the lowest attendance score of any council member in office right now.
Counting meetings she missed, meetings she left early, and once when she showed up a half hour late, Higgins was at least partially absent for roughly one-third of all meetings reviewed.
Higgins said she doesn't think anyone's attendance on council, including her own, is an issue — nor does she think absences have gotten in the way of conducting council business.
"We all have a work, home and council balance," she said. "And sometimes you have children's events, you have work events, trips you have to do for a job — and every once in a while council members actually like to take a vacation."
AnnArbor.com reviewed hundreds of pages of meeting records going back to November 2011, including 42 regular sessions, five special sessions and 14 work sessions.
The review included close scrutiny to see who was present at the start of each meeting, who arrived late, who stepped away for part of the meeting, and who left early.
Council members on average attended 94.4 percent of their regular Monday night meetings, 92.7 percent of special sessions, and 91.6 percent of work sessions.
Higgins and Margie Teall, both 4th Ward Democrats, had the lowest attendance scores for regular sessions at 85.4 percent. Both were entirely absent from six out of 42 regular sessions.
Christopher Taylor, D-3rd Ward, trailed behind them, missing four out of 42 regular sessions. No other council member missed more than one or two regular sessions.
Higgins also missed two work sessions, while Teall missed one work session, though that was typical for most council members.
Higgins stood apart from her peers by leaving meetings early more than any other council member. She stepped out from 11 of the past 61 meetings before they finished.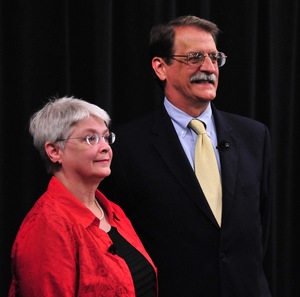 Ryan J. Stanton | AnnArbor.com
On average, Higgins left about an hour and 15 minutes early each of those times. In some cases, the meetings lasted into the early morning hours.
No other council member but Higgins and Teall had more than one or two meetings where they were late or left early during the time period examined by AnnArbor.com.
Teall was late to meetings three times and left early four times. However, three of the four times she left early, it was just before the meeting adjourned. And all three times she arrived late, it was still early into the meetings and she didn't miss any votes.
"You really do the best you can," Teall said, adding she tries to be there for the most crucial votes and usually only misses a meeting or leaves early if she's not feeling well. "I wouldn't expect anybody to have perfect attendance."
Higgins told AnnArbor.com she has left some meetings early because she has asthma problems and doesn't have much of a choice because it becomes a medical issue.
"I've had a couple of massive asthma attacks at council, and sometimes it's just due to how dry the air will get in there, and I just can't be in that environment, so I have to leave," she said.
Most council members who spoke with AnnArbor.com said they're generally understanding and sympathetic to fact that people have things going on in their personal and professional lives that might prevent them from making it to some council meetings or staying until the end some nights.
"I think everybody on council takes the responsibility of attending meetings seriously, so I'm not going to judge anybody," said Council Member Stephen Kunselman, D-3rd Ward.
"It's a long haul as it is to be a council member," he said. "Sometimes council members have family needs to attend to and it's just something that we accept."
Some council members defended Higgins by pointing out she has had to deal with the loss of her daughter Meredith, who died at the age of 31 after a longer battle with cancer in late 2009. Higgins adopted her young granddaughter and is raising her now.
"She's got a set of personal and family tragedies that I wouldn't wish on my worst enemy, and the work that she does under her circumstances on council and for Ann Arbor is simply amazing," Taylor said.
Higgins said she's not trying to blow off her council responsibilities, but she acknowledges she has prioritized family above council meetings sometimes.
"I have a granddaughter that we're raising and there are times that she has events at school, and I have chosen that I'm not going to miss that in her life," she said. "I mean, we are her parents and we have a responsibility to be there for things she needs, and sometimes that's a hard decision."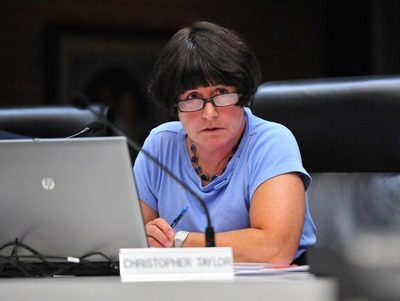 Ryan J. Stanton | AnnArbor.com
Two council members who spoke with AnnArbor.com said they have some concerns about meeting attendance.
Jane Lumm, an Independent who represents the 2nd Ward, said she notices when some council members leave meetings early and she considers that poor form.
"I don't consider that acceptable," she said. "Council members should attend the full meeting, and I think that's a reasonable expectation. That's part of our jobs."
Lumm has made it to all 42 of the council's regular sessions since she was elected in November 2011. She left one meeting early when she was sick and missed two work sessions, including a budget work session in February because she was in Pennsylvania visiting her father in the hospital.
Lumm said she's not interested in pointing fingers, but she suspects there are some council members who don't have stellar attendance records.
"And I would be concerned about that as a constituent," she said.
Council Member Sumi Kailasapathy, D-1st Ward, hasn't missed a meeting since she was elected last November. She said showing up to meetings is the bare-minimum expectation.
Kailasapathy, who is supporting Eaton in his campaign against Higgins, said if a council member is either partially or entirely absent for one-third of meetings, they should consider stepping down.
"I think one-third, that's a pretty high number. I would step down," she said. "I would lose my job if I did that at work."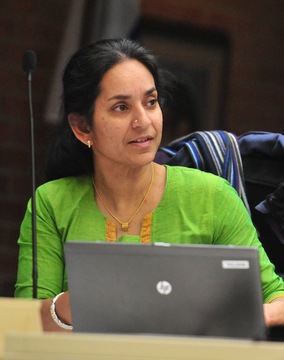 Ryan J. Stanton | AnnArbor.com
Higgins said Kailasapathy's comment reflects a lack of civility.
"Coming from an ardent supporter of my opponent, I'm not surprised," she said. "I will never apologize for seeing to the needs of my family after our daughter's death. My record of success will compare to hers any day of the week."
Council members said they try to communicate with each other and give a heads-up if they're going to be absent. Sometimes it's because they're out of town on business or vacation, not feeling well, or prioritizing family.
For example, Chuck Warpehoski, D-5th Ward, was absent from a meeting in June after his wife had given birth to their son two nights earlier.
"I don't want to pre-judge in ignorance what's going on with people," said Sabra Briere, D-1st Ward, who has a 95.2 percent attendance record for regular sessions.
"I know why I miss a meeting, but I don't always know what's going on with other people."
She added, "The question is whether we have anyone on council who rises to the level of falling asleep at meetings, which we've had in the past, skipping almost all meetings, which we've had in the past — I don't think we have anyone on council like that right now."
Taylor said he works hard to schedule business and vacation trips around council meetings, but sometimes that's not possible.
He said he left early during the council's May 13 meeting, which was a special continuation of the May 6 session, because he had a concert rehearsal that night. He said he stayed for the crucial vote on the 413 E. Huron St. high-rise and then left.
Kailasapathy joined Higgins in leaving early from a meeting on April 15 that ended up lasting until 3:11 a.m. Kailasapathy left at 12:50 a.m. and Higgins left at 1:25 a.m.
"I hadn't slept in 24 hours, so I was collapsing — it was the tax deadline," said Kailasapathy, who is a certified public accountant. "It was really rough."
Kailasapathy said she noticed how absences at the July 1 meeting affected the vote on a video surveillance ordinance.
Two council members — Teall and Sally Hart Petersen — were absent when the council voted 5-4 in favor of an ordinance aimed at protecting citizens' privacy rights. But without six affirmative votes in support, the minority side prevailed and the proposal was defeated.
"I thought that was kind of awkward," Kailasapathy said. "So I think it's important to be there. I take it very seriously. Unless there's some really good reason for me to not turn up, I will be there."
Ryan J. Stanton covers government and politics for AnnArbor.com. Reach him at ryanstanton@annarbor.com or 734-623-2529. You also can follow him on Twitter or subscribe to AnnArbor.com's email newsletters.
Ryan J. Stanton covers government and politics for AnnArbor.com. Reach him at ryanstanton@annarbor.com or 734-623-2529. You also can follow him on Twitter or subscribe to AnnArbor.com's email newsletters.