Posted on
Thu, Aug 8, 2013 : 1:08 p.m.
Ann Arbor City Council to vote on closing Main Street for football games
By Ryan J. Stanton
University Planner's Office
The
Ann Arbor City Council
is expected to decide Thursday night on a
request from the University of Michigan
to close a portion of Main Street for home football games this fall.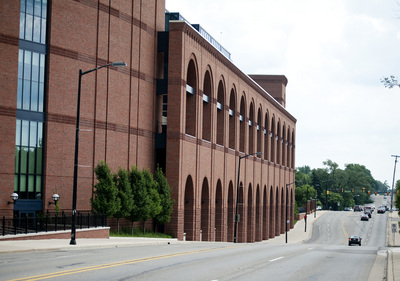 Daniel Brenner | AnnArbor.com
The university's proposal to block vehicle traffic between Pauline and Stadium boulevards is part of a larger plan to create a vehicle-free zone around Michigan Stadium to enhance security.
For all seven home football games this season, Main Street would shut down in front of the stadium, starting three hours before each game until the game ends.
The first game is Aug. 31.
The plan met fierce resistance from residents at a recent public meeting, but it's being supported by Ann Arbor Police Chief John Seto and multiple council members.
Council Member Mike Anglin, D-5th Ward, said he thinks it will both enhance security and provide a better game day experience for fans and pedestrians around the stadium.
"I'm in agreement with it. I think it's going to help," Anglin said, adding it'll help with the large crowds that want to cross Main Street.
U-M has been working in collaboration with the U.S. Department of Homeland Security, Ann Arbor Police Department and other local law enforcements officials on the plan.
"If this is something recommended by the Department of Homeland Security, it seems like a thing we should do," said Council Member Sally Hart Petersen, D-2nd Ward. "I'm a little surprised this hasn't been done sooner. I think it's common sense."
Having been a season ticket holder for several years, Petersen said she enjoys walking around the stadium area and thinks the plan would make it safer for pedestrians.
"In light of what we've seen happen in Boston, we've come to expect the unexpected now," she added. "And it's such a small area between Pauline and Stadium — it's not a long stretch."
Seto said last week he was still evaluating all of the comments and concerns raised by residents, including concerns about potential loss of revenue from lawn parking.
Access to all lawn parking would remain open, Seto said, but it's not a matter of simply waiving people through the blocked-off area.
Seto said people would have to access the residential lawn parking from streets other than Main Street during the closure period, except for a few locations that only have access from Main. He said provisions have been made to allow vehicles in off of Main for those few lots.
Vehicle access from neighborhood streets onto the closed area of Main would be either prohibited or restricted at police-controlled access points, depending on the street, to accommodate people coming and going from properties fronting Main that have no side-street access.
Robert Welsh, who owns a home on Seventh Street where detoured traffic from Main Street would be rerouted, told AnnArbor.com on Wednesday he doesn't think the proposal has taken into consideration the city residents who live on Seventh Street and Pauline Boulevard.
"The traffic load on those streets is already burdensome on game days and this proposal will, at a minimum, likely triple the traffic load," he said.
He said the proposal wouldn't necessarily thwart a potential terrorist attack because any terrorist would know of the street closure and plan accordingly.
The vehicle-free zone would be created by also closing Keech Street between Main and Greene streets and limiting access to parking permit holders on Greene from Hoover to Keech.
The closed portions of the streets would remain available for pedestrian use and emergency vehicle response to the area.
Michigan has home football games this year on Aug. 31, Sept. 7, Sept. 14, Oct. 5, Oct. 19, Nov. 9 and Nov. 30.
The City Council's agenda for Thursday night also includes a resolution to approve an agreement with the Clean Energy Coalition for implementation and operation of a bike share system in Ann Arbor.
The nonprofit group secured a $600,000 federal grant and is asking the city to provide $150,000 in matching funds. U-M has pledged $600,000 over the next three years for the program.
The council meets at 7 p.m. on the second floor inside city hall, 301 E. Huron St. View the full meeting agenda.
Ryan J. Stanton covers government and politics for AnnArbor.com. Reach him at ryanstanton@annarbor.com or 734-623-2529. You also can follow him on Twitter or subscribe to AnnArbor.com's email newsletters.