Posted on
Tue, Sep 10, 2013 : 5:59 a.m.
Ann Arbor DDA addressing 'increasingly tight availability of parking in the downtown'
By Ryan J. Stanton
Ryan J. Stanton | AnnArbor.com
A year after adding 700-plus parking spaces with the opening of a new
underground garage
,
Ann Arbor Downtown Development Authority
leaders say
parking demand
is strong.
In fact, there's a wait list of more than 100 people seeking monthly permits for the subterranean garage off Fifth Avenue, said DDA Executive Director Susan Pollay.
Ryan J. Stanton | AnnArbor.com
"It really is a mix — everything from the banks to the retail shops to the tech companies," she said of those on the wait list for permits. "We've got residents who are looking for them. The diversity of downtown, I think, is showing itself on this list."
The DDA could fulfill those requests for permits, Pollay said, but it purposefully is keeping a minimum of 150 spaces in the garage open for hourly use by library patrons.
The Ann Arbor City Council and the DDA held their annual joint work session Monday night to talk about downtown parking issues.
DDA officials reported there were 446,726 more hourly patrons in 2012-13 than in 2005-06 — up from 1.7 million to nearly 2.2 million.
But for the first time in several years, the number of hourly patrons actually dropped slightly this past year, according to information presented by DDA officials.
Roger Hewitt, the DDA's treasurer, noted the hourly patrons figure represents merely "tickets pulled," and not overall parking system use, which DDA officials believe is up by about 5 percent.
"Our conclusion is people who are coming in and pulling tickets are staying longer than they have in the past, so it's not a decline in the hours of use — just the number of tickets pulled," Hewitt said. "I suspect there are more people working downtown and parking hourly, and that's why you're getting longer stays. It has to do more with workers as opposed to visitors staying."
In an effort to better manage the demand for downtown parking, the DDA last year began experimenting with a new pricing model. It raised the monthly permit rate for the Maynard and Liberty Square parking garages, which are in high demand, to $155 a month, while pricing other garages at $145 a month. And it set the new Library Lane garage artificially low at $95 a month.
DDA officials said that's been effective in shifting demand and freeing up parking spaces that have allowed tech companies to grow along Liberty Street.
"If we're going to continue to have job growth in the tech sector downtown, we're going to have to address what is becoming an increasingly tight availability of parking in the downtown," Hewitt said. "That doesn't necessarily mean it has to be addressed with new structures, but we've got to figure out ways to get workers into the downtown."
The latest experiment in demand management comes as the DDA looks to increase the monthly permit price at the Forest Avenue parking garage to $155 — in line with Maynard and Liberty Square. The garage is seeing increasing demand thanks to new development in the South University area.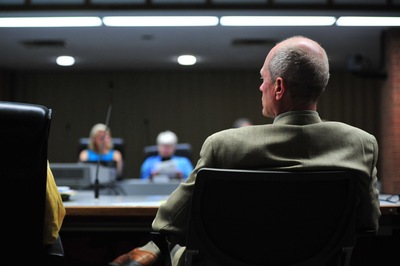 Ryan J. Stanton | AnnArbor.com
The DDA has been working on a new pilot program for parking permit distribution in the South University area.
Under the current system, individuals — employees, residents and business owners — contact the DDA for permits. Under the pilot program, permits are allocated to building owners based on building square footage. DDA officials said it's an attempt to be a little more formulaic in determining how a limited number of permits get divvied up, and they're still collecting feedback.
"It's one of our first attempts at trying to deal with what is a very tight demand for parking in the campus area," Hewitt said.
Even as parking demand remains strong, DDA officials said, downtown transit use is increasing due to the DDA-funded go!pass, which downtown businesses provide to their employees.
In 2012-13, there were 618,041 trips taken using a go!pass and there were 443 participating go!pass organizations or businesses covering 4,182 downtown employees.
"It's a significant part of the entire transportation system of getting people into the downtown," Hewitt said.
DDA officials are expecting a new parking garage to open at First and Washington across from the Blind Pig in the next month or two, adding nearly 250 more parking spaces. After those spaces come online, the DDA will be manager of 8,249 public parking spaces downtown, including 5,326 spaces in eight parking garages, 1,100 spaces in 16 parking lots, and 1,823 on-street metered spaces.
Tom Crawford, the city's chief financial officer, said earlier this year the new First and Washington garage — built in conjunction with the new Ann Arbor City Apartments — is expected to provide 98 spaces solely for public use, while 73 others will be "flex spaces" for either public or private use based on certain hours of the day. Another 73 spaces are to be reserved for building tenants, he said, though they could be used by the public if they're not in use.
The DDA expects to bring in about $19.45 million in parking system revenues this year, including interest. And it's planning to spend nearly $20 million, dipping into reserve funds, according to parking fund figures DDA officials presented to council Monday night.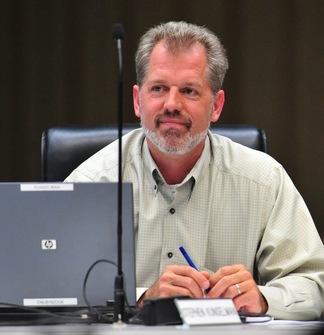 Ryan J. Stanton | AnnArbor.com
That includes $8.4 million for parking operations, $3.1 million for debt service, $915,000 for go!passes, the getDowntown program and other grants, $3.2 million in transfers to the city's general fund, and $4.4 million in transfers to parking structure maintenance.
With the construction of the Library Lane parking garage complete, Hewitt said this year and possibly next year the DDA will be putting more than it normally does into parking garage maintenance, including repairs like concrete replacement, deck coating and metal stair replacements.
"For a couple years, during the construction of the underground structure — the Library Lane structure — we cut back on our maintenance," he said. "And now we are catching back up and making sure those structures are exactly as they should be."
Council Member Stephen Kunselman, D-3rd Ward, noted the DDA still pays debt service for the parking system using tax-increment financing — or TIF — revenues. He questioned why that wasn't showing up in the figures DDA officials presented Monday night.
"You're not showing us the total debt service," he said, later adding: "I would like to know why the parking system isn't paying for itself. You're making TIF payments to the debt — that's all well and good — but we're not seeing those numbers here."
Mayor John Hieftje said Kunselman made a good point, and if TIF dollars are going to the parking system, council members should see that somewhere.
Council Member Sumi Kailasapathy, D-1st Ward, said it was "really difficult" for council to evaluate the parking numbers with only a "partial picture."
Ann Arbor DDA
DDA officials said that information could be easily provided.
Hewitt said there are no plans to increase hourly parking rates this year. The last increases in parking rates in Ann Arbor went into effect in January and September of 2012. That's when parking garage rates went up to $1.20 an hour and meter rates went up to $1.50 an hour.
Hewitt noted annual parking revenues increased about 12 percent from June 2012 to June 2013, while the average rate increase was in the 6-7 percent range.
"So we believe there has been about 5 percent growth in the overall system — certainly in the 4-5 percent range — based on the revenues coming in," he said.
Hewitt noted the DDA installed new automated equipment last year in both the Fourth and Washington garage and the Liberty Square garage to help make exiting faster. The new garage at First and Washington also is expected to have automated equipment.
The DDA also is talking about possibly adding more electric vehicle charging stations in addition to the 18 already installed last year. Hewitt said there's heavy demand for those spaces.
The DDA also is talking about another "bike house" after success installing a 37-space secure bike parking facility in the Maynard parking garage.
The Joint DDA-Council Committee, which is working on issues related to the DDA's downtown tax capture, plans to meet at 4 p.m. Tuesday on the second floor of city hall.
Ryan Stanton covers Ann Arbor city hall. Reach him at ryanstanton@annarbor.com or 734-623-2529 or follow him on Twitter.