Posted on
Thu, Mar 7, 2013 : 2:59 p.m.
Demand remains strong for space inside former Borders bookstore building in downtown Ann Arbor
By Ryan J. Stanton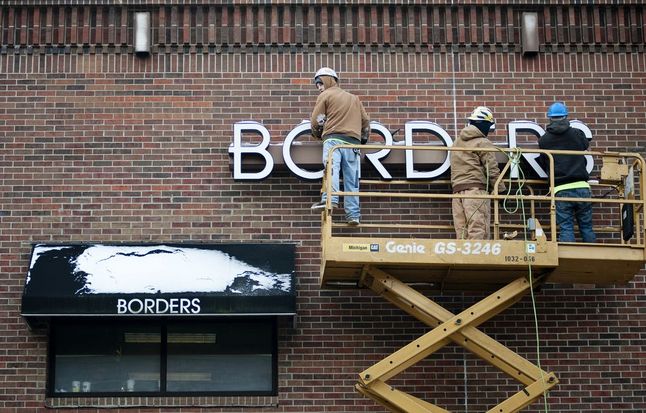 Daniel Brenner | AnnArbor.com
Ann Arbor's Downtown Development Authority
called on a local real estate broker on Wednesday to give an assessment of the health of the business climate downtown.
"It's improving strongly," said Brendan Cavender, a commercial broker with Colliers International in Ann Arbor, who is working on filling the former Borders building on Liberty Street.
One of the signs of downtown's strength, Cavender said, is the high demand for the restaurant and retail spaces under renovation inside the former bookstore space.
"I can say we have more offers than spaces that we have," he told DDA officials without identifying any of the prospective tenants. "It's a jigsaw puzzle right now. We're trying to find the best fits — some local, some national, some retail, some restaurant — to kind of see who works the best together."
Cavender has been involved in a number of real estate deals downtown, including the lease of more than 45,000 square feet of office space to California-based tech firm Barracuda Networks, which moved hundreds of employees to Maynard Street where Borders used to have offices.
At Wednesday's meeting, Cavender talked about plans to fill the 44,000-square-foot former Borders flagship store next door, as well as trends he's seeing downtown.
"We've seen a big transition kind of down to the Liberty/State area," he said. "But we're running out of space there, and there's virtually no office space left down in that area."
Ryan J. Stanton | AnnArbor.com
Mayor
John Hieftje
asked how long it will be before the vacant ground-floor spaces inside the old Borders are occupied by new retailers open for business.
"Certainly by the end of the year," Cavender said. "It depends how long the buildouts for individual retailers take."
Borders vacated the two-story building in September 2011, and Oakland County developer Ron Hughes, also the developer behind the Landmark student high-rise, acquired long-term rights to redevelop the space in May 2012. The building is being subdivided into five restaurant and retail spaces on the first floor, with contemporary office space on the second floor.
Cavender already helped announce the news in January that tech company PRIME Research North America signed a long-term lease for 16,000 square feet of space on the second floor, joining Barracuda Networks in creating a new tech hub at the corner of Liberty and Maynard streets.
PRIME Research, which is relocating from Ashley Street with plans to add dozens of jobs, will occupy more than a third of the overall building space, and most of the space on the second floor.
"What is significant about that move is it kind of mimics the other moves we've seen down in that area with the tech companies that have moved," Cavender said. "Last year, we moved Barracuda down here. With the addition of Menlo, it's really become kind of a tech hub."
Menlo Innovations moved from Kerrytown to the underground Offices at Liberty Square last year, where TechArb, the University of Michigan's student startup accelerator, also is located.
"In the next two to three years, down in the block — kind of Liberty, Maynard and Washington area — we will have probably 1,400 young tech employees, which is significant," Cavender said.
Hieftje said he's glad to hear demand is strong. He also was glad to hear Cavender note the expansion of parking offered by the city's new underground garage was a key ingredient in getting tech companies like Barracuda and PRIME to make the move into the downtown core.
Hieftje said it was the city's hope that a downtown "tech campus" eventually would form when the city helped lure Google to Ann Arbor in 2006, and now it seems that's panning out.
Cavender said one of the positives about the growing concentration of tech companies is they're high-density tenants.
"These are not four employees per 1,000 square feet," he said. "They're six or seven employees per 1,000 square feet, which means there's more people."
They're also paid well, which means they go out to eat and shop downtown, supporting local businesses, he said. He predicted PRIME Research, which has 80 employees, will grow to at least 150 people, while Barracuda could eventually grow to 450 or more.
"That helps the whole area," he said.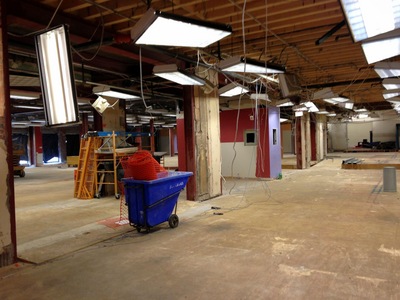 Ryan J. Stanton | AnnArbor.com
DDA Chairwoman
Leah Gunn
asked where downtown might be limited when it comes to office space — whether there are companies looking for more space than is available.
Cavender said there probably is about 160,000 square feet of vacant office space in the downtown area with a few large floor plates. In terms of percentages, he estimated about a 9 to 10 percent vacancy rate.
He said it will take a while to fill that, and lease rates need to get up to an annual $29 or $30 per square foot to make new office construction work.
"In the last three years, we've seen the rates start to drift upward — now about $24, $25, $26 a foot down in the campus area," he said. "They were down in $18, $19, $20 a foot."
Commenting on the interest in a large grocery store downtown, Cavender said his firm has talked to one larger company that does grocery stores in small downtown communities.
"Their rule of thumb, just to kind of kind of give you an overview, is 10,000 full-time residents downtown in a small downtown area," he said. "We're halfway there."
He added, "They won't even look at a community without that."
Cavender said at one point they looked at the property at 413 E. Huron where a 14-story high-rise is now proposed, and it didn't work out to have a large grocery store there.
He predicted downtown Ann Arbor will continue to see vacant spaces fill up. He said retail downtown is as healthy as ever, and restaurants are doing better than ever before.
"The restaurants downtown, we're seeing do between $3.5 and $6 million a year in sales," he said. "Even at the high rents that are down here, it works and they're doing well, and they're making money. Additionally, they're signing longer-term leases."
Instead of three- to five-year leases, Cavender said, downtown Ann Arbor restaurants are now doing 10- to 15-year leases.
"So I think we'll see the turnover diminish," he said. "I think we'll see stronger tenants down here, and that's being fueled by the office density. They all kind of work in unison."
Ryan J. Stanton covers government and politics for AnnArbor.com. Reach him at ryanstanton@annarbor.com or 734-623-2529. You also can follow him on Twitter or subscribe to AnnArbor.com's email newsletters.